[et_pb_dcsbcm_divi_breadcrumbs_module hide_homebreadcrumb="off" homebreadcrumbtext="Home" separator="sep-raquo" hide_currentbreadcrumb="off" homebreadcrumborientation="left" _builder_version="3.8″ fontsbreadcrumbs_font="Lato||||||||" fontsbreadcrumbs_text_color="#000000″ fontsbreadcrumbs_font_size="15px" fontsbreadcrumbs_line_height="16px" fontsseperator_font="||||||||" fontsbreadcrumblinks_font="||||||||" fontsbreadcrumblinks_text_color="#2567cf" custom_margin="25px|||" custom_margin_phone="30px|||" custom_margin_last_edited="off|desktop" custom_css_main_element="font-family: Helvetica Regular;" disabled="on" global_module="3641″ saved_tabs="all"][/et_pb_dcsbcm_divi_breadcrumbs_module]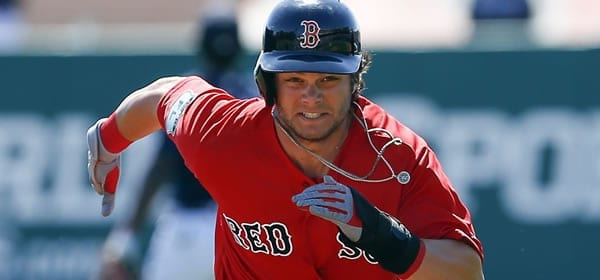 The World Series champion Boston Red Sox begin defense of their title in Seattle Thursday night (6:08 ET, ESPN), meeting the Mariners for the first game of a four-game, season-opening series. Boston is a heavy favorite for this game, throwing one of its aces. Who do we like for our free MLB pick here?
The Line
Most betting sites opened Boston and Chris Sale at -185 to -190 over Seattle and Marco Gonzales, with an over/under of seven runs. Early MLB betting action then pushed that line to -200.
The Red Sox could also be found at around -130 giving the run and a half on the MLB run line.
Red Sox-Mariners Betting Preview
Boston won 108 games last year, the most by a team since Lou Piniella's Mariners won 116 back in 2001, to take the AL East last season. The Red Sox then dispatched of the Yankees and Houston, two other 100-win teams, to win the American League pennant. Boston then rolled the Los Angeles Dodgers in five games to win another World Series title.
This season Boston returns almost the entire roster from last season, and goes off playing against a seasons wins over/under of 95.
Seattle finished 89-73 last year, playing over its season wins total of 82 but missing the playoffs for the 17th season in a row. Over the off-season the Mariners parted ways with several familiar names and faces, most notably sticks like Robinson Cano, Nelson Cruz and Jean Segura. This season Seattle is playing against a wins O/U of 72.
Find The Best BaseBall Sportsbook for 2019-2020
The Mariners got off to a great start against that total when they opened this season last week with a pair of wins over Oakland in Japan. Seattle, with Gonzales starting, won the season opener 9-7, then took the second game 5-4 in 12 innings. The Mariners then came home and went back to Spring Training.
Seattle banged out 10 extra-base hits in Japan, including four homers.
The Sox took the season series from the M's last year four games to three.
Pitching Match-Up
This pitching match-up is a re-match of a game played last June at Fenway Park, a 5-0 Red Sox victory. Boston won that game as a heavy -240 favorite, and the under cashed against a total of eight runs.
Lefty Gonzales (1-0, 4.50 this year) broke out last year with a 13-9 record and a 4.00 ERA, throwing 166 2/3 innings with just 32 walks and 145 strikeouts. Seattle went 16-13 with Gonzales last season, with the unders going 15-14.
In his 2019 debut last week Gonzales allowed four runs – three earned – and seven hits through six innings of that 9-7 victory over the A's. He also gave up a pair of homers.
In his only start last season against the Sox Gonzales gave up five runs and seven hits through six innings of that 5-0 loss in Boston in June.
Fellow southpaw Sale (12-4, 2.11 last year) struggled through some injuries last season but struck out the side against the Dodgers to clinch the championship in October. On the season he allowed just 102 hits through 158 innings, with just 34 walks and 237 (!) whiffs. The Red Sox went 18-9 with Sale last year, with the overs going 13-12.
Yeah, when this guy is on he's one of the best in the game.
In that one start last year against Seattle Sale tossed seven innings of four-hit, shutout ball, with one walk and 13 strikeouts.
We'll give Sale and Boston the check-mark for this pitching match-up.
Sticks Splits
Boston batted .250/.325/.395 against left-handed pitching last year.
Seattle batted .258/.324/.400 against LHP last season. However, we don't believe this year's Mariners lineup quite matches last year's.
We're giving the Red Sox the edge with the sticks for Thursday.
The Bullpens
Boston's bullpen posted a 3.72 ERA last year with a 1.29 WHIP.
Seattle's pen put up a 3.76 ERA and a 1.23 WHIP last year.
Both these teams are without last season's closers, and both bullpen units begin this season with question marks. We'll call the battle of the bullpens here a push.
Totals Report
The overs played 77-76-9 in Red Sox games last season.
The unders played 81-79-2 in Mariners games last season.
The unders played 44-37 at T-Mobile Park (Safeco Field) last season.
The unders played 4-3 in Sox-Mariners games last season.

Free MLB Pick

Boston and Sale are kind of a no-brainer here, but the line on this game is a bit too steep for our taste. So in chasing a better price we're going with the Red Sox and giving the run and a half with the visiting team on the run line.
50% Cash up to $250