Denver Nuggets vs. Houston Rockets Pick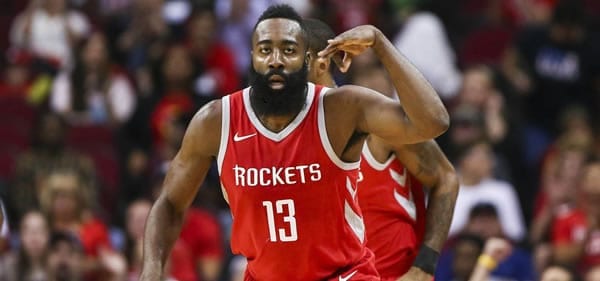 Denver Nuggets (50-23, 38-35 ATS) vs. Houston Rockets (47-28, 34-38 ATS)
When: Thursday, March 28th, 2019 – 8:00 pm ET
Where: Toyota Center – Houston, TX
TV: NBATV
By: Kyle Cash, NBA Basketball Handicapper, Predictem.com
Point Spread: DEN +5/HOU -5
Total: 217
Last Night in the NBA
Can't be perfect every night. Except for the fact that I broke down that game with about 97% accuracy. I apologize for being so far off of the mark. I'll be sure to get the scores exact tonight.
While the Thunder were on their 24-0 run, the rest of the NBA was busy. Devin Booker is in the time of the year when he remembers that it may be better for him to shoot every possession (and it's working), Portland's bench mob picked up the slack of their broken team, and the Jazz joined the party by handing Keith the L and picking up a pile of dirt and throwing it on the Lakers' coffin. I'll never get tired of seeing it. LA is going to win 35 games. Amazing.
Tonight, we have another classic Western Conference battle as Nikola Jokic travels to Houston to face off against the bearded one they call Harden. Both teams have a couple of questionable tags coming into this one, but as long as the premiere guys are in place, we should have a good one on our hands. The Rockets are favored by 5 points over the visiting Nuggets with the total set to a grizzly 217 points. Seem low to you? Me too. Let's bookmark that for later.
Finishing Strong
I'll just preface this by saying that the Denver Nuggets are not on my radar in terms of winning a championship this year. It's a cute story and they have some fun players, but the inexperience is going to get them at some point and it just ain't in the cards. But as winners of 8 of their 10 games, I can't knock their hustle. It doesn't matter that it feels like all they do is beat the crap out of bad teams and lose to the good ones. While I lack the willpower to find empirical evidence to support my claim, just go ahead and watch tonight's game and see if my theory proves to be right.
Denver, meanwhile, will be doing everything in their power to prove me wrong. They're one of only three teams that land inside the top-10 in both offensive and defensive efficiency, and they've been pasting teams to the tune of a +4.7 net rating all season.
If they really want to keep this game close, Denver is going to need to use its size to its advantage. Houston plays a brand of small ball that is unheard of, and they often have 6'5" PJ Tucker playing center. The Nuggets are the best offensive rebounding team in basketball, and Houston may be down to Clint Capela as their lone big if Faried is unable to play. If you give Jokic one chance, he may able to hurt you; give him multiple offensive possessions per trip down the floor, and he's likely to kill you.
Everything's Bigger in Texas
And I guess that applies to scoring averages as well. James Harden has quietly been the most dominant offensive player in basketball over the last five seasons, but his playoff blemishes sit heavy in our minds. We praise his abilities for the first six months of the season before heading into the summer with a sour taste in our mouths. But there's no denying his offensive greatness. Basketball-Reference has a neat little statistic called "Game Score" which uses a funky formula to attempt to quantify how big of a statistical impact a player had on a game. Generally, anything over 35.0 is seen as a dominant performance. Since the start of the 2014-15 season, Harden leads the NBA by a wide margin with 44 such games, 14 of which have come this season. LeBron James (9 in that span) and Russell Westbrook (21) are lauded as the premiere one-man offenses in the NBA, but numbers never lie – that title belongs to Mr. Harden. And because it's me, you know I had to take a peek at the all-time record for this statistic. LeBron James is 2nd in history with 56 total 35.0+ Game Scores in his career – second only to Michael Jordan, who had 126 games. I SAY AGAIN: THE DEFENSE RESTS, YOUR HONOR.
50% Cash up to $250

In order to topple the Nuggets, the Rockets may need another vintage Harden game. We have a battle of top-four offenses on our hands, but they do so in dueling styles. Denver has the 2nd most assists per game while Houston ranks 28th, and it's a testament to Harden's isolation sorcery that they still own the 2nd most efficient offense.
But Denver is another team that has, in theory, multiple guys to defend Harden with. Gary Harris, Will Barton, and Malik Beasley (if healthy) are all live, athletic bodies that can keep Harden in front of them, and Jokic's improvements as a defender should keep him from getting skewered every time down the floor. But the real problem lies in the safety valve of Houston's offense, and his name is Chris Paul. With all eyes on Harden, Denver is likely to forget about the Point God, and that's exactly when he comes up and slits your throat. Again, I apologize for the graphic content – three weeks until Game of Thrones, baby.
Best Bet
While I enjoy the individual pieces of the Nuggets in a vacuum, I'm still not sure about their team as a whole. Jokic is an anomaly inside of an enigma, and what he has done to turn this team into a Western Conference contender is nothing short of remarkable. But for the most part, the root of their success seems to be their advantage inside their home arena. The Nuggets are 31-6 in Mile High Arena (not what it's called) compared to 19-17 on the road. Any good team can feed off of its crowd and use its local marijuana dispensaries to its advantage; it's the great teams that go on the road and take care of business. Outside of a drubbing of the Celtics last week, Denver hasn't beaten a playoff team on the road since December 26th in San Antonio, and I have a hard time believing that they'll be able to break that streak tonight against Harden and Co. Lay the points and watch some NCAA for me, will ya?
Final Score Prediction: Houston 124 – Denver 110
Who else wants $60 of FREE member picks & predictions?
(NO commitments. NO Credit Card. NO Salesman.)