Seattle Mariners vs. Boston Red Sox Pick 4/23/21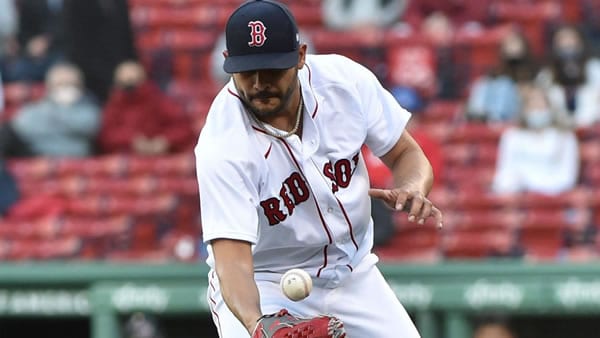 Seattle Mariners (12-7) vs. Boston Red Sox (12-8)
When: 7:10 p.m., Thursday, April 23
Where: Fenway Park, Boston
Moneyline: SEA +120/BOS -130 (Bovada - The BEST live wagering platform on the internet! Get a 50% bonus up to $250 FREE on your first deposit!)
Runline: Sea +1.5/BOS -1.5
Total: 9.5
Starting Pitchers: Yusei Kikuchi (0-0, 4.74 ERA, 1.21 WHIP) vs. Martin Perez (0-1, 5.93 ERA, 1.54 WHIP)
Sea Warriors
Road warriors isn't really an appropriate term for a nautical-themed team, but the Mariners have earned the term with how well they've played away from the Puget Sound. Seattle won the opener in Boston and owns a 6-2 record on the road in this young season. If the Mariners can keep playing this well away from home, it'd be a marked change from the past two seasons, when they ended up under .500 on the road. Last year, the Mariners only won 13 games on the road in the 60-game season, despite getting to play 60 percent of their games away from Seattle last year.
However, the Mariners were also cursed with having to play against nothing but western division opponents last season, which meant no games against the weaker squads in the AL East and Central. The Mariners have looked much more comfortable getting to play against the likes of Baltimore this season, and their road rec-ord has risen accordingly. If the wins keep coming away from home, the Marniers' ship could be pointed in the right direction for once. They had no trouble with Boston in the opener, their sixth win in seven away from the Pacific Northwest.
Dial Haniger for Homers
In 19 games, Mitch Haniger has gone deep five times for the Mariners this season…and Seattle is 5-0 in those games. Haniger's moment came in extras on Thursday and was one of just three Seattle hits in the entire contest. However, it counted for four runs, underscoring both Haniger's success and a big Boston problem.
While Haniger did the damage with a three-run blast, the Red Sox didn't help their case by walking seven Se-attle hitters. The Mariners got one free runner for getting to extra innings and got another one when Boston gave up a walk to J.P. Crawford with two outs. The next batter was Haniger, who deposited a pitch into the seats to turn a manageable 4-3 game into a 7-3 lead that basically put the contest to bed.
For the most part, Boston has pitched pretty well this season, as the Red Sox have 169 strikeouts against 69 walks. But if the Mariners can wait the Red Sox out and allow hitters like Haniger to punish Boston, it's tough to see the Red Sox getting much from this series.
Get Dan's free MLB picks each day >>>
Gray Before the Letdown
Has Boston already peaked at three weeks into the season? It's starting to seem like it might be the case af-ter the Red Sox's past seven games. Boston got itself into first place on the backs of a nine-game winning streak that included three each against Tampa Bay, Baltimore, and Minnesota, but the Red Sox seem to have left their bats in either Charm City or the Twin Cities.
Since leaving Minneapolis and coming home to Fenway, the Red Sox have topped four runs on just two occa-sions out of their past seven. If you want to go out even further, the offense wasn't getting the job done in Minnesota either, but the wins and the fact that two games were played as doubleheaders and only went seven innings masked the situation. The reality is that Boston is winning solely on pitching and defense right now, and if the Red Sox find themselves in a high-scoring game, they're going to have a hard time generating enough offense to win.
Betting Trends
The Mariners are 8-3 in their past 11 games.
The Mariners are 7-3 in their past ten as an underdog.
The Red Sox are 7-19 in their past 26 against a left-handed starter.
The Red Sox have lost four straight Friday games.
The under is 4-1 in the Red Sox's past five games.
The under is 5-2 in the Mariners' past seven games against a left-handed starter.
The Mariners are 17-40 in their past 57 visits to Boston.
The over is 7-0 in the teams' past seven meetings.
Weather Report
It's going to be chilly and windy in Boston, with temperatures dropping to around 51 degrees and wind blow-ing 13 miles per hour toward right center. Given the short fence here, this could mean offense.
Dan's pick
The Mariners have been a pretty nice option as an underdog as of late, and they clearly do well enough against left-handers to make this matchup a problem for an inconsistent Martin Perez. With Boston suddenly struggling to find its offense, Seattle looks to be the better buy in this situation, and getting plus money is a bonus in that kind of situation.
I'll take the Mariners to get another win as a live dog. Where are you betting on baseball games this season? Does your bookie give you reduced/disounted odds on every game/sport? If not, you're overpaying for odds which is now wise! You could be saving risk and betting more to win! Make the switch to BetAnySports TODAY! You'll be so glad you did!