[et_pb_dcsbcm_divi_breadcrumbs_module hide_homebreadcrumb="off" homebreadcrumbtext="Home" separator="sep-raquo" hide_currentbreadcrumb="off" homebreadcrumborientation="left" _builder_version="3.8″ fontsbreadcrumbs_font="Lato||||||||" fontsbreadcrumbs_text_color="#000000″ fontsbreadcrumbs_font_size="15px" fontsbreadcrumbs_line_height="16px" fontsseperator_font="||||||||" fontsbreadcrumblinks_font="||||||||" fontsbreadcrumblinks_text_color="#2567cf" custom_margin="25px|||" custom_margin_phone="30px|||" custom_margin_last_edited="off|desktop" custom_css_main_element="font-family: Helvetica Regular;" global_module="3641″ saved_tabs="all"][/et_pb_dcsbcm_divi_breadcrumbs_module]
Tampa Bay at NY Mets Pick & Preview July 8th/2018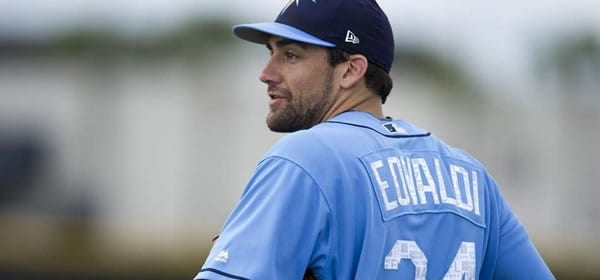 Event: Tampa Bay at NY Mets
Date/Time: July 8, 2018
Location: Citi Field
Money Line: TB -137 / NYM +127
Total line: 7.5
By Rich Crew
The Betting Numbers
The Rays are the favorite here laying in the mid 130's to the low 140's depending on where you lay your action. The total line is offered up at a consensus 7.5 runs at the betting sites posting a line. Here are some numbers to chew on. Tampa Bay is one game under .500 on the season, but bettors flat betting them all season would have earned plus 4.68 units. The Mets have struggled all year and bettors not fading them have paid for it in many cases with a 35-49 record and are a negative 14.69 units hypothetically if you wagered on them in every game played in 2018.
The Lead-Up
The Rays broke off a mini two-game losing streak getting the 3-0 win over on Saturday over the host Mets. Blake Snell was sharp pitching 7 1/3 scoreless innings, and three relievers finished it up in the shutout. The loss by the Mets put an end to a 3-1 run after dropping five of the prior six. Overall this season Tampa Bay is 21-27 on the road and are 4-6 over their last ten in the visitor role. The NY Mets rank near the bottom in the Majors in home wins this season with 15 to go with 27 losses and only the Kansas City 11 and Baltimore 12 having fewer. Over the last 15 games at Citi Field, the Mets are a dismal 3-12. This is the first series played between these two clubs and in fact is the first since 2015.
Starting Pitchers
Nathan Eovaldi: W/L 2-3, ERA 3.92
Chris Flexen: W/L 0-1, ERA 10.80
Nathan Eovaldi will make his eighth start of the campaign and since missing all of 2017 with Tommy John surgery. He's looked decent for the most part this season recording a 42.9% quality start rate and holding the opposition to three or fewer runs in four of his seven starts. He hasN'T pitched well versus the Mets in his last three starts allowing 14 earned runs in 15 2/3 innings, but those starts came back in 2016, 2015 and 2014 and the line-up he will be facing this time around is markedly different.
Chris Flexen will be making his first start of 2018 after three relief appearances taking the loss in one. His stuff wasn't fooling anyone getting stung for four earned runs in 3 1/3 innings pitched. In his career, he's 3-7 in 17 appearances including nine starts with an ERA of 8.06. He has never thrown against Tampa Bay and has faced only one batter Carlos Gomez who went had a hit and a walk in three plate appearances.
Tampa Bay Rays at NY Mets Prediction 7/8/18
The host Mets have been terrible at Citi Field with three wins in their last 15, and their offensive output has been embarrassing; rarely tallying more than three runs. The series finale has them facing a pitcher whose confidence must be building after back to back strong outings allowing two earned runs over 12 innings striking out 14 while walking only three. Eovaldi has had a couple of mediocre starts on the road this season, but they came against two of the top offensive clubs the Yankees and the Astros. He has been golden pitching in day games with a 2.45 ERA, 0.64 WHIP, 12Ks and 2BB in 11 innings pitched. The Mets send out Chris Flexen who did have an OK stretch last season as a starter putting together four consecutive starts allowing three or fewer runs, but he made it through six frames just once. As stated this will be his first start this season, and he's been putrid in relief, and even if he can have a respectable outing he's unlikely to go deep, and if this comes down to the pen, the Rays win that battle hands down with a 3.48 ERA compared to the Mets 4.83.
Crew's Pick: Take the Tamp Bay Rays -137. If your looknig for more MLB game predictions check out our baseball picks forum where other bettors share what they're betting.
<div class="widget105"><!-- [et_pb_line_break_holder] --><h4 class="baseball">Baseball Sportsbooks</h4><!-- [et_pb_line_break_holder] --><table id="dimeline"><!-- [et_pb_line_break_holder] --> <tr><!-- [et_pb_line_break_holder] --> <th></th><!-- [et_pb_line_break_holder] --> <th width="110px">10¢ to:</th><!-- [et_pb_line_break_holder] --> <th width="110px">20¢ to:</th><!-- [et_pb_line_break_holder] --> </tr><!-- [et_pb_line_break_holder] --> <tr><!-- [et_pb_line_break_holder] --> <td><div class="col1"><a href="https://record.commission.bz/_BhTQDVOVie23_O3IiMN7EWNd7ZgqdRLk/1/"><!-- [et_pb_line_break_holder] --> <img src="https://www.predictem.com/wp-content/uploads/2018/06/SportsBettingDark.png" width="150" alt="SportsBetting" /></a><!-- [et_pb_line_break_holder] --> </div></td><!-- [et_pb_line_break_holder] --> <td>-200</td><!-- [et_pb_line_break_holder] --> <td>-279</td><!-- [et_pb_line_break_holder] --> </tr><!-- [et_pb_line_break_holder] --> <tr><!-- [et_pb_line_break_holder] --> <td><div class="col1"><a href="https://www.predictem.com/betting-sites/heritage-sportsbook/"><img src="https://www.predictem.com/wp-content/uploads/2018/06/heritage-xs.png" width="150" alt="Heritage" /></a></div></td><!-- [et_pb_line_break_holder] --> <td>-200</td><!-- [et_pb_line_break_holder] --> <td>-240</td><!-- [et_pb_line_break_holder] --> </tr><!-- [et_pb_line_break_holder] --> <tr><!-- [et_pb_line_break_holder] --> <td><div class="col1"><a href="https://affiliates.5dimes.eu/tracking/Affiliate.aspx?idBook=1&mediaTypeID=220&AffUrlID=80&LandingPageID=2"><img src="https://www.predictem.com/wp-content/uploads/2018/06/5Dimes_sm.png" width="150" alt="5Dimes" /></a></div></td><!-- [et_pb_line_break_holder] --> <td>-195</td><!-- [et_pb_line_break_holder] --> <td>-266</td><!-- [et_pb_line_break_holder] --> </tr><!-- [et_pb_line_break_holder] --></table> <!-- [et_pb_line_break_holder] --><div class="widget-footer"><a href="https://www.predictem.com/best-sportsbooks/mlb-dimeline/">See all Dimeline Sportsbooks</a></div><!-- [et_pb_line_break_holder] --></div><!-- [et_pb_line_break_holder] --><!-- [et_pb_line_break_holder] --><style><!-- [et_pb_line_break_holder] --> #dimeline {border: 0px;}<!-- [et_pb_line_break_holder] --> #dimeline th{color:#000;}<!-- [et_pb_line_break_holder] --> #dimeline td{padding: 2px; text-align: center;}<!-- [et_pb_line_break_holder] --> #dimeline td, #dimeline th{padding: 8px 2px; text-align: center;border-bottom: 1px solid #bbb;}<!-- [et_pb_line_break_holder] --> .img-hover {border: 1px solid #fff; padding:5px}<!-- [et_pb_line_break_holder] --> .img-hover:hover {background: #edeef0; border: 1px solid #008156; margin-top:1px; padding:5px}<!-- [et_pb_line_break_holder] --></style>
<div style="width:340px; margin: 0 auto;"><!-- [et_pb_line_break_holder] --> <a class="twitter-timeline" data-width="340" data-height="500" data-link-color="#008156" href="https://twitter.com/PredictemPicks?ref_src=twsrc%5Etfw">Tweets by PredictemPicks</a> <script async src="https://platform.twitter.com/widgets.js" charset="utf-8"></script><!-- [et_pb_line_break_holder] --></div>