World Series Picks: Braves vs. Astros Game 1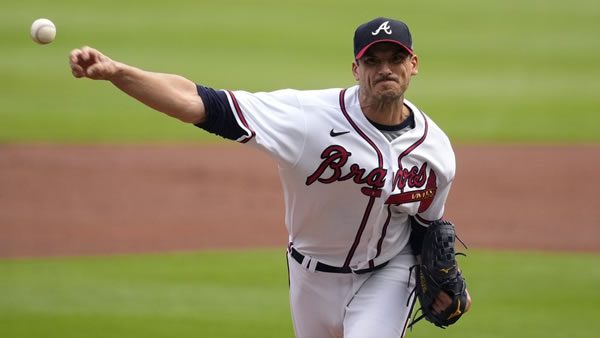 Atlanta Braves (95-76) vs. Houston Astros (102-70)
When: 8:10 p.m., Tuesday, October 26
Where: Minute Maid Park, Houston
Moneyline: ATL +115/HOU -135
Runline: Braves +1.5/Astros -1.5
Total: 8
(Huge Limits & Bitcoin Accepted at BetOnline)
Starting Pitchers: Charlie Morton (14-7, 3.38 ERA, 1.06 WHIP) vs. Framber Valdez (12-6, 3.25 ERA, 1.26 WHIP)
Keeping It In The Park
If you believe in launch angles as an important predictor of runs scored, you might want to look at taking the under a fair amount in this series. That's because all three of the Braves' big guns ranked in the bottom 20 in launch angles (which means the ball is more likely to go to the ground; a higher ranking means fly balls are more likely), and nobody had a lower launch angle in either league than Houston starter Framber Valdez.
Valdez did give up a pair of home runs to the Red Sox during the ALCS, but in his second time on the hill, he was masterful outside of that one mistake, going eight innings and shutting down Boston in a 9-1 victory. Atlanta ranked third in the majors in home runs, so Valdez is going to have to be sharp from the beginning to make his low launch angles actually mean something in this opener.
Taking a Deep Breath
After finally finding the wooden stake and dethroning the Dodgers, how does Atlanta come into this World Series? Obviously, the pressure is off the Braves, as literally nobody thought they would get this far after they stumbled through April and May, but will they come in relaxed and thinking that the job is already done, or relaxed and ready to play their best baseball of the season?
So far, the Braves have looked plenty locked in when playing at home, which is actually a role reversal from the regular season. During the regular season, Atlanta was an excellent road team, winning more games outside of Georgia (46) than it did at home (42). In the playoffs, however, the Braves seem to have adopted the mindset of "win one on the road and let them try to beat us in Atlanta."
If that's the strategy Atlanta is pursuing in this series, it's working. The Braves are just 2-3 away from home in the playoffs, but all five games at Truist Park have resulted in an Atlanta victory.
Pressure Packed Opener
With that said, the pressure is on the Astros to get a result here and avoid going to Atlanta in a hole, right? Yes and no. The Astros do face a lot of pressure to get a win in this one, but so do the Braves. However, victory might be a more pressing need for Houston than Atlanta at this point.
With both teams low on starting pitching, how each dictates their rotation will be a critical factor in this series. With Houston having the home-field advantage, Atlanta will be looking to steal it with a split at Minute Maid Park and then try to win the series in its three games at Truist Park. If Morton can deliver them a win in Game 1, Atlanta could use a bullpen game in Game 2 and then pitch Max Fried, Ian Anderson and Morton on normal rest in the three games in Georgia. If the Braves don't win the opener, however, that strategy likely becomes unusable, as going to Atlanta down 0-2 could be a hole that's too great for the Braves to overcome.
Conversely, Houston needs to get a win to avoid giving the Braves that critical advantage. The Astros are even lighter on starting pitching than the Braves are right now, and the last thing Houston needs is to allow Atlanta to dictate pitching while have home-field advantage. It's imperative that the Astros get both of these at home if they're going to win this series.
More Picks: Thursday's Troy vs. Coastal Carolina Point Spread Pick >>>
Betting Trends
The Braves are 7-2 in their past nine playoff games.
The Braves are 13-5 in their past 18 games after a win.
The Astros are 7-1 in their past eight games as a favorite.
The Astros are 6-1 in their past seven home playoff games.
The over is 3-0-1 in the Braves' past four against the AL West.
The over is 4-1 in the Braves' past five playoff games as an underdog.
The over is 8-1 in the Astros' past nine playoff games.
The over is 4-1 in the Astros' past five playoff games as a favorite.
The Astros have won five straight meetings.
The under is 7-3 in the past 10 matchups.
Weather Report
During the World Series, the roof will be closed at Minute Maid Park.
Dan's Pick
Charlie Morton has had the Astros' number as of late, and the Braves can really get themselves in an excellent spot if they can get a win here. I think Atlanta should be a relaxed team after getting through the Dodgers, and I think they play a great game in response to that. Give me Atlanta here. A great way to bet two good teams going head to head is via Live Betting. Most sportsbooks only allow bettors to place wagers during commercials breaks and halftimes. Did you know that Bovada Sportsbook offers a bettable line almost 100% of the game? Check'em out! They're the best!