2019 Foxwoods Resort and Casino 301 Odds & Picks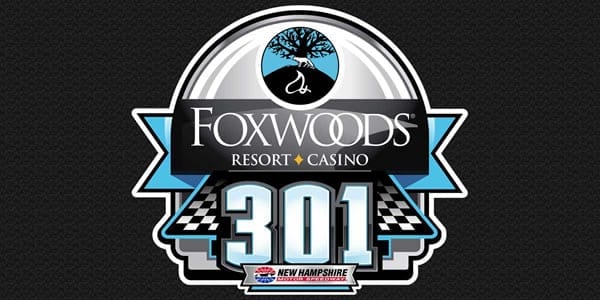 Race: Foxwoods Resort and Casino 301
Date: Sunday, July 21, 2019
Track: New Hampshire Motor Speedway
Time: 3 pm ET
Channel: NBCSN
What We Learned From Last Weekend
Brotherly love this past weekend at Kentucky! Kurt Busch edged out Kyle Busch on the final lap to take the checkered flag. It was an overtime finish after Bubba Wallace blew a tire with just five laps to go. That caused a two-lap shootout where Kurt Busch and Kyle Busch fought hard for the win. Joey Logano was the first-place car coming into the caution. Ironically, the caution erased his 1.79 second lead over Busch, and Logano ended the night in a disappointing 7th place. His car was not good on the short runs. He did much better with long runs and clean air.
Erik Jones maintained the third position, followed by Kyle Larson and Denny Hamlin to round out the top 5 spots. Clint Bowyer, Joey Logano, Daniel Suarez, Ryan Newman, and Chris Buescher finished out the top 10. Jimmie Johnson suffered during the race with some very heavy damage after losing control of his car shortly after the start to the final stage. It was actually a very good race overall. There was a lot of racing for the lead, and there were a lot of younger drivers really staying upfront and racing hard all night long. Erik Jones, William Byron, and Austin Dillon all raced hard. Unfortunately, Dillon suffered motor trouble and ended 30+ laps down. Martin Truex Jr., Brad Keselowski, and Kevin Harvick are some of the guys who also did not have the greatest nights. They finished 19th or worse. That's not really what they were expecting, but sometimes that's how racing goes. I'm sure they're looking for-ward to this weekend.
Where Are We Headed This Weekend?
New Hampshire is next on the schedule for these drivers and teams. This track is generally a fun race to watch. With its minimal banking and shorter straights, it makes for a more technical skill to be re-quired. The Magic Mile, as it's affectionately known, is a 1.058-mile asphalt and granite oval. With vari-able banking between 2 to 7 degrees through the turns and only 1 degree of banking on the straight-aways, you can clearly see how this is not one of our faster tracks on the circuit. It requires that the drivers really understand how to drive their cars in and out of the corners with finesse to avoid scrub-bing the walls or the fenders of the other drivers. Brakes are used more heavily here than at other tracks as well, so the drivers will have to take care not to overheat brakes while also not flat-spotting tires.
Potential Odds and Winners At New Hampshire
Picking a winner at New Hampshire requires us to look at the flatter shorter tracks of the circuit. We, of course, go right to Richmond and Martinsville in terms of comparison. Drivers who excel at those plac-es will likely excel at New Hampshire. Those drivers are the ones who tend to be a touch more aggres-sive in their driving styles and also the drivers who excel at road courses. Who are we thinking this weekend? Well, I'm going with the other Busch brother. Kyle Busch will likely be this weekend's winner. Busch has a history of solid finishes here, with a second-place finish in last year's race. He won this race back in 2017, so it's clear that he knows how to get around this track. Busch is going to have his fair share of challenge from none other than Kevin Harvick if I'm being realistic. Harvick won this race last year, but I think that Kyle Busch has a bit of edge over Harvick this year. Regardless, those two guys are likely to give us a good race. Let's take a look at your potential winners heading into New Hampshire:
Winner: Kyle Busch (5-2)
Middle of the Road: Clint Bowyer (16-1)
Dark Horse: Erik Jones (30-1)
Jones is a promising pick with momentum coming off a very solid performance at Kentucky. He's been a driver that seems to steadily be building his confidence as the season goes along. I think that he's got a good shot at a solid run this weekend. With a 30-1 payout, he'd be worth every penny. I have a lot of confidence in Jones. Clint Bowyer is another driver that will have a good run. He ran very well at Ken-tucky and only slipped back into 6th after the final restart. If Bowyer can manage to stay away from the accidents and pit road issues, I think that he's going to make a hard run to the front of the pack. The drivers are all still chasing points, and many are still trying to solidify their spot in the Chase. With only seven regular races remaining in the season, it's beginning to look a lot like crunch time. Here are your current top 16 drivers after Kentucky:
Foxwoods Resort & Casino 301: Bet on the race winner plus driver vs. driver at
MyBookie
Foxwoods Resort and Casino 301 Odds - Top Contenders
Joey Logano (10-1)
Kyle Busch (5-2)
Kevin Harvick (6-1)
Brad Keselowski (9-1)
Denny Hamlin (10-1)
Martin Truex Jr. (4-1)
Kurt Busch (20-1)
Chase Elliott (14-1)
Alex Bowman (35-1)
Aric Almirola (25-1)
Ryan Blaney (20-1)
William Byron (80-1)
Kyle Larson (30-1)
Clint Bowyer (16-1)
Jimmie Johnson (35-1)
Erik Jones (30-1)
Jones is getting himself back into position for a potential Chase run, but he's got to remain confident and keep himself out of trouble. He's on the bubble, joined by Jimmie Johnson, who was climbing back into a more comfortable position after spinning out of the race in Kentucky. William Byron is sitting pretty nicely, so I will keep my eyes on that guy to see if he can maintain his consistency. This week-end, though, the drivers are all going to be chasing the younger Busch brother as we head to New Hampshire Motor Speedway for a great Sunday afternoon of racing!
STOP LOSING TODAY! START WINNING WITH DOC'S TEAM OF PROFESSIONALS! GET A FREE NO STRINGS ATTACHED $60 FOR THIS WEEKEND'S GAMES!