AutoTrader EchoPark Automotive 500 Picks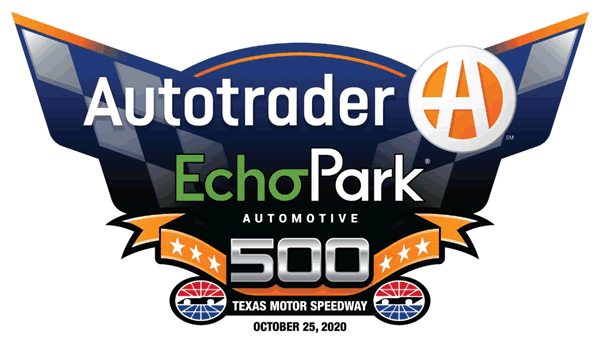 Race: AutoTrader EchoPark Automotive 500
Date: Sunday September 25, 2022
Track: Texas Motor Speedway
Time: 3:30pm ET
Channel: USA
What Did We Learn From Last Weekend?
And there you have it! The round of 16 is officially closed, and now we're left with the top 12 drivers facing off for the championship. What made this first segment even crazier is that it's the first time in history that a non-playoff driver won each of the three races. Not only that, but Brad Keselowski can breathe a sigh of relief as part owner of RFK after Chris Buescher drove his #17 Fastenal Ford to victory lane on Saturday night. Buescher capitalized on a final pit stop after leader Christopher Bell cut a tire down. During that stop, crew chief Scott Graves made a gutsy call and allowed Buescher to say yay or nay to a two tire stop. Ultimately, Buescher had confidence in Graves' call and took the two tires which put him into the lead. That track position is all it took for him to maintain the lead and drive all the way to victory lane in front of Chase Elliott. For Buescher, this was huge. His last (and only) win came at Pocono back in 2016. RFK hadn't won a points race since 2017. Nevertheless, the 222 race winless streak came to an end there Saturday night in Thunder Valley.
While Buescher made for the 19th different winner this season, there are many other drivers not having that kind of luck, at least in these playoff races. Four drivers were eliminated after Saturday night's race including Kyle Busch, Kevin Harvick, Austin Dillon, and Tyler Reddick. Kyle Busch took it very hard, but he also said its akin to how his entire year has gone. With a lot of blame seemingly placed on JGR, what he does with his opportunity at RCR remains to be seen. Attitude is everything. If he brings the same attitude, little will change. He's become more calloused in my opinion and unable to see the silver linings of even a 2nd place finish. I'm not in that garage, but I can't imagine that morale is at an all time high. Although he's out of the Chase, he still has 9 races left to get in another win or two. Let's see if he won't just foil the entire opportunity.
Where Are We Headed This Weekend?
This weekend, the drivers and teams are heading to Texas Motor Speedway to begin the round of 12. Texas is a 1.5-mile asphalt oval that's been on the circuit since about 1996. Turns 1 and 2 boast 20 degrees banking while turns 3 and 4 boast 24 degrees. Texas is all about track position. It's one of those places where drivers get out front and pull away. Tires will definitely play a role here as well, especially if we see long green flag runs. The teams have already raced here this year back in May where Daniel Suarez took the win. He's fallen off the wayside recently and struggled for much of the season, so we'll have to see if Texas treats him any better than the rest of the summer has. Maybe this will be what he needs to make a comeback. Either way, Texas is a long track with a lot of speed. As I mentioned, track position will be the name of the game. The guys that qualify up front are the ones to watch for sure. There really aren't a ton of options in terms of true passing at this track mostly because the field ends up so spread out. Once lap traffic accumulates, we see quite a bit more competition. Even still, it's generally a race with a lot of green flags, tire woes, and a spread out field.
100% Free Play up to $1,000 (Crypto Only)
BONUS CODE: PREDICTEM
Odds and Value Picks
When it comes to picking a winner, I'm not so sure I would put much credence in a repeat from Suarez. He's struggled for the better part of the summer. Heading into Texas, he's not quite the favorite at 40-1 odds. Although he has a good shot of having a strong finish, I'm not putting much on him to take the checkers. Will we see a 20th different winner this weekend? I'm not so positive on that one either. Although the first segment threw us all for a loop with 3 different non-playoff winners, I dare say that Texas will not produce the same results. This track lends itself to some rather mundane racing. There likely won't be a any surprises here. I don't think that we'll see another Buescher type win either. He isn't rated well for this race anyway. At 100-1, you'll definitely get your money's worth, though, if he can turn water into wine this weekend. We have the regulars showing strength, mostly notably Denny Hamlin, Kyle Larson, and Chase Elliott. Those guys are the favorites heading into Sunday's big race. Let's take a look at your potential winners:
Winner: Chase Elliott +700 (Bet it for FREE with a 100% real cash bonus up to $500 when you use bonus promo code PREDICT100 at MyBookie Sportsbook!)
Mid-range pick: Kevin Harvick +1500
Dark Horse: Erik Jones +10000
Jones has been coming on strong in the back half of this season. He's been trying to prove a point and had some solid runs when all is said and done. Although he's never won here, he's gotten 4th on multiple occasions and has one of the best average finishes among active drivers. I think that he's going to stay quietly in the lead pack on Sunday. Kevin Harvick is also another driver to watch. Although he's out of the playoffs at this point, he's going into Texas as a driver with multiple wins and the best average finish of all active drivers currently. Almost all of his last starts at Texas in the last 10 years have resulted in top 10s. He definitely knows his way around this place, and now that the pressure of the championship is off his shoulders, he will absolutely be looking for wins more than anything else and probably at almost any cost in terms of experimenting. Harvick isn't a dirty driver, but he will be able to make some adjustments and take some risks that he may have not otherwise taken with the championship looming. Chase Elliott, on the other hand, still has that pressure, not that he would be complaining. He's also got one of the best ratings of all active drivers. He's has a few bad finishes here, but most recently, Elliott has been consistently strong. This weekend should be no different. He's going into Texas with 8-1 odds. Here's a look at your current top 12 after Bristol.
Chase Elliott
Joey Logano
Ross Chastain
Kyle Larson
William Byron
Denny Hamlin
Christopher Bell
Ryan Blaney
Chase Briscoe
Alex Bowman
Daniel Suarez
Austin Cindric
There's actually only 7 points separating 12th place Cindric from 8th place Blaney. That's how close these guys are right now. Getting wins will continue to be critical, but it doesn't seem to be as easy as it was in the past. The entire field is only separated by 31 points, although 2nd place Logano is only 16 points up on everyone else. That gives us a clue that this ain't over until it's over. Texas will definitely be a place that provides some insight into the remainder of the season. As an intermediate track, I think that we're going to see some veterans taking the reins and bringing home the checkered flag. A playoff contender will likely secure his spot in the round of 8 as well. Stay tuned for a great weekend of racing at Texas Motor Speedway!