Drydene 311 Picks – 2020 Race Analysis & Predictions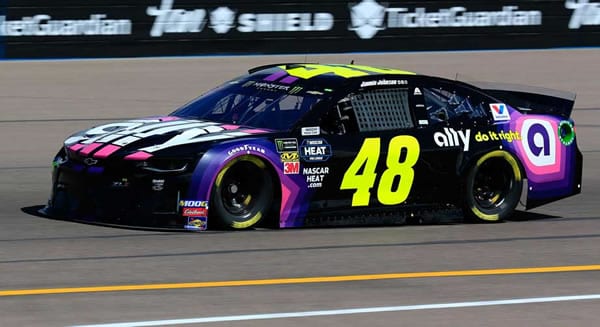 Race: Drydene 311 (both Saturday and Sunday)
Date: Saturday, August 22 and Sunday, August 23, 2020
Track: Dover International Speedway
Time: 4 pm ET (both Saturday and Sunday)
Channel: NBCSN (both Saturday and Sunday)
What Did We Learn From Last Weekend?
Well, I am disappointed, to be honest. The Daytona road course as far from as eventful as I anticipated. In fact, Chase Elliott maintained a lead greater than 8 seconds for quite some time. The Xfinity race had a little more excitement, but overall, the Cup race was far from it. The drivers honestly seemed overly cautious throughout the majority of the race, leaving much to be desired in terms of anyone picking up track position. Again, Kyle Busch was the most entertaining on the track, having trouble multiple times throughout the day. Chase Elliott, ya know, the one with the 8-second lead? Well, he obviously took the checkered flag. Ironically, Denny Hamlin was giving him a good run for his money in the last couple of laps but just couldn't close the deal when the time came. Elliott is solid on road courses, and his win on this particular track with no practice or qualifying time really speaks to his talents as a wheelman on these types of tracks.
Elliott won the first stage and extended his lead to over 10 seconds for much of the final stage. Kyle Busch caused a late caution and the race restarted with only three laps to go, completely erasing Elliott's lead. Needless to say, this road course is substantially longer than Sonoma or Watkins Glen, so Elliott managed to hang on. Martin Truex Jr., Jimmie Johnson, and Chris Buescher rounded out the top 5 spots behind Elliott and Hamlin. Can we take a minute, though, and talk about Kaz Grala? This kid subbed for Austin Dillon this weekend since Dillon was out with COVID. Um, Childress, you might want to think about a permanent substitution. This guy came in 7th in his inaugural Cup start on a road course that this series has never raced on. Whoa whoa whoa. I guess I'm one of the few impressed because I didn't see much or hear much about this guy throughout the race or afterward, but he deserves a heck of an applause for that performance. I don't mean to be rude, but that was way better than any performance Dillon was going to have. Sorry, Austin. You've had plenty of time to prove yourself. You lucked into a win this year, but that's about it. I'll be keeping my eyes on Grala moving forward. He's a talented wheelman. That's for sure!
Where Are We Headed This Weekend?
This weekend, we'll have to wait and see if it's Grala or Dillon as the drivers and teams head to a doubleheader at Dover. There will be both a Cup and Xfinity race on Saturday and Sunday. As this place is affectionately known, the Monster Mile is a 1-mile concrete oval with 24 degrees of banking in the turns and 9 degrees on the straights. Dover has been around for many moons. Construction began in 1966, with the first race being held in 1969. The track was switched from asphalt to completely concrete in 1995, being only the second track next to Bristol to make such a switch. As you can imagine, this creates a tire wear issue more so than it did when the track was completely asphalt. Pit stops and tires are the biggest contenders for the drivers. Dover's pit road seems to be a source of issues of the teams for some reason. There are a lot of losses, more than gains, made on Dover's pit road. Smaller pit roads always make for a more exciting entry and exit. We also see a lot of speeding penalties here for one reason or another, so that will be something to keep your eyes on.
When we consider a winner for this weekend's set of races, it's important to note that the last six races here have boasted six different winners. That's pretty telling in terms of the potential from the field. There are a handful of veteran drivers that I'd be willing to put my money on, though. I really like some of the drivers that aren't necessarily at the top of their game, though. While Jimmie Johnson is a seven-time champion, it's pretty undisputed that he's had his fair share of disappointment over the last couple of years. One thing about him, though, is that Dover is a solid track for him. He has a total of 11 wins here. That's pretty impressive, even with a faulty record for the last few seasons. He's leaving Daytona with a top 5 finish, which is the type of bolster this team needs. They are doing well here in the last few weekends, and this could be a promising opportunity for them. Johnson is someone I'd definitely have on my roster. He will be competing with the trinity of Martin Truex Jr., Denny Hamlin, and Kevin Harvick for the win. These are the overall strongest contenders in my book. With his charge to Elliott last weekend, Hamlin has been showing strength each and every week. He's yet to win a race at Dover, but he did lead a total of 218 laps in last year's fall race. That's a testament to his growth here. I think that a win is not out of the question. Kevin Harvick has a win here in the spring race two years ago and has a finish of sixth or better in every race since. He's pretty much owned this season, so you'd be foolish to count out this team. Let's take a look at your potential winners heading into Dover:
Favorite: Martin Truex Jr. (+330) Bet your picks to win as well as head to head matchups at Bovada Sportsbook! Credit cards work for deposits and you'll receive a generous 50% bonus up to $250 FREE!
Midrange Odds: Jimmie Johnson (+2500)
Dark Horse: Cole Custer (+5000)
Custer is not one to count out. He's had an up and down type of inaugural Cup season so far, but Dover has proven to be one of his best tracks in the Xfinity Series. He won the fall race here last year and has finished in the top 10 in all but one start since his inception at SHR in the Xfinity series. His odds are substantially better this weekend than they have been for the majority of the season at +5000. Obviously, he's still a stretch, but that jump in those odds gives you an idea of his talent here and also the nice payout you can make from this dark horse pick. Jimmie Johnson will be giving it a huge go this weekend if I am correct. With some momentum and a more consistently good pattern in the latter half of the regular season, this team is slowly seeing some things come together. I anticipate Johnson being in contention so long as they get their setup correct before getting off the hauler. With 11 previous wins, he definitely has an advantage in that department. I believe that everyone will be chasing Martin Truex Jr., though. With two wins and six top-four finishes in his last seven starts here, Truex obviously has this place figured out. His consistency in recent history gives him more of an advantage than Johnson if you ask me. Truex will undoubtedly be the class of the field this weekend. He is currently 186 points behind Kevin Harvick. He's solidly in the Chase, even just based on points, but these guys want every advantage they can get heading into the playoffs. Let's take a look at our standings after the Daytona Road Course:
NASCAR Standings
Kevin Harvick (+350)
Denny Hamlin (+650)
Brad Keselowski (+1200)
Chase Elliott (+550)
Ryan Blaney (+1000)
Joey Logano (+1400)
Martin Truex Jr. (+330)
Aric Almirola (+1600)
Kurt Busch (+3300)
Kyle Busch (+1200)
Clint Bowyer (+2500)
Alex Bowman (+2200)
Matt DiBenedetto (+4000)
William Byron (+3300)
Jimmie Johnson (+2500)
Erik Jones (+2500)
There really wasn't much upheaval in the points after the road course, surprisingly. There were no drivers that fell out of the top 16 or moved into it. These teams are serious about maintaining their spots and earning as many points as possible as this regular season winds down. This weekend at Dover will prove to be a little more contentious than last weekend. I have a feeling that there will be some movement in these standings after Dover. There are always casualties, no matter how hard the teams try. Someone will suffer. Stay tuned for a great weekend of doubleheader racing at Dover International Speedway! Attention stmall bettors! You can deposit $25 and get an extra $50 added to your betting account at Intertops Sportsbook! Use bonus code: ROOKIE200 to get the bonus!