Folds of Honor QuikTrip 500 Analysis & Predictions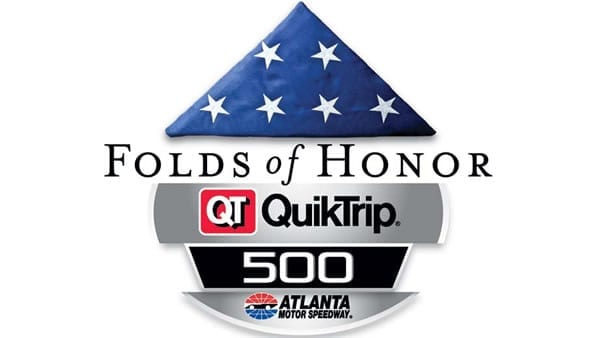 Race: Folds of Honor QuikTrip 500
Date: Sunday, March 15, 2020
Track: Atlanta Motor Speedway
Time: 2 pm ET
Channel: FOX
What Did We Learn From Last Week?
Joey Logano took the win at Phoenix after a pretty interesting race that took out a few good drivers pretty early. This is Logano's second victory of the season after winning at Las Vegas just a few weeks ago. Logano had a lot of luck on his side, as he experienced quite an array of misfortunes throughout the race. He was forced to start at the back of the pack on lap 138 after his crew, unfortunately, lost control of a tire on pit road. Again, another pit road issue on lap 268 where a jack broke on a pit stop during the caution sent him back to 18th spot for the restart. Quite frankly, it was very clearly Logano's strong car and driving skills that got him the win. He managed to drive through the field more times than he wanted to, but he passed teammate Brad Keselowski for the lead on lap 293. Logano managed to hold off Kevin Harvick during an overtime finish. He even expected the bump and run from Kevin, but it never happened. Logano said he wouldn't have even blamed him for it because he probably would do it too. I think it was an understanding that Logano was clearly the class of the field. He took control of the race once he gained the lead and never looked back.
One of the more interesting drivers to watch through the race was Brad Keselowski. He was involved in an incident early on between Denny Hamlin and Ryan Blaney and took some relatively significant damage to his car. That didn't stop him, though. He got himself back out front for a good part of the race and really had a great car for most of the day. Unfortunately, he faded back to 11th when all was said and done. He led 82 laps, only second to Chase Elliott. Logano was the fourth in terms of laps led for the day, coming behind with 60 total. With Keselowski fading to 11th, that opened the door for Harvick to put the pressure on Logano, but he could only muster a 2nd place finish. Kyle Busch respectfully took a 3rd place finish after recognizing that his car needed a lot of work from the time that the hauler arrived on Friday up until the very end of the race. Kyle Larson and Clint Bowyer rounded out the top five. Kurt Busch came in sixth. Unfortunately, Chase Elliott had an excellent run, but ended up seventh after an unfortunate loose wheel forced him to pit on green on lap 156. He was never able to make up the position from that point forward. Aric Almirola, Cole Custer, and William Byron rounded out the top 10 spots. Yep. Cole Custer. He was doing the darn thing and came home with his first career top 10 in the Cup Series. That's a good day right there!
Where Are We Headed This Weekend?
Custer will have to see if he can continue that momentum heading into Atlanta this weekend. This place is known for its speed. Atlanta is one of the fastest tracks on the circuit, even though it is an intermediate track like many others. This place is a 1.54-mile quad-oval with 24 degrees of banking in the turns and 5 degrees of banking on the stretches. Because it's one of the fastest tracks, we oftentimes see pressure on the engine packages that the teams bring here. It's a track probably most similar to Texas, so we see long green flag runs, lots of stress on the engines, and a longer race than some. This is a recipe for an entertaining race for the fans and an eventful race for the drivers. I will say that pit stops are going to be critical. Over the last few races, we've seen teams lose track position and even the race in some cases over mistakes on pit road. It's been a big occurrence for some of the teams, even Joey Logano last weekend at Phoenix! These guys are going to have to get their acts together and make sure that their teams are at the top of their game to get them to the front and keep them there.
Odds And Value Picks
When it comes to picking a winner for Atlanta, there are several drivers that have an affinity for a track like this. That said, a lot of those drivers haven't quite found their stride so far this season. Namely, Kyle Busch is lacking in the ability to get his car set up just right. He had a strong third-place run last weekend, but it was clear that he just wasn't as good as Harvick or Logano. With six top-seven finishes in his previous nine starts here, Busch will very likely be a contender, but winning is going to elude this team again if they can't find their speed this weekend. With odds at only +1200, he's very clearly not a favorite, but I still think you can't count him out. Martin Truex Jr. is also in the same boat as Kyle Busch. He's having a hard time finding his groove, but then again, Truex has failed a few too many inspections lately. He's doing it to himself. Although he's a master at these intermediate tracks, starting at the back of the pack is less than favorable to say the least. He's also a victim of pit road errors. Needless to say, these Gibbs teams have a lot to overcome and improve on before they hit victory lane. At +800, though, Truex seems to have a better shot than Busch. When all is said and done, I'm leaning towards the Penske teams again this weekend. Logano was a force to be reckoned with last weekend. His teammate, Brad Keselowski, had a very strong car for most of the race but faded there at the end. If these guys can come back to Atlanta with that same speed, I think that they are going to be the drivers to beat.
Favorite: Brad Keselowski (+500)
Middle of the Road: Clint Bowyer (+6600)
Dark Horse: Cole Custer (+10000)
I'm throwing Custer back into the mix. He's a "true" dark horse. Custer showed his strength at Phoenix, though, and if he can replicate that drive, he will very likely have a solid top 10 finish here at Atlanta. Not to mention, a +10000 line will definitely pay out a pretty penny. Staying out of trouble will be the key for this team. Clint Bowyer is a driver that has seen some failure here but also shown strength since his time with SHR. His last two starts produced top 5 finishes, and I think that he will very likely be running for the lead this weekend. Bowyer is a feisty driver and one with a lot of grit and determination. Atlanta needs that to get through this race, so Bowyer is definitely on my radar. For the win? Well, Keselowski has been to victory lane in the last 2 of 3 races here. He's got this place figured out, and their team showed a lot of speed and strength last weekend. Keselowski has been close several times this year, and I think that Atlanta may just be the place where we see him take the checkered flag. He's definitely got his work cut out for him, but if the stars align and they are flawless on pit road, there's no reason why he won't have a shot at the win. Let's see where these guys sit in the points after Phoenix:
NASCAR Standings
Kevin Harvick (+450)
Joey Logano (+500)
Chase Elliott (+600)
Alex Bowman (+900)
Jimmie Johnson (+2000)
Ryan Blaney (+1200)
Kyle Larson (+1200)
Aric Almirola (+6600)
Matt DiBenedetto (+6600)
Brad Keselowski (+500)
Denny Hamlin (+2000)
Kyle Busch (+1200)
Clint Bowyer (+6600)
Chris Buescher (+10000)
Martin Truex Jr. (+800)
Kurt Busch (+2000)
Bowyer moved up 3 spots after Phoenix. I anticipate him jumping some more after Atlanta. Ryan Blaney, our points leader going into Phoenix, had an unfortunate day after his run-in with Denny Hamlin as previously mentioned and dropped to 6th in the standings. I anticipate him moving back up as well, but Hamlin really needs to chill with turning drivers into the wall. He needs to lift. There's no excuse for the way he was driving. It obviously didn't pay off for him being that he also lost 4 spots, falling into 11th place. I am sure that he will rebound as well, but again, he's really got to stay off the bumpers of the other drivers. He's going to mess with the wrong driver, and the retaliation is going to be epic if he keeps it up. Hopefully, he'll keep the nose of his car clean so that we can all enjoy some solid racing. Stay tuned for an exciting time at Atlanta Motor Speedway!
STOP LOSING TODAY! START WINNING WITH DOC'S TEAM OF PROFESSIONALS! GET A FREE NO STRINGS ATTACHED $60 FOR THIS WEEKEND'S GAMES!