Folds of Honor QuikTrip 500 Picks & Analysis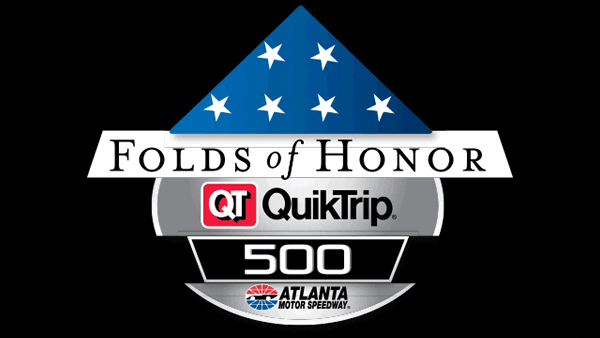 Race: Folds of Honor QuikTrip 500
Date: Sunday March 20, 2022
Track: Atlanta Motor Speedway
Time: 3pm ET
Channel: FOX
What Did We Learn From Last Weekend?
And another new winner emerges after the battle at Phoenix this past Sunday. Chase Briscoe became the 200th different Cup Series winner in over 2600 races. That's pretty awesome no matter which way you split it. It was also very cool to see guys like Ross Chastain having another great day, staying upfront and contending with Briscoe until the very end for the win. Kevin Harvick also tied a record of most consecutive top 10 finishes at a track. That record is held by Richard Petty and Dale Sr. That's good company to be in. While Harvick didn't care too much about breaking the record, it's still history nonetheless, with a total of 18 top ten consecutive finishes at Phoenix. One of the greatest things about the interviews most recently is that it's not the same 'ole Kevin Harvick-y "doesn't matter to me" mentality. To hear the emotion in Briscoe's interview and even that in Chastain's is great. It's nice to hear from the guys who really feel blessed and emblazoned to be where they are, racing on the biggest platform in NASCAR. The gratitude is a nice change of pace from the mundane attitudes of past winners and also the whining of someone like Kyle Busch. Ross Chastain graciously and exuberantly accepted the 2nd place finish, whereas the Kyle Busch interviews are always about how his team was terrible or the other drivers cost him a win, blah blah blah.
Speaking of Kyle Busch, he had a rough Sunday. Interestingly enough, although he managed to be at the back of the pack quite a bit, he still came home with a top 10 finish, although hard-fought. The Toyotas, in general, had a bad day. One of the favorites, Truex Jr., blew a tire on lap 219 and destroyed his car. He ended the day in 35th. Denny Hamlin and Bubba Wallace also had uneventful finishes. Wallace finished 22nd, although while others are surprised, I don't typically expect much better from him. I thought Hamlin would have a better day, but he barely cracked the top 15 for a good part of the day and came home in 13th. Another driver that took a big hit was favorite Kyle Larson. He had a valve spring let go in his motor, causing him a 34th place finish. Honestly, though, who really cares? He's already guaranteed into the Chase. If I had to guess, the Hendrick garage is just doing a little R&D early on to figure out how to set up for later in the season with these new cars. I mean, if they're smart, that's what's going on. No harm, no foul.
Where Are We Headed This Weekend?
This weekend, the drivers are headed to a fast track. That track is none other than Atlanta Motor Speedway. It's an intermediate 1.54-mile quad-oval with 28 degrees of banking in the turns and 5 degrees on the straights. That banking gives way to high and consistent speeds throughout the duration of the race. While the drivers at Phoenix were on the brakes at times entering the corners, we won't see as much of that at all here in Atlanta. One of the biggest things we're going to see is the durability, or lack thereof, of these tires. Being that each race so far this year has brought its own version of a tire struggle, with a track like Atlanta where tire wear is an integral part of the strategy, whether the entire tire mount can manage to stay the course of the race is a whole other topic. We've seen these assemblies come apart on more than one occasion so far this season. Atlanta is going to further test not only the assemblies but also the wear of the actual tires. That combination should be interesting as I believe there will be a lot of different pit strategies towing those lines. Fuel can sometimes play a role depending on the length of the green flag runs. Much like Phoenix, we can tend to see a good amount of distance between each of the drivers on the lead lap, oftentimes with 3+ seconds separating 1st through 5th places.
Odds and Value Picks
Looking at potential winners at Atlanta, well, we have our hands full. With the influx of new names in the top 10 spots, we can't count out these newer generation drivers. Chase Briscoe caught us all off guard, but should we really be surprised? We've all talked about how the new-gen cars are allowing smaller teams and younger drivers to really be competitive, so let's make sure we keep them on our radars. Tyler Reddick was third at Phoenix, and even Chris Beuscher came home with a top 10. This weekend will likely be no different. Atlanta is somewhat of a hybrid track, with components of both a superspeedway and an intermediate track. Because of the banking and speed, many drivers who are good at Daytona and Talladega will also perform strongly here. I think that we tend to see more of those drivers be successful here than just our cookie-cutter intermediate drivers. Let's take a look at potential winners this weekend heading into Atlanta:
Favorite: Kyle Larson +1000
Mid-Range Pick: Ryan Blaney +1000
Dark Horse: Tyler Reddick +1600
Let's be honest. Tyler Reddick will have a win. Atlanta might be the place for him to do it. He came up short at Phoenix and just didn't quite have the car to do it. He had a 6th place finish here last year and is just proving to be in the mix each and every week. Consistency is the key to success in NASCAR unless you're Bubba Wallace. Finishing 22nd isn't the consistency you should be looking for. That being said, Wallace is going to have to do something to best his top finish of the season so far. He's never had a top 10 finish at Atlanta, and I really don't see that happening this weekend either, unfortunately. Guys like Reddick and Ryan Blaney are really holding their own. Blaney is another guy to watch. He arguably had the best car last week but just couldn't capitalize on the track position situation. Blaney is actually the defending winner here. His best finish so far has been 4th, but this weekend might be better than even that. Blaney will have to beat Kyle Larson, though. This is a track where the Hendrick garage could dominate. Larson has some DNFs this season, but if it wasn't a DNF, it was a 2nd or 1st. There's really nothing better than that. In his two starts with HMS, Larson finished 18th and 2nd. He's never gotten a win here, but he's set on changing all of that. He's looking for another championship this year, and adding wins at new tracks is just another box to check for him. Let's see where they all stack up in the points as they head to Atlanta:
Joey Logano
Kyle Larson
Chase Briscoe
Kyle Busch
Austin Cindric
Chase Elliott
Alex Bowman
Ryan Blaney
Aric Almirola
Tyler Reddick
Martin Truex Jr.
Ross Chastain
William Byron
Kevin Harvick
Austin Dillon
Kurt Busch
You'll notice Denny Hamlin and Brad Keselowski are both nowhere in that top 16. There are a few guys that are having a bumpy start to the year. As the year progresses, however, I think that they will fall back to where we're used to seeing them. The development of these new cars throughout the season will start to even out the field once again, as I mentioned in weeks prior. This weekend, though, the drivers and teams are going to be battling it out at one of the fastest tracks on the circuit. I'm hoping to see Briscoe, Suarez, Chastain, and the rest of the "unusual" drivers running at the front of the pack. It's been a good season so far. Let's see if it sticks. Stay tuned for a great weekend of racing at Atlanta Motor Speedway!