Go Bowling at The Glen Odds & Picks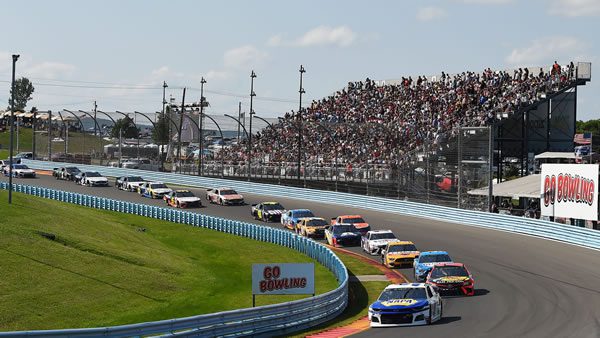 Race: Go Bowling at The Glen
Date: Sunday, August 21, 2022
Track: Watkins Glen International
Time: 3 pm ET
Channel: USA
What Did We Learn From This Weekend?
So, apparently, Kyle Busch forgot to bring his spotter to the race and decided that using that current popular catchphrase was a better idea than being a decent driver. Busch said he got "Chastain'd." The funny thing about that is that Chastain had little to nothing to do with Busch driving into Chastain's line and wrecking himself. It's easy to use Chastain as a scapegoat, but the more interesting part is realizing that the majority of incidents involving Chastain involve the JGR guys. Everyone else on the track, Lord willing, seems to be able to race with Chastain just fine. But much like what we saw with Brad Keselowski over the years, it's unsurprising that the drivers are finding a new scapegoat for their general lack of skill at the moment. If you messed up, just say you messed up. I'm tired of hearing everyone say that Chastain or whoever should've lifted or should've given the other driver the line, blah blah blah. Are we racing? Isn't the entire point of racing not to give up your line? If another driver can't get around him, that's not his problem. I hope that Chastain holds his own and doesn't give into the pressure of the media and the other drivers trying to force him into softening his skill. He doesn't need to move for anyone and deserves to be up there just like any other driver.
Outside of the Busch/Chastain situation, Kevin Harvick was putting on his own show and decided to really show up here at the end of the regular season. Harvick took home another victory at Richmond and has decided to let everyone know that he's still got a little something for that championship battle. In fact, not only does this win give Harvick 2 wins in 2 weeks, but it also ties him with Kyle Busch for 9th all-time victories in the NASCAR Cup Series at 60 total wins over his career. Harvick beat out Christopher Bell, Chris Buescher, Denny Hamlin, and Chase Elliott. The top 10 also included Joey Logano, Martin Truex Jr., Aric Almirola, Kyle Busch, and Ryan Blaney. For Busch to have a top 10 finish, he sure did have a lot to whine about. But then again, Busch will whine about a second-place finish, so there's that. Other notable finishes include Austin Cindric, who came home 12th, Bubba Wallace, who managed 13th, and Ty Dillon, who finished just behind Austin Dillon for a respectable 17th place while filling in once again for Kurt Busch. We'll have to wait and see if Kurt is medically cleared to get back in the car this weekend. It'll be a tough one for Dillon to fill in on since this is a road course weekend, but he's proving that he's up for the challenge.
Where Are We Headed This Weekend?
This weekend, the drivers and teams head north to Watkins Glen in New York. This track has been around on the NASCAR circuit for quite some time and is an "original" road course to the series. The drivers will run the short circuit with the inner loop chicane. There are multiple different layouts and variations to this track, but they are particular to the different series that run here. For NASCAR, it will be a 2.450-mile asphalt course with eight turns. Of those turns, the first turn is one of the most treacherous. As the drivers head down the front stretch, they carry some serious momentum into that 90-degree turn with little room for error. This is the type of track where maintaining equipment is super important. Because of those turns, fast runs and hard braking take its toll on the tires and the brake systems of these cars. Not only will track position be critical but taking care of tires is going to be important as well. Flat spotting is very common because of the gaggles that we tend to see these guys get into as the race goes on. Speaking of gaggles, they will include that lap traffic. This is going to be where skill remains to be seen. Who can get around the lap cars and stay in one piece?
Odds and Value Picks
The road course pool has gotten a lot more interesting throughout the years. We used to have a handful of drivers that were superior. Well, we still do have a few standouts, but there are many more names to add to that list as we move forward. A couple of the big names that we can't fail to mention include current road course superstar Chase Elliott and also another guy that seems to be on his tail recently on these tracks. Tyler Reddick, if we're being honest, has been the one to beat this year. He won both races in July, one at Road America and the second at Indy. Prior to that, he's got a handful of top 5 and top 10 finishes. His finish here last year was a top 10, which is indicative of his level of increasing talent. Chase Elliott is another driver to really keep your eyes on. These two guys are our odds-on favorites. Although Elliott hasn't won a road course this year, he's been in contention multiple times over. Let's take a look at your potential winners heading into this weekend's race at Watkins Glen.
Winner: Chase Elliott +500
Mid-Range Pick: Chase Briscoe +1500
Dark Horse: Daniel Suarez +1200
Hear me out on Suarez. Although he's had a rough go of it in the last couple of races, his previous runs here resulted in 2 top 5 finishes. He's got talent on the road courses, and this might just be the place that he needs to be in order to have some redemption for the season. In what's been a tough year, Suarez could use a little luck, so we'll have to see if this is what Watkins Glen will bring for him and that team. Chase Briscoe is another guy that may not be on your radar, but he should be. He's only raced once here, but that race brought him a top 10 finish. Briscoe has been up and down this year. This may also be his opportunity to salvage something. They will all be chasing the likes of Chase Elliott. While he hasn't put it together this season quite yet on the road courses, he's come close. As the regular season comes to a close, Elliott will be looking to gather as many points as he possibly can heading into the playoffs. 
Let's see where everyone is sitting as these guys head towards Watkins Glen for this weekend's race.
Chase Elliott
Ross Chastain
Joey Logano
Kyle Larson
Ryan Blaney
William Byron
Kevin Harvick
Denny Hamlin
Tyler Reddick
Christopher Bell
Kyle Busch
Chase Briscoe
Kurt Busch
Daniel Suarez
Austin Cindric
Alex Bowman
Just when we wrote off Kevin Harvick, here comes The Closer, fooling us all and winning the last two races. He rode at the bottom of the top 16 and on that bubble for quite a while. Not anymore. Now, Martin Truex Jr. sits on the bubble, with Alex Bowman sitting just 26 points above that cut line. Maybe one of the better questions for the weekend has nothing to do with points. Maybe it has to do with whether or not Ross Chastain is going to be a problem for anyone. I wonder is Kyle Busch will bring his spotter?! I wonder if anyone else will be able to stay away from the plow of Chastain's bumper. It remains to be seen. Stay tuned to find out if he survives the road course this weekend at Watkins Glen!