Pocono Organics CBD 325 Odds & Predictions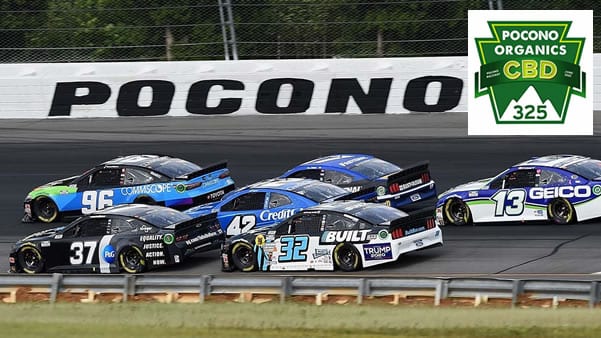 Race:
Pocono Organics CBD 325
Date: Saturday, June 26, 2021
Track: Pocono Raceway
Time: 3 pm ET
Channel: MSN
What Did We Learn From Last Weekend?
As predicted, Kyle Larson won the inaugural race at Nashville Superspeedway for the Cup Series, capitalizing on an already very successful season for the driver of the #5 Hendrick Motorsports Chevrolet. This was not only Larson's 4th win, but it was his 4th consecutive win. This guy is on fire…not like Ricky Bobby fire…but seriously, the best out there right now. That's undeniable. He led 264 of the 300 laps on Sunday's race. It was clear from the beginning that he had the dominant car and was going to be the driver to beat. No one ever really came close, though. Larson comfortably held off any potential contenders by just driving a smart race with a very strong car. Like Keselowski said a few weeks back, coming in second to a Hendrick car right now is a privilege. That's how well this entire organization is running right now.
The top 5 drivers might surprise you. Ross Chastain came away with a career-best 2nd place finish. Thanks can be given to pit strategy, where he came in 10 laps later than the rest of the top 5 group. He didn't have to conserve fuel like a lot of the other drivers towards the end. Kyle Larson's teammate, William Byron, came home third, followed by Aric Almirola and Kevin Harvick. While Alex Bowman struggled with grip through much of the day and came home 15th, the remaining Hendrick driver of Chase Elliott was perhaps the biggest loser. Although he was initially scored as 13th at the end of the day, NASCAR ended up disqualifying that effort due to 5 loose lug nuts that were found on his car during post-race inspection. That subsequently dropped him to a 39th place finish. That definitely put a bruise on his climb in the standings, knocking him down a few spots. On the other hand, Kyle Larson gained 37 points during the race and is quickly closing the gap to leader Denny Hamlin.
Where Are We Headed This Weekend?
This weekend, the drivers are headed to the Poconos for a double-header. Why you ask? I have no idea. I don't get this. I really don't. Pocono has historically always been one of the most boring races, in my opinion, so NASCAR decided to go ahead and break it up into a two-day event. Who knows. That being said, we also get to pray the rain away. It will rain. That's virtually guaranteed. The mountain weather is not unpredictable here. It rains almost every time they try to run a race. That said, now they have to figure out how to reschedule all of these races since we're running 2 Cup races through the weekend. Good.luck.with.that. Pocono is a different type of configuration compared to a lot of other tracks. It's a large track with some high speeds, but it's a triangle. Literally, "The Tricky Triangle," as it is known, is a 2.5-mile asphalt triangle with (obviously) 3 turns. Banking in turn 1 is at 14 degrees with modest banking of 6 and 8 degrees in turns 2 and 3, respectively.
There's a lot to be said for equipment here. Due to the speeds and also the configuration, there's more braking here than we'd see at other superspeedway-type tracks. Brake failures do occur. Tire wear does become a problem over the long runs. But most importantly, we will probably see fuel strategy as a big storyline here. The reason? Because it's going to rain. More often than not, we see the teams coming into the race with an already produced strategy to get the drivers to the halfway mark when NASCAR could potentially call the race. Being that these two races are shorter than the traditional race that they usually run, it might not be as challenging or have as big of an impact, but I do think that it will play a role.
Odds and Value Picks
When it comes to picking a winner at Pocono for Saturday's race, well, Kyle Larson is the man right now. He did not run here last year, but he did have some pretty good results when he was running for Chip Ganassi Racing. He had a runner-up finish in 2018 and a top 5 in his most recent run in July of 2019. Being that everything he touches is gold right now, not picking him seems pretty dumb. Did I mention that he has the pole for Saturday's race? Well, he does. He will definitely have some competition amongst last year's winners of these races, Kyle Busch and Denny Hamlin. Hamlin actually has the best driver rating at Pocono, so I do think that he will give Larson a run for his money. He has two wins, as does Kyle Busch. Both of those guys have had some consistency issues, but don't count them out. They have a lot to bring to the table at Pocono. Let's take a look at your potential winners heading into Saturday's first race:
Favorite: Kyle Larson +200
Mid-Range Pick: Erik Jones +15000
Dark Horse: Michael McDowell +25000
Did you know that you can bet on the race while it's happening? Sometimes it's a total crapshoot trying to pick a winner before the race starts. Nothing is worse than watching and some off-name driver is having a good day. End that problem today by doing your NASCAR wagering at Bovada Sportsbook where you can bet on the race live while it's happening! They offer a 50% sign up bonus up to $250 free, you get rebates on EVERY bet; win, lose or draw! Your credit card will work there for deposits as well! Click here to sign up now!
Pocono Organics CBD 325 Race Odds
Kyle Larson +200
Denny Hamlin +700
Kyle Busch +800
Chase Elliott +900
William Byron +900
Kevin Harvick +1000
Martin Truex Jr +1000
Brad Keselowski +1200
Alex Bowman +1600
Ryan Blaney +1600
Joey Logano +1800
Christopher Bell +4000
Aric Almirola +5000
Kurt Busch +5000
Ross Chastain +5000
Tyler Reddick +5000
Austin Dillon +8000
Matt DiBenedetto +8000
Chris Buescher +10000
Ricky Stenhouse Jr +10000
Daniel Suarez +15000
Erik Jones +15000
Cole Custer +20000
Ryan Newman +20000
Bubba Wallace +25000
Chase Briscoe +25000
Michael McDowell +25000
Ryan Preece +25000
Corey LaJoie +50000
Anthony Alfredo +75000
BJ McLeod +150000
Cody Ware +150000
Garrett Smithley +150000
James Davidson +150000
Josh Bilicki +150000
Justin Haley +150000
Quinn Houff +150000
Timmy Hill +150000
Odds provided by BetOnline
McDowell hasn't had the best luck at Pocono, but he's been finding his groove this year. He's in a much better place than he has been and really has an opportunity to come away with his best finish yet. If he can stay off the wall and drive a smart race, he can do better than his best finish of 8th place from last year's race. Erik Jones has struggled this year. There's no way around that fact. Pocono, however, is one of his better tracks. In a total of 8 starts at this track, he only has two finishes outside of the top 10. Last year, he had a 3rd place finish in the second race of the double-header. Jones has a good shot at really getting out of the hole he's in and having a great weekend. He needs it too. He's fallen behind in the standings, now sitting in 24th place. That's going to be a difficult place to get out of to get into the Chase at this point without a win. This might be his best opportunity. Let's take a look at your top drivers after Nashville:
NASCAR Standings
Denny Hamlin
Kyle Larson
William Byron
Chase Elliott
Joey Logano
Kyle Busch
Martin Truex Jr.
Kevin Harvick
Ryan Blaney
Brad Keselowski
Austin Dillon
Alex Bowman
Tyler Reddick
Christopher Bell
Chris Buescher
Michael McDowell
McDowell is sitting on the bubble, but he's got a win, so he's safe from elimination at this point. That's not to say that he doesn't want to continue to build on those points, though. He definitely wants to gain as much as he can to have the best opportunity heading into the playoffs. We didn't see anyone bumped from the top 16, but there was a little bit of movement. I think that Pocono might give us a few surprises depending on how the weather cooperates (or not). Saturday's results should provide us with a strong indicator of Sunday's results also. I'd say look at Sunday to mirror Saturday, although Sunday's race is a touch longer. Stay tuned for NASCAR's double-header at Pocono this weekend!