[et_pb_dcsbcm_divi_breadcrumbs_module hide_homebreadcrumb="off" homebreadcrumbtext="Home" separator="sep-raquo" hide_currentbreadcrumb="off" homebreadcrumborientation="left" _builder_version="3.8″ fontsbreadcrumbs_font="Lato||||||||" fontsbreadcrumbs_text_color="#000000″ fontsbreadcrumbs_font_size="15px" fontsbreadcrumbs_line_height="16px" fontsseperator_font="||||||||" fontsbreadcrumblinks_font="||||||||" fontsbreadcrumblinks_text_color="#2567cf" custom_margin="25px|||" custom_margin_phone="30px|||" custom_margin_last_edited="off|desktop" custom_css_main_element="font-family: Helvetica Regular;" disabled="on" global_module="3641″ saved_tabs="all"][/et_pb_dcsbcm_divi_breadcrumbs_module]
TicketGuardian 500 Picks & Sportsbook Odds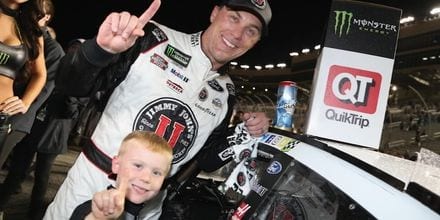 Race: TicketGuardian 500
Date: Sunday March 10, 2019
Track: ISM
Time: 3:30 pm ET
TV: FOX
What We Learned From Last Week
So, whatever predictions NASCAR made with this aero package didn't stack up in my opinion after this race at Las Vegas. This was a caution free race. I don't remember the last time that happened here. Save for but the stage cautions, there were no racing incidents. The cars didn't stack up and draft the way NASCAR was intending. Honestly, I didn't see the cars come closer together like Steve O'Donnell keeps claiming is NASCAR's goal. You lost me there. Apparently, he doesn't think that pack racing is what NASCAR fans want to see. The goal is to just get the cars closer together. I'm not sure where the line is between that and pack racing, but it is what it is I guess. There were 19 lead changes, which is the most for the Spring event since 2016, but quite frankly, the lead changes were numerous when drivers were making pit stops. Should that really be a factor in how exciting the racing is? Me thinks not. O'Donnell thinks that this race didn't show everything that the package has to offer. I guess we're going to see it change throughout the season then.
Joey Logano was the Penske driver who managed to be the class of the field, taking the checkered flag on Sunday. Teammate Keselowski came in second place, after swapping the lead 3 times with Logano in the last 40 laps. It was a close finish, with Keselowski's slide job coming up just a touch short at the end. Hilariously, he admitted that he was a "touch too nice" to Logano, who he could've easily bumped to move for the win. The biggest contention this weekend, much like last weekend (at least for Truex), seemed to be the lapped cars. Although they have always been a factor, I find it intriguing that drivers are now treating lapped cars like they don't belong in the race. The bottom line is that it is part of stock car racing. No matter which way you slice it, lapped cars are a factor. They add an element of skill to the race where drivers have to be strategic and patient and aggressive all at the same time. It take a skillful driver to manipulate the field and drive through the traffic while maintaining his lead. That is something that would be unfair if only the leader had to deal with it, but the entire lead lap field has to deal with it. What's fair is fair. While a lap car may be "in the way", he has a right to race just the same. Let's take a look at what sportsbooks with Nascar Odds are hanging, some past results and picks!
Where Are We Headed This Week?
This weekend, the drivers will continue their battle with lapped cars as we head to another fan and driver favorite. We are headed to the blue walls of Phoenix, or as it is now known, ISM Raceway. This track is a little trickier than our typical intermediate tracks. It's a 1.022 mile
asphalt dogleg oval. I like to think of it as a really fast short track. The banking is pretty mild throughout the track, as it varies anywhere from 3 degrees in the backstretch all the way to 10 degrees in the straightaway from the dogleg to turn one. As you can see, this track is unique in its configuration, making for a tricky setup for the teams. Tires are typically a big factor at this track, and lap traffic always plays a big factor. The nice thing about this weekend (in my humble opinion) is that the guys are running the same package as last year.
Potential Winners and Odds Heading To Phoenix
Race odds are taken from Bovada or 5Dimes.
That being said, we can rely on stats from previous races to be a good indicator of finishes this weekend. If you're smart, Kevin Harvick will be your winning pick this weekend. He's got 6 wins in the last 11 starts. Additionally, he's never finished worse than 6th in the remainder of those starts where he wasn't the winner. When it comes to stage racing, Harvick has it down and will likely be the class of the field this weekend. The Penske guys have been doing extremely well, but I'm not too sure that running without the new aero package will be in their favor. Logano has never been known for his dominance at Phoenix, nor has Keselowski. They're not bad here, but I wouldn't waste my starts on them here this weekend. Kyle Busch is also going to be a driver to watch. Both he and Kevin Harvick are favored at 7-2 odds, but I think that Harvick's history is going to put him in the front of the field this weekend. Let's take a look at this week's potential winners:
My Pick to Win: Kevin Harvick 7-2
Middle of the Road Pick: Eric Jones 25-1
Dark Horse Prediction: Aric Almirola 25-1
In my opinion, I think that Eric Almirola is a little better of a pick than even Jones, who was my dark horse pick last week. He's got three straight top 10 finishes going for him right now at Phoenix, but that's coming from a total of 16 starts. That being said, with the team he's got now, I only see him improving. Eric Jones has historically done very well here. In only three starts, he's nabbed three top 10 finishes.He's still got a lot of learning to do, but Jones is a strong contender. Both Almirola and Jones are going to give you the same payout this weekend, so whoever your gut picks between those two is really all that matters. Jones has laps led at this track, which is more than can be said for Almirola. He's also besting Almirola in the points currently by 2 spots. Almirola needs to up his stage game.
Here are your current top 16 after last week's race:
1. Joey Logano 9-1
2. Kevin Harvick 7-2
3. Denny Hamlin 14-1
4. Kyle Busch 7-2
5. Brad Keselowski 8-1
6. Kyle Larson 12-1
7. Ricky Stenhouse Jr. 40-1
8. Martin Truex Jr. 10-1
9. Erik Jones 25-1
10. Kurt Busch 22-1
11. Aric Almirola 25-1
12. Alex Bowman 50-1
13. Clint Bowyer 20-1
14. Chase Elliott 12-1
15. Ryan Blaney 20-1
16. William Byron 50-1
This weekend should be a good race. I'm looking forward to already seeing a race without this new aero package. It will be good to see the cars actually racing and not having 10 second gaps between 3rd and 4th place. Phoenix lends itself to the speed of an intermediate but the close racing of a short track, which is mostly due to a lot of lap traffic. Maybe the drivers won't whine about the lapped cars this weekend. I guess we can only hope. Stay tuned for an awesome weekend of racing along the blue walls of Phoenix!
50% Cash up to $250