Toyota/Save Mart 350 Odds & Picks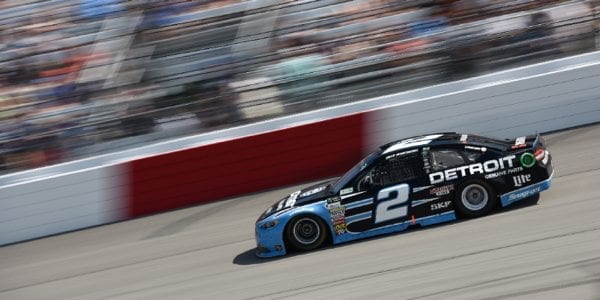 Race: Toyota/Save Mart 350
Date: Sunday June 23, 2019
Track: Sonoma Raceway
Time: 3pm ET
Channel: FS1
What We Learned From Last Weekend
It was clear that Joey Logano was the class of the field last Monday evening at Michigan. We had Keselowski at 8-1 but after leading 163 of 203 laps, it was evident that Logano and the Penske team figured something out to edge the rest of the field. Being that he had the fastest car in qualifying on Sunday, I really wasn't surprised. Although my pick didn't win, his counterpart at Penske did. That speaks volumes to what these teams have figured out. NASCAR is really playing up the overtime situation like it made the race more exciting. I'm scratching my head at that. I won't lie. It was nice to see Kurt Busch give Logano a run, but, um, the other 163 laps that Logano led mostly uncontested kind of speaks to the tone of the rest of the race.
50% Cash up to $250

The key to this race seemed to be pit strategy. Kevin Harvick, for example, lost a lot of track position on a pit stop where he decided to go with 4 tires while Logano stuck with two tires. Although it seemed like it would help Harvick in the long run, it was evident that Harvick fell too far back to ever make up those spots. Even with a two-lap shootout, he couldn't get through the field. Kurt Busch was apparently contemplating pushing Martin Truex Jr. through Logano to get his spot. He thought better of that and was very gracious in his second place finish. Busch realized what a bump this finish was for his entire team. They've been needing a morale boost and this was just what the doctor ordered. Busch held on to second place followed by Martin Truex Jr., Daniel Suarez, and Kyle Busch.
Where Are We Headed This Weekend
This weekend, the drivers are heading to a totally different style of track. It's one of the few times of the year that we get to see drivers turn right and utilize skills outside of an oval track. Sonoma is a road course that showcases some serious driving talent from many drivers and then also some lack of skill from others. It's clear that there are some drivers who are seasoned in all styles of racing. They shine at these road courses, while others fall to the wayside as they struggle to maintain the lead lap. The full track is a 2.52-mile asphalt course with 12 total turns. It's been used in modified versions throughout the years by NASCAR, including eliminating turns 4 and 5 in favor of what was called the Chute. A lot of the drivers did not like the modified course and preferred the full layout. Most series now use the full layout with the exception of some of the motorcycle races.
Parlaying two drivers in head to head? Make sure to get the best NASCAR parlay payout odds! Winning is not just picking winners, it's pricing winners!
Odds and Potential Winners at Sonoma
When it comes to picking the winner of this race, I just loved when Jeff Gordon still raced. He was the class of the field on any road course, but especially at Sonoma. He still holds the records for most top 5 and 10s along with most wins. He had 22 starts at this track. Now, we don't have Gordon on the track. Jeff, we miss you so very much! That being said, there is a strong group of drivers following in his footsteps looking to outrun his records. Most notably, Kyle Busch and Martin Truex Jr are the guys to watch. Kyle Busch has been dominating this year and has a total of 4 road course wins between both Sonoma and Watkins Glen. He's going to be tough to beat, but if anyone can do it, Martin Truex Jr might be that guy. He's the defending winner of Sonoma, after dominating here in 2018. Truex needs to do a little soul searching and quit his whining. If he can get his wits about him, he's likely to repeat 2018. Let's take a look at your potential winners heading into Sonoma:
Winner: Martin Truex Jr. (9-2)
Middle of the Road Pick: Clint Bowyer (6-1)
Darkhorse: Ryan Blaney (25-1)
Blaney actually has some solid runs on these road courses. He doesn't have a win yet, but he's managed to stay inside the top 12 for the road courses in the Cup series thus far. I think that he will have another top run in the front of the pack this weekend. Clint Bowyer is underrated at the road courses if you ask me. With a string of 7 top 10s in his last 8 starts at Sonoma, do not count this guy out. He's been running hard all year. I think that he will take a few more risks this weekend. Bowyer always seems a little more confident on the road courses. All of the drivers will be chasing Truex, though. I think that there will be a lot of competition, but the class of the field will be Martin. Among the other contenders, expect Kyle Busch and Kevin Harvick to be the others that will be hard to beat.
Let's take a look at our current top 16 after Michigan.
Joey Logano (10-1)
Kyle Busch (6-1)
Brad Keselowski (18-1)
Kevin Harvick (7-2)
Chase Elliott (6-1)
Martin Truex Jr. (9-2)
Denny Hamlin (14-1)
Kurt Busch (10-1)
Ryan Blaney (25-1)
Alex Bowman (100-1)
Aric Almirola (25-1)
Clint Bowyer (6-1)
Daniel Suarez (25-1)
William Byron (100-1)
Kyle Larson (40-1)
Jimmie Johnson (25-1)
There he is again! Jimmie Johnson has rallied back into the top 16. I have a feeling this weekend won't be so kind to him. He tends to struggle on the road courses, so I am going to take a gander and imagine that this weekend is no different, especially after the year he's been having. Kyle Busch is still chasing Logano, but I think that the #1 spot may change after this weekend. Joey isn't a bad road course driver, but Kyle is better. Truex will likely pick up a spot or two as well. This weekend will likely give us a few switches in the standings as the drivers show off their road course skills. Stay tuned for a great afternoon of road track racing at Sonoma this Sunday!
50% Cash up to $250