Verizon 200 at the Brickyard Picks & Race Analysis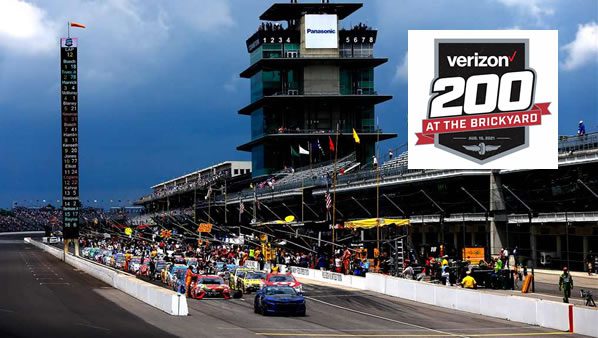 Race:
Verizon 200 at the Brickyard
Date: Sunday August 15, 2021
Track: Indianapolis Motor Speedway Road Course
Time: 1pm ET
Channel: NBC
What Did We Learn From Last Weekend?
Chase Elliott definitely held his own but came up short to teammate Kyle Larson. It was another 1 – 2 finish for Hendrick Motorsports as Larson managed to get the checkered flag well before Elliott. Larson had quite a lead and maintained it, even though the lap traffic to win his 5th race of the 2021 season so far. Honestly, it's nothing Chase should be upset about. Elliott had to drive from the back of the field because of multiple failed inspections that resulted also in the ejection of his crew chief for the race. That's a pretty significant punishment, so to come home with a runner-up finish is nothing to be down about.
The great thing about road course racing is the lack of cautions. Generally, that means we have a boring race; however, the glorious thing about road courses is that drivers can make mistakes without completely wiping out and have plenty of time to get their wits about them and get moving, all the while the field remains green. While that leaves the one who falters with a lot of track position to make up, it's great that the entire field doesn't have to suffer from the mistakes of one driver. For one particular Penske driver, there were quite a few errors. Brad Keselowski saw his fair share of braking problems. He was trying to self-adjust throughout the race, but instead had multiple spins. He just couldn't ever get things quite right and lost a lot of track position although he seemingly had a strong car.
We Are We Headed This Weekend?
This weekend, the drivers are heading to another road course. While Watkins Glen has been around for some time on the NASCAR circuit, the road course at Indy is brand new to all of the drivers. The Brickyard has been on NASCAR's schedule for as long as I can remember. In fact, it was a staple of summertime racing. Kissing the bricks at the end of every race seemed to bring the nostalgia of NASCAR to the forefront, likely for many of us fans. However, with wavering attendance at the 2.5-mile course at IMS, track owner Roger Penske decided that something needed to change. The drivers will be racing on the 2.439-mile road course for the first time in 27 years that they've been racing at this particular location. The road course boasts a total of 14 turns and appears to be quite different from some of the other road courses that the drivers have run on. Elevation may also be a differing factor, as Indy is a pretty flat track in and of itself. That being said, there are a lot of grumblings in the garage from the drivers as they lose their nostalgic Brickyard race.
Odds and Value Picks
I am a little disappointed too if I'm being honest. I always enjoyed this race. Although it's a 2.5-mile track, it's literally a rectangle. It was a much different style of racing than the typical superspeedway tracks. It was also very flat as I mentioned. That created a much more difficult setup for the teams to achieve than at either Daytona or Talladega. But I digress. Since we are no longer going to be racing the rectangle, the drivers will be competing against Chase Elliott once again this weekend. While Kyle Larson will 100% be a factor and certainly be competitive, Elliott is still #1 on the road courses. I believe we will see a lot of strength across the board again from the entire Hendrick garage. The Gibbs drivers will also show promise this weekend as they followed Hendrick's 1-2 finish with a 3-4-5 finish. Don't count those guys out. What we need to see is Brad Keselowski get his brakes right before the race, though. I'm not even kidding. That guy is a heck of a wheelman, but boy I'd like to see him chase more than his own ride this weekend. He's got mad skills on a road course but he's got to get his setup correct. Let's take a look at your potential winners heading into the inaugural road course at IMS.
Favorite: Chase Elliott +170
Mid-Range Pick: Christopher Bell +1600
Dark Horse: AJ Allmendinger +2000
Bet your NASCAR picks for FREE this month by taking advantage of a 100% bonus on your first deposit of $100 to $300 at MyBookie Sportsbook! Simply make a deposit and they'll match you dollar for dollar! You must enter bonus code PREDICT100 to receive this special offer, otherwise you'll be credited with their standard 50% bonus. Click here to register now!
The Dinger is never someone you can count out on the road courses. In fact, these are some of his best tracks. I think that's pretty well represented as he sits at +2000 right now. As someone who doesn't race often, his odds are pretty darn good. He's got a handful of top 5 and top 10 finishes across the board, including a 5th place finish at COTA this year in May. He also boasts a win from Watkins Glen a few years back. He may not be fulltime racing, but he's definitely got a knack when he gets back to the road courses. Christopher Bell really made a solid run last weekend. He had a top 10 finish, and that wasn't by technicality. He ran a strong race and stayed competitive throughout the day despite some squirrely scenarios. He won the road course earlier this year at Daytona and also has a 2nd place finish at Road America. Anyone who can run the same lines at +1600 with Denny Hamlin is worth putting some money on. This kid may be young, but he's got the road course skills it takes to possibly come away with a win this weekend. They will all be chasing Chase, though. With 7 total career road course wins and 4 additional top 5 finishes (one of which was his runner up from this past weekend), Elliott is the man to beat. There is absolutely no one with a better driver rating than Chase. That's indisputable. Kyle Larson's odds are next best at +270, so you can see that Elliott is clearly the favorite.
While Chase managed just a runner-up finish this past weekend, Kyle Larson's win thrust him to the top of the leaderboard, finally knocking Denny Hamlin aside. With only 3 races to go before the playoffs, Hamlin is essentially locked in based on points. There are currently a total of 5 drivers in the top 16 without a win. Kevin Harvick, Tyler Reddick, Austin Dillon, and Chris Buescher are the other four. Buescher will likely fall out over the next few weeks, but you never know. We may not have another new winner in the next 3 races. It may be repeats. If that's the case, every single point counts. These guys are going to be driving like their lives depend on it. Let's take a look at your current standings as the drivers head to Indianapolis this weekend.
NASCAR Standings
Kyle Larson +270
Denny Hamlin +1600
William Byron +2000
Kyle Busch +1000
Joey Logano +2000
Chase Elliott +170
Martin Truex Jr. +800
Ryan Blaney +2800
Kevin Harvick +2800
Brad Keselowski +6600
Alex Bowman +2800
Tyler Reddick +6600
Austin Dillon +15000
Kurt Busch +3300
Christopher Bell +1600
Chris Buescher +12500
Denny Hamlin was bumped from the top of the leaderboard finally as Kyle Larson won Watkins Glen as I mentioned. That doesn't count him out, but he still needs to use caution and drive with points in mind. He should be cautious to not make any mistakes that would really knock him out. He would have to work hard at being knocked out at this point, but it's not unheard of. Chris Buescher and Austin Dillon are the ones that really need to mind their Ps and Qs. This weekend should be an interesting race. With it being the first race at this track for all of the drivers, we're going to see a strong mix of cautiousness and aggressiveness. Some have everything to lose and some have nothing. Stay tuned to see how it all plays out as these guys race for the first time at the road course at Indy! PS: Remember to visit and bookmark our NASCAR Picks to get my race analysis and predictions every week!