[et_pb_dcsbcm_divi_breadcrumbs_module hide_homebreadcrumb="off" homebreadcrumbtext="Home" separator="sep-raquo" hide_currentbreadcrumb="off" homebreadcrumborientation="left" _builder_version="3.8″ fontsbreadcrumbs_font="Lato||||||||" fontsbreadcrumbs_text_color="#000000″ fontsbreadcrumbs_font_size="15px" fontsbreadcrumbs_line_height="16px" fontsseperator_font="||||||||" fontsbreadcrumblinks_font="||||||||" fontsbreadcrumblinks_text_color="#2567cf" custom_margin="25px|||" custom_margin_phone="30px|||" custom_margin_last_edited="off|desktop" custom_css_main_element="font-family: Helvetica Regular;" disabled="on" global_module="3641″ saved_tabs="all"][/et_pb_dcsbcm_divi_breadcrumbs_module]
LA Lakers vs. Brooklyn Nets NBA Pick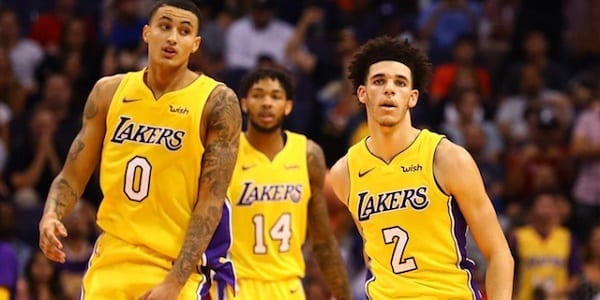 LA Lakers (18-12, 13-17 ATS) vs. Brooklyn Nets (13-18, 16-15 ATS)
When: Tuesday, December 18th, 2018 – 7:30 pm ET
Where: Barclays Center – Brooklyn, NY
TV: NBATV
By: Kyle Cash, NBA Basketball Handicapper, Predictem.com
Point Spread: LAL -2/BKN +2 (-105 vig at 5Dimes)
Total: 228
NBA Advent
To celebrate the holiday season, let's countdown with a fun NBA fact or statistic related to the number of days left until Christmas:
8 – I mean, how could 8 be anything but this? On May 7th, 1995, in Game 1 of the Eastern Conference Semi-Finals, Patrick Ewing's New York Knicks led Reggie Miller's Indiana Pacers 105-99 with 18.7 seconds left. With 7.5 seconds left, the Knicks were losing 107-105. No one will ever forget one of the most famous sequences in NBA history: Reggie 3, Reggie steal/push-off/turn-around 3, John Starks bricks both free throws, Reggie sinks both free throws for the win. And then it was immortalized – 8 points in 8.9 seconds. It's an incredible re-watch every single time.
Last Night in the NBA
Despite my best efforts, I am sadly coming to you post-falling asleep on the couch during the West Coast basketball games, but luckily I didn't miss anything (besides a spot-on prediction) in the Warriors-Grizzlies game. Elsewhere in the NBA, Harden exacted his revenge on Donovan Mitchell and Co., my beloved 76ers were gunned down in the Alamo, and Dave Joerger flipped double middle fingers to Kings fans and DFS players the world over.
With a typical quiet Tuesday night in order, let's head to the Big Apple for a showdown between Former Los Angeles Laker D'Angelo Russell and Future New Orleans Pelican Lonzo Ball. With The King in town, the visiting team is currently a 2-point favorite with the total set to a boisterous 228 points. I want to be a part of it – New York, New York!
The No-Time Lakers
Immediately after a faithful Los Angeles Lakers fan went NBA Twitter-viral with a thread about Lonzo's 1st Team-level defensive play, John Wall took Lonzo out to the pasture and promptly put him out of his misery. LeBron had about as much interest in playing against the Wizards as I do in watching Real Housewives of New Jersey while NFL Redzone is on. But you know what, LBJ? I still do it. Because it's my job. According to Basketball-Reference, that was the King's 9th-lowest regular season performance by their Game Score metric, and his worst statistical game since 2014. Can you tell I took him in Daily Fantasy?
Against the Nets, LeBron shouldn't have any problems getting back on track – if he is engaged. DeMarre Carroll was once a fabled LeBron-stopper, but long gone are those days. In fact, LeBron has triple-doubled in three out of their last four meetings and scored at least 29 points in all four. This is a nice bounce-back spot for the entire Lakers team; D'Angelo Russell thinks playing defense is optional, Jarrett Allen fouls anyone that comes near him, and Joe Harris spent more time this summer growing a beard than working on his game. The Lakers play at the 3rd fastest pace in the NBA and are squaring off versus the 26th ranked defense. Points, points, and more points – in a revenge spot on national television in New York City, we might see some fireworks from LeBron.
Baby Now We Got Bad Blood
When you're hot, you're hot. Brooklyn did a triple-lindy to the bottom of the Eastern Conference standings with a putrid 8-game losing streak, but they've rallied for 5 straight victories including an overtime victory against the Raptors and a road win in Philadelphia. Either D'Angelo Russell or Spencer Dinwiddie has scored 25 points in each of their last five games, and they'll need to continue that scoring output with the Lakers coming to town.
Saturday NFL Picks: Redskins vs. Titans | Ravens vs. Los Angeles Chargers  
After being abandoned like a baby at a fire station, there's no doubt that D'Angelo Russell feels some type of way about the Lakers and Lonzo Ball. D'Angelo is a flawed player, but at least he can do things like dribble by defenders or make shots or shoot in an aesthetically-pleasing way. Lonzo: 0/3 on that front. But through Russell and the newly-paid Spencer Dinwiddie, Brooklyn's offense has become legit, and they sit at 11th in the NBA in Offensive Rating. The 3-point line is the great equalizer in today's game, and Brooklyn shoots 'em at the 6th-highest frequency in the league. Their game plan is simple: take shots, make shots, win. Unfortunately, LA's defense is predicated on running opponent's off of the 3-point line, and it may be enough to frustrate Brooklyn's attack. If the Nets aren't getting buckets, this one will be over sooner rather than later.
Best Bet
I love leaning on analytics to make my predictions, but sometimes it's okay to just use your noodle. The LA Lakers are 7-4 Straight Up this season following a loss, and Sunday was not just any loss – it was a downright embarrassment. Brooklyn has had a nice little run, and I've seen firsthand how dangerous they can be. But they're still an incomplete product, and I can't imagine a world in which they win 6 straight games this year. I love the #RevengeGame narrative brewing for D'Angelo, but I love the #RedemptionGame for LeBron slightly more. And that's really what this comes down to: one team has LeBron James, and the other one does not. In a game where we basically only need him to win, why complicate the matter? Lay the points, and go home happy.
Final Score Prediction: LA Lakers 125 – Brooklyn Nets 115