[et_pb_dcsbcm_divi_breadcrumbs_module hide_homebreadcrumb="off" homebreadcrumbtext="Home" separator="sep-raquo" hide_currentbreadcrumb="off" homebreadcrumborientation="left" _builder_version="3.8″ fontsbreadcrumbs_font="Lato||||||||" fontsbreadcrumbs_text_color="#000000″ fontsbreadcrumbs_font_size="15px" fontsbreadcrumbs_line_height="16px" fontsseperator_font="||||||||" fontsbreadcrumblinks_font="||||||||" fontsbreadcrumblinks_text_color="#2567cf" custom_margin="25px|||" custom_margin_phone="30px|||" custom_margin_last_edited="off|desktop" custom_css_main_element="font-family: Helvetica Regular;" disabled="on" global_module="3641″ saved_tabs="all"][/et_pb_dcsbcm_divi_breadcrumbs_module]
Minnesota Timberwolves vs. Denver Nuggets Pick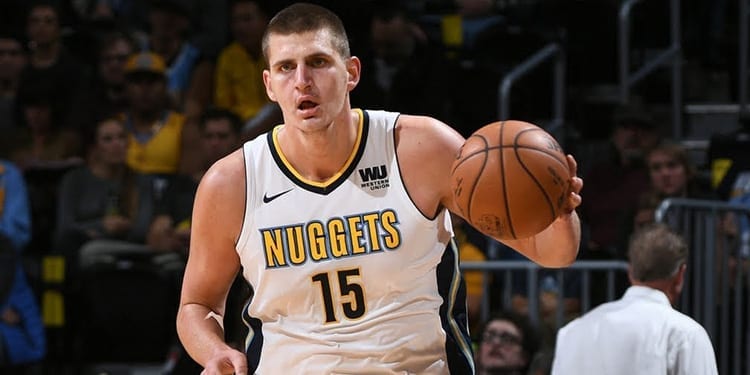 Minnesota Timberwolves (32-35, 34-33 ATS) vs. Denver Nuggets (43-22, 35-30 ATS)
When: Tuesday, March 12th, 2019 – 10:30 pm ET
Where: Pepsi Center – Denver, CO
TV: TNT
By: Kyle Cash, NBA Basketball Handicapper, Predictem.com
Point Spread: Denver -10.5
Last Night in the NBA
We're still a few minutes away from the tip-off in our marquee match-up, but I'm feeling confident that the Celtics will find a way to screw us over. Kyrie is doing way too much talking for my liking, and it feels like a night where they disappoint their fanbase with a series of bone-headed hero-ball plays. (Take notes, kids: this is called a reverse jinx). UPDATE: The Clippers are shooting 65% from the field, 55% from 3, and 100% from the charity stripe. Translation: I don't know what the hell I'm talking about. Have fun sending your draft pick to Boston, ya dopes!
Elsewhere in the NBA, Brooklyn rained all over Detroit's recent win parade, the OKC Thunder got some revenge on their arch-rivals the Utah Jazz, and Marquise Chriss lost the battle to Serge Ibaka but the 16-50 Cleveland Cavaliers won the war over the formidable Toronto Raptors. Just once, I wish an NBA player would connect on a thrown punch – it would do wonders to make them seem less soft.
Tonight, I have the displeasure of checking in on two teams that don't really move the needle for me. The Minnesota Timberwolves are limping into the Pepsi Center to take on the Denver Nuggets in a Tuesday night TNT match-up that is sure to put me to sleep. With Karl-Anthony Towns (and half of the Wolves roster) listed as questionable, betting websites had no choice but to hold the line for this game, but with Denver having won the previous two match-ups on the road, we can assume that they will be favored by a handful. Let's start with the breakdown and go from there, shall we?
TimberPups
It's hard to be a more mediocre team than the Minnesota Timberwolves. They are slightly above average in offense (11th), slightly below average in defense (22nd), and right in the middle in terms of net rating (16th). They're the Goldilocks of the NBA; they don't like their porridge too hot or too cold – they like it just right. But if they want to turn this team into an eventual contender, they're going to need to be more like the three bears and show some ferocity. There's no player in the league more apathetic to his team's success than Andrew Wiggins; his work ethic makes Jeff Green's work ethic look like Michael Jordan's work ethic. That's a confusing sentence, but unless he and Karl-Anthony Towns become more consistent NBA players and blossom into the superstars that their God-given talents and physiques have presented them, there's no path for Minnesota to become a playoff team. It's all on them.
This season was lost the moment that Jimmy Butler filmed his own E:60 at a Wolves practice in the fall, but there's no harm in ending the season on a high-note. For Minnesota to have any chance in a tough road environment, they'll need the services of their budding star KAT. He's had success against Jokic in the past, scoring 22 or more points in their last 4 meetings and limiting Jokic to 7 for 26 shooting in their last two. If he's unable to give it a go, let's just say that I feel less optimistic about the chances of Keita Bates-Diop or Dario Saric versus The Joker. They ain't exactly Batman and Robin.
A Nugget of Truth
If you come to me for all of your NBA picks (particularly for your late night West Coast breakdowns), you'll understand my frustration with the Denver Nuggets. The schedule keeps telling me that they are a tough team can beat anyone on any given night, but would you feel comfortable backing them in a series versus San Antonio? How about the Clippers? When Michael Jordan or David Robinson walked out of the tunnel, there were audible gasps; these guys were carved out of granite and were literally born to play the game of basketball. Jokic, on the other hand, looks like he was born to be a butcher in an Eastern European market. My point is that Denver's personnel doesn't strike fear into their opponent's hearts, and if you think that you can beat them…you're probably right.
That is, of course, unless you're reduced to playing guys like Anthony Tolliver and Josh Okogie 25 minutes per night. In 2019, if you're breaking down film of an opponent and it heavily involves Jeff Teague and Taj Gibson, you are probably in a good position for a victory.
But Denver is still going to need to take what is rightfully theirs to take. The Nuggets' starting five is consistently inconsistent, and there are days, such as Friday, when the entire unit has their switch flipped "oof." With a quiet leader such as Jokic in the fold, there are bound to be games where they lack proper motivation. Richard Jefferson describes them last year as "the quietest locker room [he's] ever been around." Overlooking a weakened Timberwolves team can be easy to do as we approach the end of the regular season, and Denver's heart might not be in it.
Best Bet
Jeez, is it March Madness yet? We got our taste this past weekend with the Ja Morant showcase, but I need some quality college hoops to break up the malaise that the NBA has put me in. If the 76ers weren't on the fifth iteration of their team and still trying to figure things out, there would be almost no drama left for me to dissect. And that's ultimately where I land with this game. Denver's first-round home court advantage is almost etched in stone at this point, and a possible 1-seed is the only thing they still have left to fight for. Minnesota, meanwhile, is too busy licking their wounds and preparing for another uneventful free agency to really care about the remainder of their schedule. When in doubt, let's side with the team that has actually shown a pulse in the past two weeks and against a team that has every incentive to continue losing and secure a better draft slot. Sorry, Minnesota. Time to turn your attention back to Kirk Cousins, I guess. I don't envy you.
Final Score Prediction: Denver 120 – Minnesota 108