NBA Finals Betting – Not Sure Durant Makes a Difference Now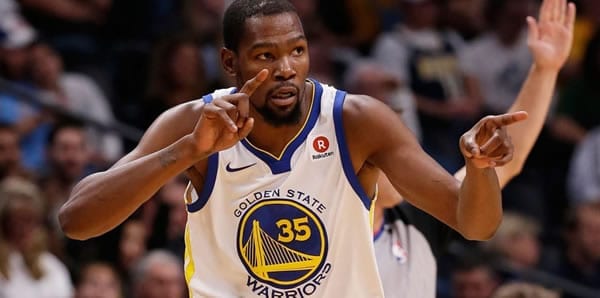 Superstar hasn't had much practice time, if any
As of Sunday morning, we were still not sure whether Kevin Durant could play in Game 5 of the NBA Finals, as his Golden State Warriors teammates truly have their backs to the wall.
But we are quite certain some people in the organization are very unhappy about it.
Durant went down with what was termed a "calf strain" before Game 6 of the series against Houston and has not played since. We're now talking about a period of over a month.
The report is that he tried to practice on Saturday and just couldn't do it. So the prospect of him simply coming onto the court like Superman and leading the team to even one victory, much less three in a row, would appear remote.
Is that the way it should be? Is this something that is happening "organically," so to speak, or has it been orchestrated somehow?
We'll get that in a minute.
Game 5 is at 9:05 PM ET on Monday, at the Scotiabank Arena in Toronto, as the home team tries to close it out and secure its first NBA championship.
Here are the numbers:
Point Spread
Toronto Raptors -3 (-108)
Golden State Warriors +3 (-102)
Total Line
Over 212.5 points (-105)
Under 212.5 points (-105)
Moneyline
Raptors to win outright -154
Warriors to win outright +144
If you notice that -110 is missing, isn't it? Well, that's because reduced juice helps you avoid that. It's the best deal you can find in the online sportsbook business because it brings you REAL value - at BetAnySports.!
Hush-Hush
Klay Thompson injured his hamstring and was pretty forthcoming about the fact that he was going to lobby hard to play in Game 3. He did just that, though the team sat him out to rest the hamstring, more or less handing that contest over to Toronto as Steph Curry was all alone as an outside shooting threat.
Durant hasn't spoken much about his injury (perhaps at the urging of his agent), and coach Steve Kerr has been kind of subliminal at times about it.
This is a very awkward situation because Durant's pending free agency is hovering over this team like a thundercloud. There is more talk about where he is going to wind up next than there was about Kyrie Irving, whose Boston Celtics took a backseat to the attention as they disappeared, as if into quicksand, against the Milwaukee Bucks.
More Game 5 Insight: Matt's Warriors at Raptors Best Bet
What Comes First?
It's no secret that the NBA fosters a "me-first" culture, but are we being too small-minded to suggest that this is the prevailing motivation behind Durant still sitting out when some suspected he should have "grown a pair" and gotten back into the lineup?
Maybe, but we can't help but suspect that the two-time NBA Finals MVP is thinking a lot less about the NBA Finals than he is about what comes after it.
Is it proper to render a moral judgment about this? After all, we're not feeling the pain. And we're not the ones with perhaps nine figures on the line.
And we also can't be positive about the true severity of the injury.
How Bad is the Calf?
We do know that a calf injury can shelve a player for a while. The New York Yankees were hoping to have Troy Tulowitzki on hand to play shortstop while they waited for Didi Gregorius to rehabilitate from Tommy John surgery. Tulowitzki played a handful of games in the first week of April, suffered a calf strain, and hasn't come back to the team since.
According to a report that was published at the CBS Sports website, Dr. Alan Beyer, an orthopedic surgeon and the executive medical director at the Hoag Orthopedic Institute in Southern California, notes that "Durant is a guy that needs the absolutely optimal performance of his gastrocnemius muscle (calf) to jump. He can't do the things he needs to do to play." He adds that Durant has a partial tear, and if it became a full tear, it would be a "major injury," putting his Achilles tendon at risk at the same time. So that's obviously risky, because potential suitors may not want to deal with "damaged goods."
"Are You With Us Or Not?"
We're sure that some of Durant's teammates might sympathize with that point of view since they are businessmen too. However, we know there has been some unrest about Durant's priorities, and the possibility that, as well as he's played and as talented as he is, he still may not be "all-in" on a team where that is the culture (sorry to overuse that, but it fits).
Draymond Green has even admitted that it led to tension and that he confronted Durant about it earlier this season. "'Are you with us or not?' that bothered me," said Green.
That was a legitimate question, considering that the nature of KD's deal was that he could opt out and test the market every year.
There has also been some talk that Durant feels that no matter what he does, this is always going to be Curry's team and that he wants to go to a place where it can be HIS team. This is not foreign to the NBA….. these days anyway.
Remember something here - Golden State's principal owner, Joe Lacob and his partner, Peter Guber - hail from the New England area and revered the atmosphere Red Auerbach created that brought many titles to the Boston Garden. So naturally, they knew it was unthinkable that a guy like Bob Cousy or Sam Jones would walk into Auerbach's office and want to go elsewhere because it was "Bill Russell's team" and they wanted to be "the man." And they have done their best to replicate as much of the Celtics' winning formula as they could with their own team.
Lacob has taken the abuse for standing by his principles. Monta Davis was the team's best and most popular player when he bought the Warriors, but when he made it clear he couldn't play alongside Curry, who Lacob considered a future cornerstone, Davis was dealt away, and the fans let him know their displeasure. That changed in time. But don't have any doubts about which way this franchise thinks.
Is the Message Getting Through?
There are plenty of blood-and-guts guys around here. Klay Thompson is one of them. Even DeMarcus Cousins came back from his quad injury quicker than most people imagined. Apparently, Kevon Looney is one of them too; the young center was ruled out of the playoffs with fractured ribs, but there he was in Game 4 because his team needed him. I can't help but think that was, in part, a message to Durant, as if to say "Here I am. Why isn't your ass out here?"
Steve Kerr was effusive in his praise of Looney, calling him "the ultimate competitor…….he's out there battling, playing his tail off. I have so much respect for that guy. He's amazing." That, I think, is a message to Durant as well.
That all these pundits are speculating as to whether Durant is going to land with the Knicks or the Nets or the Clippers, while his team is out there fighting for their playoff lives, is sort of an embarrassment. In my humble opinion, after KD finally settles in somewhere, you're going to be hearing a lot of stories seeping out from sources - anonymous or otherwise - about how Durant dogged it so that he wanted to preserve himself for the open bidding, whether those stories are 100% true or not.
The "Durant Effect"
But since the Warriors aren't dead yet, let's get back to Game 5. And I'm thinking that even if Durant suits up and plays, what difference is it going to make at this point? With a five-week layoff and without any substantial practice time, what effect will it have, other than to throw off everybody else's timing? This isn't Game 1, or a situation where G-State has a big lead in the series. There isn't any time for Durant to get back into his shooting rhythm.
And what would likely make it even tougher is that he would probably be shadowed by the game's best defensive player at the small forward position (Kawhi Leonard). I see people talking about how only Durant gives them a chance. Well, if they want to toss the Hail Mary out there, this would be the time to do it. But they'd be hoping to get very, very lucky.
Maybe at this moment in time, the Warriors ARE better off without Durant. If he's not right, he's not going to shoot lights out. He might also be a defensive liability, and this team has under-achieved enough on that end.
What is particularly alarming though, after shooting 50% from the field in two of three games, Toronto beat them by double digits in Oakland while shooting 42%. They ran a great third quarter team off the floor with 37 third-quarter points. They haven't needed an advantage on the backboards. Yet they have seemingly taken the spirit away from this opponent, the way they did against Milwaukee in the Eastern Conference finals.
Under the circumstances, the Raptors are under-valued at home at this number, with or without KD. If Durant is announced between now and game time as a participant, you may even find more value because the public will jump on that. Maybe the best thing to do is wait a bit.
Remember that you can avail yourself of reduced juice at BetAnySports. And so you don't have to lay the customary -110 in NBA playoff betting. Could there be a better deal than that? And if you want to keep the action going, real-time wagering comes through Live Betting Ultra. …….. Open your account using a major credit card or person-to-person transfers (like Western Union or MoneyGram). You can also use cryptocurrencies like Bitcoin, which NEVER incurs a transaction fee. …….. Enjoy TWO live casinos as well, including the brand-new Lucky Live Dealer Casino, which will blow you away.
And listen up - when you sign up for an account, mention PREDICTEM and you'll get a 50% Welcome Bonus up to a $1,000 Deposit!
Who else wants $60 of FREE member picks & predictions?
(NO commitments. NO Credit Card. NO Salesman.)