[et_pb_dcsbcm_divi_breadcrumbs_module hide_homebreadcrumb="off" homebreadcrumbtext="Home" separator="sep-raquo" hide_currentbreadcrumb="off" homebreadcrumborientation="left" _builder_version="3.8″ fontsbreadcrumbs_font="Lato||||||||" fontsbreadcrumbs_text_color="#000000″ fontsbreadcrumbs_font_size="15px" fontsbreadcrumbs_line_height="16px" fontsseperator_font="||||||||" fontsbreadcrumblinks_font="||||||||" fontsbreadcrumblinks_text_color="#2567cf" custom_margin="25px|||" custom_margin_phone="30px|||" custom_margin_last_edited="off|desktop" custom_css_main_element="font-family: Helvetica Regular;" disabled="on" global_module="3641″ saved_tabs="all"][/et_pb_dcsbcm_divi_breadcrumbs_module]
Golden State Warriors vs. Toronto Raptors Game 5 Pick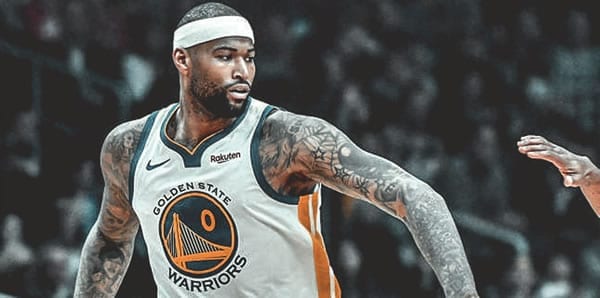 Golden State Warriors (70-32 SU, 43-57-2 ATS) vs. Toronto Raptors (73-31 SU, 51-53 ATS)
When: Monday, June 10th, 2019 – 9:00 p.m. ET
Where: Scotiabank Arena, Toronto, Ontario
TV: ABC
Point Spread: GS +3 / TOR -3 (SportsBetting.ag)
Total: O/U 212
Last Time Out: Toronto won game four 105-92. The Raptors lead the series 3-1.
Warriors Blew a 3-1 Lead
Well, folks, this is it. The potential final game of the NBA season. Who would have thought it would be played on Canadian soil? Regardless, the Raptors are riding extremely high and will be looking to close the door on the Warriors dynasty. Just one win and the trade for Kawhi makes the ownership look like geniuses. Heck, just being in the finals for Toronto means the trade for Kawhi was well worth the cost. The Warriors surely remember when they blew a 3-1 lead to Cleveland a few years ago and will be looking to do the same starting in game five. The Warriors find themselves as a three-point underdog in this game. Last time they were an underdog in this series (game two) they won. Not to mention, it was on Toronto's home floor. I still lean towards a Toronto win because of how they performed on the road.
Rest Advantages
The rest factor will play a role as both teams are banged up. They will get just two days to recover before the all-important game five. This season, the Warriors are 17-8 straight up and 13-12 against the spread in this situation. The Raptors are 15-6 straight up and 9-12 against the spread in the same situation.
Injury Report
The most significant question mark in this game is, "Will Kevin Durant finally play?" Though at one point the Warriors could not seem to lose without Durant, they desperately need him at this point in the series. Durant is currently listed as doubtful, so before you consider wagering on this game, please check his official status that should drop in the next day or two. Another injury that could play a significant role is Fred VanVleet. VanVleet has been great off the bench for the Raptors and is currently listed as questionable for game five. If he is unable to play,
More Picks: Get game predictions from expert handicappers every day of the week >>>
Daily Free Picks
We Want Durant
Let me start off by saying that the only way I think Golden State can win this series is with Kevin Durant. Even then he has not played in quite a while, so if he were to come back, he might be a little rusty. Since this is all very unlikely, we need to look at why the Warriors can go back on the road and win to make the series 3-2.
A Warriors comeback is going to start with their defensive effort. They looked terrible defensively in game three and the second half of game four. The game three loss had to do with Klay Thompson being out, but game four they were just outplayed, especially in the third quarter. The problem here is the Raptors have so many weapons that even if you slow down one guy, two or three other guys will just step up and fill that gap. I look for the Warriors to focus on their defensive effort. If they can get Toronto in a scoring drought, as they did in game two, they will have a chance to win this game.
Now the most disappointing player this series probably has to be DeMarcus Cousins. I know he recently came back from an injury, but the big man has really struggled to make a significant impact. I mean 6 points in game four? Really Cousins? You are 6'11 270lbs, you need to be battling in the post. Again, I understand Cousins minutes were limited to 14, but he basically was non-existent. If you look at say game two, Cousins had a double-double and lo and behold, the Warriors got the win. That said, Cousin must have a big game to keep the Warriors in this series.
Champions in 48 Minutes
The Raptors shocked the world by winning not just one, but two games at Oracle Arena. They are obviously now only 48 short minutes away from their first ever championship. A few things stuck out to me from game four that I think need to be replicated in game five.
Starting with the Toronto bench, Serge Ibaka played a massive role in the game four win. He dropped 20 points, which ended up being second on the team. With guys like VanVleet possibly out, Ibaka needs to have a repeat performance. Even if he gets around 15 points or so, his presence will be vital to closing out this series. Especially in the low post, Ibaka was able to consistently score on the Warriors' big men, which is going to need to happen again.
One guy who I think needs to improve is Kyle Lowry. Lowry once again had a lackluster performance, scoring only 10 points in game four. This included a 3 for 12 shooting night, which is not going to cut it in the closing game. If anything, Lowry needs to focus on distributing the ball at a high rate. Lowry had 7 assists in game four, and I look for him to improve on this number in game five to give his team more scoring opportunities. If Lowry has a halfway decent game, the Raptors will be champions.
Best Bet:
I would like to think that the Warriors are not going to go down without a fight. However, they just looked out of sync at home. Winning in Toronto is a tall task an even though the Warriors won in game two, the arena is going to be the most hype it has ever been. With Durant's uncertainty for this game, it leads me to believe the Raptors will be crowned as NBA's champions on Monday night.
Free NBA Pick: Toronto Raptors -3
STOP LOSING TODAY! START WINNING WITH DOC'S TEAM OF PROFESSIONALS! GET A FREE NO STRINGS ATTACHED $60 FOR THIS WEEKEND'S GAMES!