Portland Trail Blazers at Oklahoma City Thunder Pick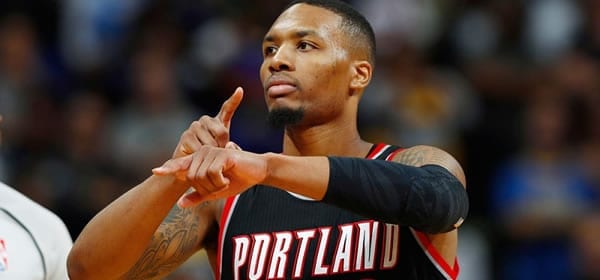 Portland Trail Blazers (53-29, 45-36-1 ATS regular season – 2-1, 2-1 ATS playoffs) vs. OKC Thunder (49-33, 42-40 ATS regular season – 1-2, 1-2 ATS playoffs)
When: Sunday, April 21st, 2019 – 9:30 pm ET
Where: Chesapeake Energy Arena – Oklahoma City, OK
TV: TNT
Point Spread: POR +6/OKC -6 (Bookmaker)
Total: 223.5
Situations: NBA Western Conference Playoffs – Round 1, Game 4 – Portland leads 2-1
For those of you enjoying the holiday weekend – Happy Easter! The Easter Bunny was kind enough to bring us 4 Game 4's today, and every home team is fighting for their playoff lives. Sounds like a perfect Sunday to me!
If you think that I'll be tuning into tonight's featured match-up before halftime, you haven't been paying attention. My house is on lockdown from 9-10 pm EST on Sunday nights for the next 5 weeks for Thrones purposes. But that doesn't mean I can't still break down this battle between Good (Dame) and Kinda Evil (an angsty Westbrook) as OKC looks to tie this series up. After their somewhat-dominant victory in Game 3, the Thunder are favored by 6 points with the total set to a meager 223.5 points. Let the Battle of the Bastards begin!
Disappointment: Thy Name is Dame
In typical fashion for me, I overstepped my boundaries and tried to predict the game too exactly. But to my credit, I laid it all out for you: OKC takes the lead, Portland punches back in the third, and then we get a nail-biter down to the finish. Damian Lillard answered the bell with a 25-point 3rd quarter, but it was crickets after that and OKC slipped away into the night. Not a terrible outcome for Portland considering the circumstances, but it does suck for Dame to waste a heat check like that.
For the Blazers to steal Game 4, they'll need to go back to whatever it was they did in Games 1-2. Preventing OKC from nailing 3-pointers is the key to the series; it severely limits their offensive attack when they aren't making shots. When Russ feels like he can confidently drive and kick, OKC can open the court like almost no other team in basketball.
Portland needs to do a better job of running guys like Ferguson and Grant off of the line and force them to be playmakers rather than shot makers. The way to stop Westbrook is to take all of the oxygen out of the room and make him panic; when he feels restricted by his supporting cast, it's when he goes full John Wick (for better and for worse). Most teams attack OKC by cutting off the head of the snake, but amputating his legs is a more effective way of toppling the Thunder. Jeez, that got graphic, didn't it? It's Thrones seasons, guys. I can't help it.
Good Teams Make Shots
It's a tale as old as time: role players and young guys play better at home. Look no further than last season's Boston Celtics, who were 10-0 at home before falling to King LeBron (R.I.P.) in Game 7 of the Eastern Conference Finals. Aside from some added pressure to Portland's ball-handlers, nothing about OKC's scheme changed; they just made shots. After the abysmal 10-61 from 3-point land we spoke about, they rallied back to can 15-of-29 in Game 3. Home court advantage is a real thing in the NBA playoffs – who knew?
And that's all that happened between Games 2 and 3: OKC went home. Every team is in danger of going home when they can't make shots (see: Houston, WCF 2018, Game 7). The Thunder looked at their game tape, saw that Russ was generating open looks for guys, and said, "Okay – make the shots." And kudos to the young guns for stepping up.
Paul George, meanwhile, continues to make me worried. Can we get Mr. Miyagi in here to fix this thing up, please? What does a boy have to do? George is an abysmal 22-for-60 from the field (36%) and 8-for-29 from deep (27%), and he just looks hurt. While the threat always looms of him having a breakout performance and shaking off whatever is ailing him, I'm more inclined to believe that we're just going to get more of the same. OKC can win in a dog fight if George continues to disappoint, but they would win in a walk if he was doing anything to help. Consider this your final warning about PG13 – bet on OKC at your own risk.
Best Bet
I mean – this thing is going 7, right? There's no way around it. We have a match-up between 2 of the 4 best point guards in the NBA who also have a legit beef with one another. This is amazing! There's no Jared Dudley in this situation; these are two All-NBA scorers and playmakers going shot-for-shot and bucket-for-bucket in an all-out war. I could try to break down the highlights or the statistics and craft a cohesive argument for what each team should do to adjust, but I think we've hit the point in the series when it stops becoming about the scheme and starts becoming about will and talent. These are the guys, here's how we're playing – let's go do it. If you want peace, prepare for war; if you want Game 7, prepare for a battle in Game 4. Dame shoots better, but OKC prevails. That's my elevator pitch.
Final Score Prediction: Oklahoma City 115 – Portland 112