Arizona Cardinals vs. Baltimore Ravens Prediction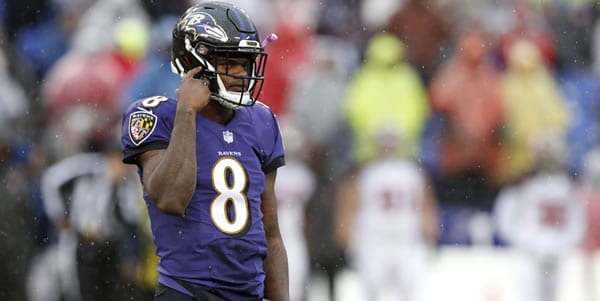 Arizona Cardinals (0-0-1 SU, 1-0 ATS) vs. Baltimore Ravens (1-0 SU, 1-0 ATS)
NFL Week 2
Date/Time: Sunday, September 15, 2019 at 1PM EDT
Where: MT&T Bank Stadium, Baltimore, Maryland
TV: Fox
Point Spread: ARI +13.5/BAL -13.5 (Bet365)
Over/Under Total: 46.5
The Arizona Cardinals face the Baltimore Ravens in a week two matchup from MT&T Stadium on Sunday. Both teams had different forms of success in week one. Down by 18 in the 4th quarter, the Cardinals and rookie QB Kyler Murray stormed back and pushed it to overtime with a TD and a two-point conversion with under a minute left, where the game ended in a 27-27 tie. The Ravens, meanwhile, were able to thrive, just without the need for late-drama, with a resounding 59-10 road win against the Dolphins. Who is in a better spot to carry over the good vibes from week one to this game?
Are the Ravens Awesome or Was it the Opponent?
It's hard to call out a team on anything after winning on the road by 49 points. But the Dolphins certainly looked like trash and played like it on Sunday with a heavily-depreciated roster that will struggle to win this season. But that's not the only reason the Ravens were able to hit the ground running in week one. Despite losing some pieces on defense, it's still a unit that was playing as well as anyone to end the season last year. At home, they should be able to give Kyler Murray and the Cardinals a lot more resistance, particularly late in the game. And with Lamar Jackson now carrying a little experience and going through his first camp as the clear-cut number-one guy, he could be ready to explode on an Arizona defense that is pretty tore-up in certain areas.
Jackson was exquisite in week one, going 17-for-20 with 324 yards and five TD passes. His ability to make the big play could be something to improve on, and it gives this offense tremendous versatility with their deep run-game. A youth movement in the aerial game could really pay off with Marquise Brown having a gigantic 147 yards with two long TD catches, including one for 83 yards. He can really fly. With second-year tight end Mark Andrews also catching a TD along with rookie Myles Boykin, there is a new look on offense and week one showed what they are capable of. And how about Mark Ingram having 107 yards and two TDs in his first game as a Raven? With Gus Edwards and Jackson himself lending his legs, it's a diverse ground-game. This offense could really be a lot better this season with the added dimensions. But remember, a lot of offenses will look good against the 'Fins this season. And despite one good game, Jackson has hardly established himself as a consistent threat that can be counted on to deliver every week.
What Can the Arizona "D" Do About It?
First of all, let's give credit to a clutch Cardinals' defense for allowing the offense to make an improbable comeback and at least salvage a tie. They were pretty serviceable in the fourth quarter, and overtime and that kind of pluckiness can go a long way toward covering spreads, especially the bigger ones they will likely get this season. But doing that at home against Detroit and doing it on the road out of their conference against Baltimore might be two different things. In giving up close to 500 yards to a road Detroit offense, a lot of the preseason concerns on "D" manifested. Against Jackson and his newfound aerial ability and weapons, how will a secondary without their two projected starting corners fare? And while they had some success up-front against the Detroit run-game, it gets a lot harder here. Still, with Chandler Jones getting a sack and still-feared Terrell Suggs getting two of them in his Arizona Cardinals debut, maybe they can do a better job in getting after Jackson.
100% Free Play up to $1,000

A Reason to be Excited in Arizona
Obviously, with the big comeback and the guts shown in a week one rally, at least the Cardinals have something going for them, as opposed to recent seasons. It didn't look that way to start with Arizona managing only a field goal in the first half. Before long, Murray was connecting with Arizona weapons Larry Fitzgerald and running back David Johnson, who finally had a ground and aerial game that was reminiscent of his 2015 form. With Christian Kirk, Damiere Byrd, and rookie KeeSean Johnson, they could have some weapons that Murray can exploit.
Murray looked good. And this is a team that will have to fight for wins this season. Seeing Murray in his first game show such clutch and lead his team nearly all the way back for the win was a great sign, both for the young QB and also the young first-year head coach. Murray showed a lot of poise and guts, and that alone could make the Cardinals very dangerous this season, at least from an ATS angle. Again, let's temper the excitement. Just as you can't say the Baltimore offense is now an explosive one based on blowing out the Dolphins, seeing Arizona making it work at home against Detroit doesn't mean it will come off the same way against the Baltimore defense.
Lay the Points on the Home Favorite
Facing a Baltimore defense in what should be an enthusiastic home-opener bolstered by their week one blowout-win, I see the going getting a lot harder for the Cardinals this week—on both sides of the ball. Against Brandon Carr, Earl Thomas, and Tony Jefferson, Murray and his targets will be harder-pressed to find success and their prospects on the ground appear to be dim. Regardless if Baltimore lit up Miami last week, this seems to be a favorable spot for the team to thrive and I see them covering the spread with a big home win.
Loot's Pick to Cover the Point Spread: I'm betting on the Baltimore Ravens minus 13.5 points at a sportsbook that offers a 100% Bonus up to $1000 - Click Here.