Arizona Cardinals vs. Los Angeles Chargers Pick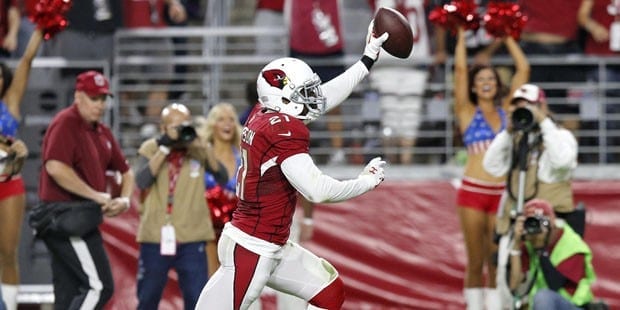 Arizona Cardinals (2-8 SU, 5-4-1 ATS) vs. Los Angeles Chargers (7-3 SU, 5-5 ATS)
NFL Week 12
Date/Time: Sunday, November 25, 2018 at 4:05PM EST
Where: ROKiT Field at StubHub Center, Carson, California
TV: Fox
By Loot Levinson, Expert Football Handicapper, Predictem.com
Point Spread: ARI +11.5/LAC -11.5
Over/Under Total: 45
The Arizona Cardinals come to Carson for a week 12 Sunday matchup with the Los Angeles Chargers. Neither team is coming off a good week. The Cardinals lost at home to the Raiders in a sorry display that saw them hit rock-bottom in what has been a rough season in a transition-season for the team. The Chargers lost to the Broncos last week and with all respect to Denver, the Chargers seemed to give the game away, quite unbefitting for a streaking team that is looking to make a postseason push in 2018. Despite that, I like the Bolts to cover the spread at home this week.
The Limitations of the Chargers
With the Chargers, there are just certain institutional limitations that make them a dicey proposition, especially as a favorite that is fancied as a "good team." They almost never seem to get the most of what they have. They leave things on the table on both sides of the ball. One struggles to remember a time where they converted all their extra-point attempts—little things like that which add up. Last week, up by two on third down, Rivers took the snap and threw it into the ground! This is after the 2-minute warning. This is what they came up with? And with just enough time, the dreary Denver offense finagled their way into field-goal position, with Brandon McManus knocking it through the uprights. It was really a disgusting display. This is what you sometimes get betting on the Chargers—just to be prepare everybody for what can happen. These things can be camouflaged when it's a bad Chargers team and they're getting points. But as a frontrunner, that kind of stuff can be a real killer.
Texans -6 versus Titans
Where do the Cardinals Go Now?
After beating the Niners and hanging tough at Arrowhead and getting the cover against the Chiefs, it was understandable how some of us thought they would see their steadfastness pay off against the Raiders last Sunday and it was not to be. QB Josh Rosen threw a couple more picks, the defense found a way to choke late, and they lost to what appeared to be a spiraling Raiders bunch at home. Offensively, they are really on the ropes, with a rookie QB taking his lumps, without much weaponry or a line to rely on.
The Chargers' defense is pretty good; not the stoutest perhaps, but they can make plays. With Joey Bosa back in the fold, they have that much more pass-rushing menace to wield on a deficient Cardinals' O-line. The Chargers can make a lot of plays against the pass with Casey Hayward, Derwin James, Trevor Williams, Jahleel Addae, Desmond King, and others. If Rosen found the Raiders "D" to be tough last week, it doesn't figure to get much better this week.
The one thing the Cardinals have going for them is a nice defense against the pass. After Rivers threw for over 400 yards last week, they will be pushed to their limits. Unfortunately for them, their run-defense is maybe the worst in the conference. Even Oakland was able to feast on this "D," which is a damning indictment if there ever was one. With the Chargers able to run the ball well, especially with star back Melvin Gordon, it looms as a major matchup problem. Rivers connects with a ton of different targets, with Keenan Allen, Tyrell Williams, Mike Williams, Austin Ekeler, Gordon, and others. So while Arizona has some playmakers in their secondary with Patrick Peterson and Company, there is something about the balance and variety of the Chargers' offense that suggests Sunday could be a difficult day for the Arizona "D."
The Disconnect in Arizona
It's tough for a Cardinals' team that was a contender a very short time ago to be in this spot. Moves haven't worked out, either from a player or coaching standpoint. It might be rash to make that judgment. Steve Wilks deserves a little leash. There are some building blocks on defense, but altogether too many holes up-front. David Johnson is starting to heat up and is the only light on offense and even he's having an off-year. You can't win with that O-line. Rosen is young, but if it doesn't work out, it might not be much of a surprise. The offense is truly insufferable to watch at times, with long stretches with nary a positive development unfolding. And even when they put themselves into a spot to win, the defense betrays them, choking in the form of poor play or untimely penalties. You don't want to be too harsh on the heels of a season-worst game. Up until that, they may have been bad, but they were covering spreads and being somewhat-respectable. But at home on Sunday, urgency didn't resonate when it should have and they just looked like a very unprofessional football machine.
Lay the Points on the Home Favorite
It may have been better for the Cardinals if the Chargers just went ahead and won that game last week like they were supposed to. I see some urgency resonating for the Chargers following the tough division loss at home. Again, taking the Chargers as a formidable favorite can be a tricky proposition. When a lot is expected, they have a peculiar tendency to underwhelm. There just aren't too many aspects of this matchup that shake out well for the Cardinals on either side of the ball. I see the Chargers' defense making a lot of big plays on an error-prone and shaky Arizona offense, while Melvin Gordon opens up things for Rivers and his abundant targets. I envision a comfortable win for the Chargers.
Loot's Pick to Cover the Point Spread: I'm betting on the Los Angeles Chargers minus 11.5 points.