Bears Season Wins Total – 3 Reasons to Bet Over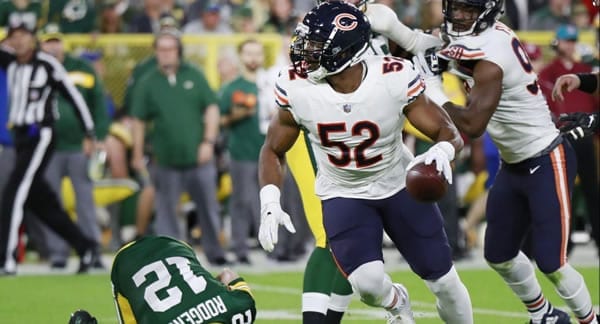 The Bears enter the 2019 campaign in a position they haven't experienced in quite a while. They are defending division champs, and 5Dimes has set their 2019 season win total at nine wins, paying even money to the over and -120 to the under. After reaching 12 wins last year, the betting market is not convinced that Chicago can sustain last year's success. But, I think it is a buying opportunity to invest in a Bears Over 9 wins (or 9½ wins) ticket.
Here are three reasons.
Matt Nagy and Mitchell Trubisky Will Be Better in Year 2
Nagy took over last year after the Bears had finished the previous three years in last place. Trubisky was a number 2 overall pick who struggled in limited work under John Fox. Together the combo led the Bears to the 9th overall scoring offense, but they were 20th in yards per play and 21st in passing yards. The attack returns 10 of last year's 11 starters with only Jordan Howard not back in the Windy City. Rookie David Montgomery and free agent Mike Davis are improvements over Howard in the backfield because they are capable runners and offer versatility as weapons in the passing game. The receiving corps didn't boast a game-changing option last year, but Allen Robinson could re-establish himself as an elite receiver in 2019. He will be two years recovered from his ACL tear so we could easily see him return to form. Taylor Gabriel, Trey Burton, and 2nd-year man Anthony Miller help build a very balanced receiving corp. Running back Tarik Cohen led the team in receptions last year and can take the ball to the house every time he touches the ball. Trubisky had limited college and rookie starts, and now should improve in his second year in Nagy's system. Nagy got conservative in 4th quarters last year and relied on the defense to close out games. I believe he learned that in the 2019 NFL conservative play-calling will not win big games, and will use the whole playbook for the entire game. Trubisky is the biggest question mark, but I look for Nagy to develop him into a QB capable of winning a big game when called upon.
Defense Rules the Day in Chicago
The Monsters of the Midway reemerged in Chicago in 2018. The Bear defense was first in points allowed, 2nd in yards per play, 3rd in sacks and led the league in takeaways with five more than any other team in the league. Defensive Coordinator Vic Fangio has moved to Denver and is replaced by Chuck Pagano for 2019. Pagano may be a step down from Fangio, but the talent on the defensive side of the ball is the best in the NFC. Rookie linebacker Roquan Smith lived up to expectations and led the team with 121 tackles, but Khalil Mack was the player that moved the Bear D from good to great. Mack had 12.5 sacks in 14 games, forced six fumbles and even had an interception. Offenses have to double team Mack on every play, giving opportunities for the rest of the defense to make plays. Akiem Hicks is one of the most underappreciated players in the league. He had 7.5 sacks last year and along with Eddie Goldman were the main reasons the Bears allowed the fewest rushing yards in 2018. DBs Kyle Fuller and Eddie Jackson combined for 13 of the team's league-leading 27 interceptions. The defensive backfield is built to take advantage of opposing QBs under pressure and should continue to generate turnovers. It is unlikely the defense will again average two takeaways per game, but with nine starters returning there is no reason to expect this defense not to be top 5 in 2019.
This Is a Team on the Rise
The Bears continually got better in 2018. They sat at 3-3 after consecutive losses to Miami and New England last year, then won 9 of their last 10 to close out the season to bring momentum into 2019. They lost a home playoff game against the Eagles when the winning field goal attempt hit the upright, but 2018 exceeded all expectations in Chicago. The Bears should bring momentum into 2019. There is a narrative that a tougher 2019 schedule will be more than the Bears can handle. It is true they get a 1st place schedule this year rather than last year's last-place schedule. But keep in mind, during the final ten games of 2018 they beat the Vikings twice, the Packers and the Rams. Chicago was 5-1 against NFC North foes, losing only in week 1 at Green Bay. They dominated the line of scrimmage against their division opponents in 2018, and there is no reason to expect anything different this year which should translate into 4 or 5 division wins. The Bears will be big favorites against the Raiders, Broncos, Giants, and Redskins, putting them on the edge of 9 wins before they even line up against their first place opponents. They proved they could compete with the top teams in the league, making 9+ wins the most likely scenario.
Play the Bears Over 9 Wins
The Bears won 12 games last year and now only have to win 10 to cash an Over ticket. They boast the best defense in the NFC and have an offense that should continue to improve with a creative head coach and high upside quarterback. The Bears over nine wins is a great play, and 5dimes is also offering over 9.5 wins at +147 which I think is a better play. I like these both of these options, but ten wins should be enough to win the NFC North, making the best option a play on Chicago winning the NFC North at +180. In any case, getting a piece of the Bears for 2019 is a wise investment.
STOP LOSING TODAY! START WINNING WITH DOC'S TEAM OF PROFESSIONALS! GET A FREE NO STRINGS ATTACHED $60 FOR THIS WEEKEND'S GAMES!