Betting Los Angeles Chargers over Oakland Raiders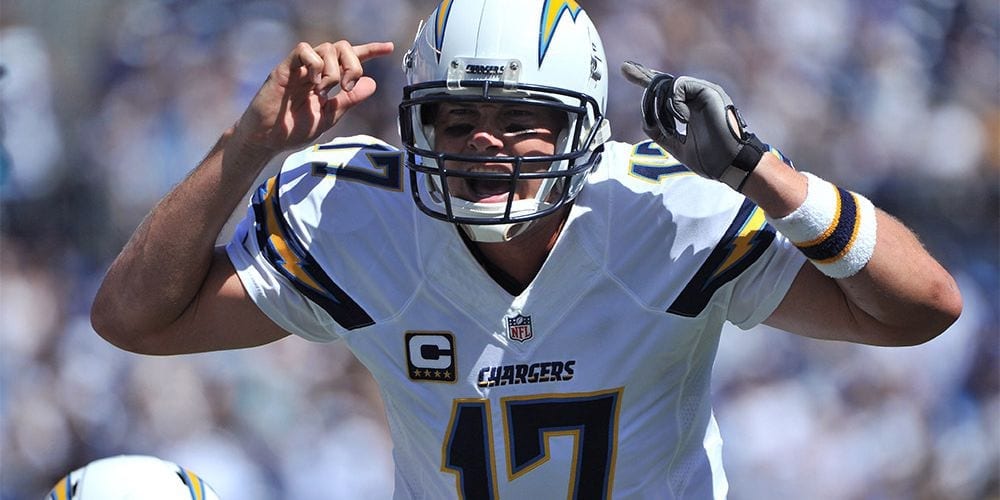 Los Angeles Chargers (6-2 SU, 4-4 ATS) vs. Oakland Raiders (1-7 SU, 2-6 ATS)
NFL Week 10
Date/Time: Sunday, November 11, 2018 at 4:05PM EST
Where: Oakland Coliseum, Oakland, Caifornia
TV: Fox
By Loot Levinson, Expert Football Handicapper, Predictem.com
Point Spread: LAC -10/OAK +10
Total: 50.5
The Los Angeles Chargers come to the Oakland Coliseum to take on the Oakland Raiders in AFC West action on Sunday. The Chargers are on a nice roll, coming off a 25-17 win over Seattle on the road—their fifth straight win of the season. They are just behind the Chiefs in the AFC West race. They looked pretty good coming off the bye and look for the season-sweep against a beleaguered Raiders squad. After coming up short 34-3 to the 49ers, one struggles to find the silver lining for the Silver and Black heading into week ten. I'm laying the big number on the Chargers this week. Here's why:
When Public Perception is Right?
The Raiders have traveled a lot of ground from the good feeling surrounding the John Gruden hire to where they are now. And it's gotten even worse since the Raiders fell to the Chargers on October 7 by a 26-10 score. Since then, they have lost three more with none of the results being competitive or even close to the spread. The Raiders being 10-point dogs here at home speaks volumes to how far they've fallen, but it still might not be enough. In their last three games, the combined margin of loss has been a staggering 69 points.
It sure looks like a tank-job. Gruden wants to revamp this team and no one is safe. Since taking over, their best players have been shipped out and it keeps going. Normally in a situation like this, one can find some value because the demise is usually not as acute as the media makes it out to be. But it has gotten so bad that no one really seems up-to-speed yet. Even the sportsbooks seem slow to acknowledge how far Oakland has fallen.
In football betting, being with the public and taking the easy route doesn't hold much water. After all, it's the book who is in business year after year, not the common betting man. And taking big favorites in this role also falls into the category of "if it seems too easy…" There are exceptions and I think this could be one of them. Oakland is bad and it's going to take a few weeks to really acknowledge how bad they are. And even with this jumbo number on the road, the Chargers have some value. After all, there are parameters of what bookmakers will do, as it's non-conformist to make them 17-point dogs at home. But that could almost hold water at this point.
Chargers in the Right Role?
Typically, the Chargers leave something to be desired as double-digit road favorites. But the matchups hold water. Coming off the bye, the Chargers looked fresh and enlivened to take on the second-half of the season with aplomb. Their run-game is very robust, with Melvin Gordon leading the way, bolstered by Austin Ekeler. They average over 5.2 yards per carry and Oakland's run-defense is ranked last in the league. If you've seen them, you would already know that without even looking. They're that bad.
The Chargers also have a lot of options aerially, with Keenan Allen, Mike Williams, Tyrell Williams, along with their backs who are also big in the aerial attack. Philip Rivers was very good against this defense the first time around, throwing for 339 yards on 22-for-27 passing. And that was with the Chargers leaving a lot on the table. But that's just the thing with the Chargers and a big reason why they are less-than-ideal in this big-favorite role. They leave a lot on the table. They don't get the most of what they have typically. Guys drop balls. They generally don't push the envelope when they're ahead and let teams creep back into it. That was evident with Seattle when a bunch of missed kicks had the Seahawks still in it late and they nearly tied it up with time running out.
Can Oakland Put up Points?
After putting up ten points the first time around, combined with showings like their last when they put up three against San Fran, Oakland's offense is really up against it. Without Lynch, they are without a big weapon in the backfield. Amari Cooper departing means an already-thin ball-catching corps is now down to Jared Cook at tight end and little else. It doesn't help that an already-depreciated offensive line is now dealing with even more injuries and is now really struggling to field a sufficient front. That line is just brutal now. And mistake-prone Derek Carr would seem to feed right into the hands of the opportunistic Chargers' defense. They've failed to eclipse ten points in three of their last four games. It's unclear what they've done to make that equation better this week. And on the other side of the ball, can one picture them keeping the Chargers under 20 points? Do you see the picture starting to form?
The Chargers have already beaten the Raiders easily and are on the heels of five straight wins. It's possible that they could be something less than shot from a cannon this week. Since the win over Oakland at home, they've been home just once and could be a tad road-weary. This is trying to look hard for optimism for Oakland's case. It's a bad sign when all of a team's hopes are wrapped up in whether the opponent will be at a full state of alertness.
Lay the Points on the Road Favorite
I see the Chargers taking it to the Raiders in a big way. And even if I'm wrong, winning by ten doesn't seem out-of-order at this point. The whole core of the 2016 Raiders team that won 12 games is being eschewed for a future that may or may not include the guys that are on the team. Even the fans are feeling rejected, as their long-adored team is tanking in the little remaining time they have in Oakland. No one is really part of the future they're building. And I think we'll continue to see poor showings, at least for the time being. I'm betting on the Chargers.
Loot's Pick to Cover the Point Spread: I'm betting on the Los Angeles Chargers minus 10 points.