Buffalo Bills vs. Baltimore Ravens Week 4 Spread Bet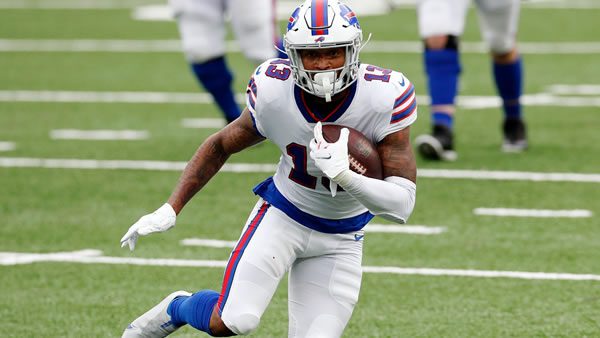 Buffalo Bills (2-1 SU, 2-1 ATS) vs. Baltimore Ravens (2-1 SU, 2-1 ATS)
Week 4 NFL
Date/Time: Sunday, October 2, 2022 at 1PM EDT
Where: M&T Bank Stadium, Baltimore, Maryland
TV: CBS
Point Spread: BUF-3.5/BAL +3.5 (Bovada)
Over/Under Total: 51.5
The Buffalo Bills take on the Baltimore Ravens on Sunday in a key AFC battle of 2-1 teams. Following a hard-to-take loss the previous week to Miami, the Ravens were able to rebound, pulling away late in a tough game with the Patriots on Sunday, 37-26. They now return home for a big spot against a Buffalo team that looks to be a little irritated after falling to the same Miami team that came back on the Ravens the week before. Despite 400 yards from Josh Allen, the Dolphins again had more late, scoring a TD in the 4th in the decisive score to nip the Bills. Let's break down what should be a good game from Baltimore this week.
Compromised Offensive Powers
The offensive exploits of both teams are well-known. Allen is one of the true gems of the league. Lamar Jackson is having a great season, showing a consistent aerial flair while maintaining his edge as the best running quarterback in the NFL. Their respective supporting casts are robust with talent, both on the ground and through the air. Buffalo has multiple air targets who can all go off at any time, while Baltimore has the best tight end in the game and a deep cast of speedsters to make sure Jackson can do his thing. So with that part of the game, one can basically assume what's coming. We have two offenses that, while not automatic, can be depended on to provide a certain amount of production.
The iffy part rests on the other side of the ball. Both teams have seen their secondaries absorb major injury bombs in the early season. With Buffalo, the trauma was more recent, and while they weren't picked apart last week by Miami, they still figure to be diminished with a slew of key absences and a few top guys who won't be back anytime soon, like Micah Hyde and Tre'Davious White. Jordan Poyer is questionable, and this is a big part of their pass defense. Baltimore, however, has seen their own issues in this area, and it manifested in yielding a massive performance to Tua Tagovailoa when they blew a lead to Miami. Some guys have filed back into the rotation, but I'm not sure last week's game against New England will test that aspect of their defense like this week. At the same time, there's a sneaking suspicion in this league that when the equation seems so stark on the surface, it's time to see if you smell a rat. We see two potent offenses against defenses perceived to be suffering a bit to some extent. But maybe that's placing too much stock in limited showings and underestimating the depth of each team. While this game has the earmarks of another shootout, I wouldn't be so certain.
Fargo's NFL Nonconference Game of the Year

Going back to last season, Fargo is an INCREDIBLE 11-5-1 ATS with his Football Game of the Year plays! He is coming off another winning week and has won in 10 of the 12 weeks in the NFL and he is ready for more to add to his 35-22-1 NFL run and his 44-27-1 record in the NFL YTD! Matt has his NFL Nonconference Game of the Year to continue Week 13 that WINS WITH EASE to maintain the dominance! Do yourself a favor and grab a subscription and do not miss a play as every sport is in action right now!
Tough Spot for the Ravens?
They get this one at home, which helps, but since an opening-week win over the Jets, this Baltimore defense has been duck soup in spots. That's bad news against Buffalo, even more so when that Buffalo team is eager not to go to 2-2 after falling apart a little in the second half last week. We saw Tagovailoa have the game of his life against the Ravens. Then last week, they actually managed to make the New England offense look decent, with a few players having excellent games for the Pats. And while it didn't work out last week, the Bills' offense knows they need to pick up the slack with the losses on the other side of the ball. Gabe Davis is healthy now. Stefon Diggs will be looking to bounce back this week in a spot where he could thrive. And even in an off-day for this offense on Sunday, Allen still put up 400 and will be looking to make it stick more this week.
Nevertheless, when you have Lamar Jackson, the cause can only be so dire. His connections with Jaylen Waddle and Mark Andrews only seem enhanced this season, and that could be bad news for this Bills' secondary. Getting some help at RB will help, and Jackson is flashing the same magic with his legs that he was a few years ago, just now with more throwing acuity. It's just that the Bills can't count on keeping this team at bay even if they thrive in a shootout setting. After tailing off a bit the last few years, a win over the preseason conference favorite would be a big statement for Lamar and this team. In a lot of ways, these teams have similar scenarios—both offensively potent 2-1 teams whose only loss was to Miami, both with defenses that seem to be wilting and who have better ball-catchers than backs, but each with QBs who can use their legs. Obviously, there are degrees within each of those classifications, but they have some things in common.
More Picks: Get Jay's Washington at Dallas Recommended bet for their Week 4 game
Lay the Number on the Road Favorite
When you're getting this version of Lamar at home, there is an uncomfortable feeling associated with going against the Ravens. In this case, however, I sense this is a spot where we see Buffalo's offense resume its prior form. And that's not to badmouth the Baltimore defense, as they can make plays and be stout on occasion, but I sense a secondary that hasn't really been able to get it together yet will cost them big this week. I see Allen connecting with his receivers well on Sunday and setting a pace that Baltimore can't quite maintain. Jackson will do damage, as well, but Buffalo can still do a lot of good things on defense, which might be the difference this week. I'll take the Bills.
Loot's Prediction to Cover the Point Spread: I'm betting on the Buffalo Bills minus 3.5 points.
$125% Cash up to $400 w/Bonus Code: PREDICTEM