Chicago Bears vs. Minnesota Vikings Odds, Analysis, Prediction ATS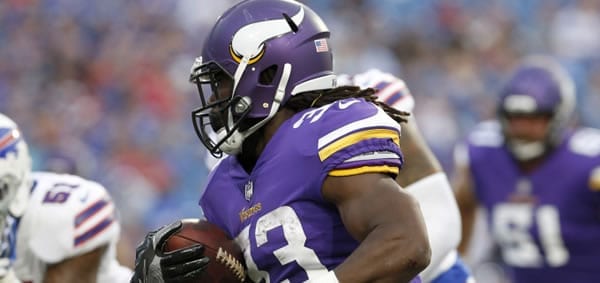 Chicago Bears (2-2 SU, 1-2-1 ATS) vs. Minnesota Vikings (3-1 SU, 1-3 ATS)
Week 5 NFL
Date/Time: Sunday, October 9, 2022 at 1PM EDT
Where: U.S. Bank Stadium, Minneapolis, Minnesota
TV: Fox
Point Spread: CHI +7/MIN -7 (Bovada – Switch books! You get a 50% bonus, rebates on ALL your bets, the best live betting platform, TONS of props for each game and FAST crypto payouts! What more could you ask for from an online sportsbook?)
Over/Under Total: 44
The Chicago Bears take on the Minnesota Vikings on Sunday in NFC North action in week five. For Minnesota, they face a tricky follow-up assignment to what was a taxing win over the Saints in London on Sunday, 28-25, thankfully (for them) avoiding a cartoonishly-missed FG that would have sent the game into OT. At 3-1, they now host a struggling Bears team that is looking to get back over .500 this week after suffering a 20-12 loss to the Giants on the road on Sunday. Back on the road this week, can they come up with something, or will the Vikes cruise to an easy win?
Setting the Table
These divisional teams have matched up well against each other in recent seasons, with no pronounced streaks or anything to suggest a built-in advantage. These divisional games are typical in many ways, with a lot of well-played games. Both teams could be a bit ragged heading into this. Two cross-ocean flights sandwiching a tough game against New Orleans could have the Vikes a little off their peak form, not to mention Dalvin Cook being a little banged-up. But the Bears can't have their sails pumped with wind after what was an unsightly game from MetLife Stadium on Sunday. Not that the Vikings don't have issues of their own, and their 3-1 record might almost overstate the case some, but the Bears are facing some real issues.
Can the Bears Offense Keep Pace?
When facing the Vikings with their multiple weapons on the ground and through the air, banking on your "D" isn't going to work, even if you think the Bears are better in that area than advertised, which might be true. On the one hand, a Chicago optimist could say that Justin Fields showed some good signs, finally connecting some aerially, namely with Darnell Mooney. And sure, that could eventually start resulting in something substantive, particularly this week against what has been an exploitable Minnesota secondary. But it's not like the Giants are a shutdown unit, and last week, Fields couldn't commandeer this offense into the end zone one time.
Until shown something different, this Chicago offense needs to be handled delicately. That same Chicago optimist could also say they are 2-2 despite nothing going right offensively, so they're doing something right. But those wins were in a monsoon against Frisco in week one and a home FG win over Houston where they were able to prey on the Texans' run defense. They won't have that luxury this week on the road in Minneapolis. Unless they're in a spot where they can let their run-game take over against another offense that isn't electric, it's hard to picture them really thriving. It just seems they need the script to be just right, and even then, it won't always work, as we saw last week against a beatable Giants team.
Not Overrating the Vikings
A lot of people seem to be almost hypnotized by the Vikings' offensive potential. They see Dalvin Cook, Justin Jefferson, a nice host of secondary figures, and the occasional jaw-dropping box score that can come from this group. Now we see a 3-1 record. It's easy to let the mind run with the story a little bit. We're still dealing with a wholly imperfect team that hasn't had a sniff of the postseason the last two years. And they have been good at home, beating what seemed to be an off-key Packers team in week one before nipping Detroit late. But with one covered spread and the absolute flop in the spotlight game against the Eagles, we're reminded that there's more to the Vikings than their stars on offense that sometimes surface and often times do not.
What stands out most for Chicago is a certain offensive ineptitude. When contrasted to the Vikings' vast potential in that same area, it creates an image that is perhaps starker than actual reality. And while it did sort of play out that like that last season, with the Vikings' extra boost on offense getting them two wins against the Bears, it's far from a foolproof recipe for Minnesota. You'll have it all worked out in your head, and then the Vikings hit the field, and between Cousins maybe not being on that day or a defense that is pretty bad in the back, it just doesn't work out the way you thought.
More Picks: Eaglesw vs. Cards Week 5 Point Spread Winner >>>
What Chicago Needs
At this point, one wonders if there's enough of a difference between David Montgomery and Khalil Herbert to ever sweat Montgomery's status heading into this game, but either way, they need to run the ball. Some of the promising steps taken with Fields hitting Mooney long need to come to fruition, though having to wait to week four to see so much as a hint of that in a game where they never got in the end zone isn't that exciting, either. I think their best hope to hang in there this week in this difficult road-divisional context lies with their defense. If Cook is healthy or possibly even if Alexander Mattison gets work, this Chicago run-stop has been leaky, which could be a problem. But other than giving up 27 to the Packers in Lambeau, they have allowed a combined 50 points in their other three games. Maybe some defensive stinginess can go a long way this week.
Take the Points
Make no mistake, zero comfort should be felt taking a Bears team that seems allergic to the end zone for stretches. And a few halfway-respectable performances against dicey offenses shouldn't really strike fear into potential Vikings backers this week. Still, something tells me this game won't be decided until late, in which case, I'm inclined to take the points. I'll take Chicago and hope they can keep the Vikings' offense calm, capitalize on a few mistakes, and get out of Minneapolis with the cover on Sunday.
Loot's Prediction to Cover the Point Spread: I'm betting on the Chicago Bears plus 7 points. Make the Bears a +26 underdog by inserting them into a massive 19 point NFL teaser found at Wagerweb Sportsbook!