Cincinnati Bengals vs. Houston Texans Pick ATS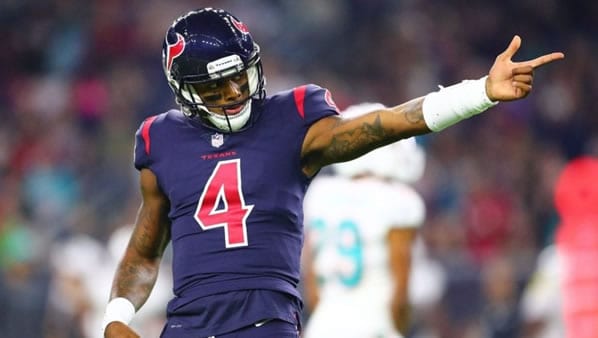 Cincinnati Bengals (3-10-1 SU, 8-6 ATS) vs. Houston Texans (4-10 SU, 5-9 ATS)
Week 16 NFL
Date/Time: Sunday, December 27, 2020 at 1PM EST
Where: NRG Stadium, Houston, Texas
TV: Fox
Point Spread: CIN +7.5/HOU -7.5 (Compare Sportsbooks - Why settle for anything less than a 100% real cash bonus or -105 reduced odds?)
Over/Under Total: 46
The Cincinnati Bengals take on the Houston Texans on Sunday in AFC action. The Texans and Bengals have both suffered their share of woes this season. On Sunday, the Texans again fell to the Colts, losing 27-20. After going on a little spurt, the Texans have now dropped three in a row and are looking a little worse for wear heading into week 16. Meanwhile, the Bengals hit their high-water mark of the season on MNF, beating division-leading Pittsburgh, 27-17, and showing that those who stuck a fork in Cincy have perhaps done so prematurely. Can they keep the positive momentum going, or was it more of a one-off?
The Good and Bad With Houston
Their recipe for success fell flat this season, with a midseason coaching change attesting to the direction of the team. There are still things they can do. Deshaun Watson is still prolific, as his 373 yards on Sunday shows. He has ample aerial weaponry with which to work. RB David Johnson had 11 catches on Sunday. Chad Hansen and Keke Coutee caught TD passes. Brandin Cooks had a good game. There are some bangers on defense, like JJ Watt and Zach Cunningham. There is ample talent on this team.
The offense suffered a void with the suspension of WR Will Fuller. Losing DeAndre Hopkins in a bizarre trade is now something where they're suffering the consequences. Watson can be brilliant in spots, but with his toolbox having taking some hits in the last year, it's just harder to make it stick. Making it harder is an offensive line that started off bad and got progressively worse over the course of the season. They can be mistake-prone, and on Sunday, fumbles by Watson and Coutee really undermined their efforts. And despite some standouts on "D," there are voids, and they are ranked towards the bottom in most relevant categories. On top of their lack of overall stoutness is a deep inability to make good things happen. With a mere nine takeaways and Watt leading the team with just five sacks, the lack of quality playmaking has been striking on the defensive side of the ball.
More Picks: Bears at Jags Week 16 Best Bet >>>
Houston in Their Wheelhouse?
Two losses to the Colts, which sandwiched an ugly 36-7 loss to Chicago, has people rightfully down on the Texans heading into the stretch run of the season. They seem to be getting less and less out of their offense, despite putting up big numbers in spots. And their run-defense has become downright awful. But let's remember the context—playing a Cincinnati team who has found success to be elusive this season. It's a framework in which the Texans have seen good things happen this season—a season-sweep over the Jaguars and a big Thanksgiving win over the Lions. What doesn't stick against better opposition works better when playing the B-league teams of the NFL. Throw in a win over the Patriots, two recent one-score losses to the Colts, and one-score losses to the Titans, Steelers, and Browns, and one can make the case that the Texans aren't as far off as some think.
Looking at Cincinnati a Different Way
Even really bad teams will have isolated weeks where they spring forth with a good game. And let's face it—the Steelers looked almost broken on Monday night, showing none of the fire that characterized their red-hot start. The Bengals looked a lot better earlier in the season when Joe Burrow started figuring some things out on offense. But his injury, in addition to many other key personnel setbacks, have really robbed the Bengals of their potential, especially on offense.
With Ryan Finley in there on MNF, we saw a little more life on offense for the Bengals. The run-game seemed enlivened, with Gio Bernard having a nice night, while Finley was also productive with his feet. The aerial game was a little subdued, but 27 points against the Steelers isn't bad for a Bengals team that had really struggled lately to score points recently, having scored a combined 50 in their previous five games. So Monday's win certainly counts as progress.
The Cincy defense has also been playing better, though definitely obscured by the issues occurring on offense. Other than a loss to Dallas a few weeks back, opposing opponents haven't really been thriving. Holding the Steelers to 17 was the fourth game out of their last five where the opponent didn't eclipse 20 points. There is this underlying scrappiness that isn't always easy to detect. But for a team sitting at 3-11-1 to be 8-6 against the spread speaks to a low-key mettle they possess, something that could have them in good stead in this spot.
The Bengals have now beaten two bonafide conference contenders in the Steelers and Titans. Their high-water marks seem to reach higher than those of their opponent in this particular case. There are a lot of people on that Cincinnati sideline fighting to have a future spot on this team, which is a franchise that does have some promise. That goes from coaches to players alike, and perhaps for the rest of the season, we will see the same kind of urgency we saw on MNF.
Take the Road Team
One win never solves anything, especially when it was only the Bengals' third win as we come into week 16. But in a game with little to choose from, the component of positive momentum could be a big advantage. Houston has the more-viable weaponry on offense—the better quarterback and more-proven contributors at the skill positions. I just think the better all-around play from both sides of the ball will help see Cincy through in this one, with their defense helping stifle the Texans, along with a big enough dose of the run-game getting them to the finish line a nose ahead. I'm taking the Bengals.
Loot's Prediction to Cover the Point Spread: I'm betting on the Cincinnati Bengals plus 7.5 points. Have you tried live betting yet? It's INCREDIBLE! Find the best live in-game betting platform on the planet at Bovada Sportsbook!
Football Betting Guide
New to football betting? NFL point spreads can be confusing at first, but our how to bet on football article help you bet like a seasoned pro! You'll also learn how to wager on teasers, parlays, over/unders, prop bets, futures and how point buying works.