Detroit Lions vs. San Francisco 49ers Pick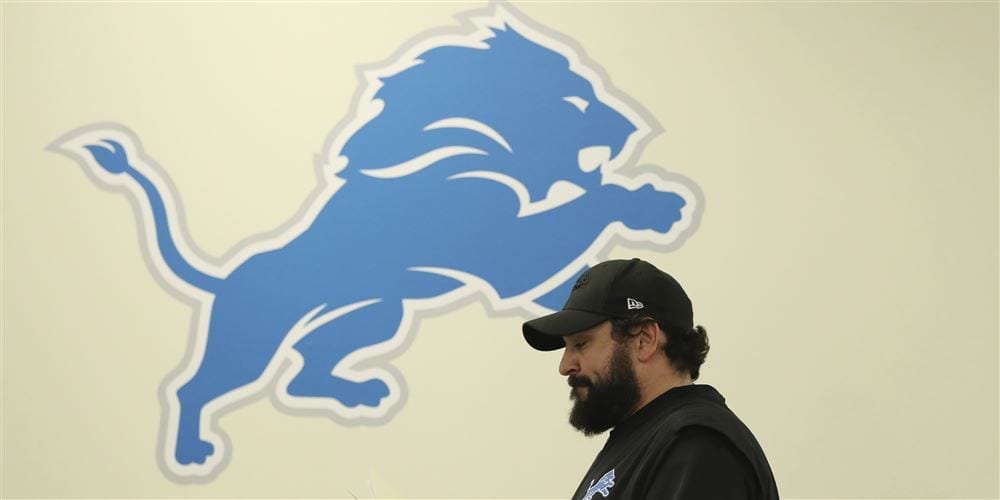 Detroit Lions (0-1 SU, 0-1 ATS) vs. San Francisco 49ers (0-1 SU, 0-1 ATS)
NFL Week 2
When: Sunday, September 16, 2018 at 4:05PM EDT
Where: Levi's Stadium, Santa Clara, California
TV: Fox
By: Loot Levinson, Expert Football Handicapper, Predictem.com
Spread: DET +6 /SF -6
Total: 48
The Detroit Lions make the trip out to the west coast on Sunday to take on the San Francisco 49ers in NFC action from Levi's Stadium. Things didn't go so great for Jimmy Garoppolo and the Niners in week one, with a 24-16 loss/non-cover at Minnesota. That's a pretty tough week one spot, though, and they look forward to getting back to their element, where they started giving their faithful something to get behind last season. Detroit is also looking to shake off a letdown week one performance, but just to a far-greater extent. On MNF, they saw the wheels come off at home, losing to the Jets, 48-17.
Again, with the Vikes being a main conference contender this season, a 24-16 defeat to them isn't too big of a deal perhaps. The 49ers are still not ready for primetime and it's going to be a journey. A lot of optimism exists from last season's strong finish and how the team seemed to do a "180" when Garoppolo took over behind center. People do expect progress this season and maybe even a playoff push, making this home spot against Detroit a critical early-season moment for Frisco.
Even more than with San Fran, some restraint is the recommended advice before people start shoveling dirt on the Lions after just one game. Granted, first signs were not good. Matthew Stafford struggled behind a line that might not have come along as far as some have thought. Granted, it's hard to get a run-game rolling when playing from behind, but LeGarrette Blount and Kerryon Johnson weren't able to register much of an impact. It was a game where things started to go bad and then began snowballing. While a dreadful first act, it might be hasty to jump to conclusions.
Time for the 49ers to Stand Up
It is widely-perceived that last season was a staging area for what is supposed to be a better 49ers team this season. After making a nice run not too long ago, they fell into the doldrums, with substandard quarterback play standing out as a major deficiency area. But in those years of struggle, they developed some depth, located some diamonds in the rough, and started to make headway. The presence of a good QB seemed to bring it all together.
There is no abundant reason to shift perspectives on the Niners based on week one's events. Garoppolo was pretty bad on 15-for-33 passing with a TD and three picks. Still, he's not the only quarterback who is going to have a bad game against the Minnesota defense this season. The run-game remains a question mark and might have taken a step back without Hyde, unless Alfred Morris rediscovers his legs. There is growing power aerially, with rising tight end George Kittle, rookie Dante Pettis who had a TD, and a nice cast of receivers, which will be better if Marquise Goodwin is healthy this week after being limited in week one. And when the offense starts to click, we will see more clearly their growing menace on defense and how some youth and potential is starting to manifest.
Where Do the Lions Turn From Here?
These Lions are coming off a 9-win season. A lot of what was in place to make that happen in still there. First impressions of Matt Patricia were not very good. You don't want to take away too much from in-game shots of him on the sideline, but he seemed unengaged, flustered, and not very presidential. There was just something off about his energy, as if the enormity of leading a team with issues-galore just suddenly started dawning on him.
But again, it's a one-game window. Even in some of the Lions' better recent seasons, their range of effectiveness was among the widest and most-schizophrenic in the league. They can really cover the whole gamut in a short window of time. Losing badly at home and having to travel all the way to the west coast on the short week might not be the best medicine for the Lions, especially as Stafford was banged around a lot. But expecting the same slapstick performance this week would probably be a miscalculation. It's really sound advice to take out-of-range week one results with a grain of salt.
Take the Points on the Road Underdog
Picking the Lions after what we saw on MNF is like buying a dog after he pees on your shoe. You just have to figure that first impressions don't count for much. Nothing looked remotely-good about the Lions, but to be getting points at San Fran might be a better spot for them to thrive. I see them performing better defensively, particularly with their playmaking secondary. And Stafford will be looking to clear out the stink after a four-pick showing on MNF… that was beyond putrid.
The Niners will have some variety issues on offense, thus making it easier for the Lions' "D" to hone in on Garoppolo and his preferred targets, which are not fully-prime heading into week two with Goodwin still dicey. Meanwhile, perhaps the Lions can stay more within themselves and see how a run-game that should be better takes hold. I see a close game that isn't easy to call. I'll take the points.
Loot's Pick to Cover the Point Spread: I'm betting on the Detroit Lions plus the points.