[et_pb_dcsbcm_divi_breadcrumbs_module hide_homebreadcrumb="off" homebreadcrumbtext="Home" separator="sep-raquo" hide_currentbreadcrumb="off" homebreadcrumborientation="left" _builder_version="3.8″ fontsbreadcrumbs_font="Lato||||||||" fontsbreadcrumbs_text_color="#000000″ fontsbreadcrumbs_font_size="15px" fontsbreadcrumbs_line_height="16px" fontsseperator_font="||||||||" fontsbreadcrumblinks_font="||||||||" fontsbreadcrumblinks_text_color="#2567cf" custom_margin="25px|||" custom_margin_phone="30px|||" custom_margin_last_edited="off|desktop" custom_css_main_element="font-family: Helvetica Regular;" global_module="3641″ saved_tabs="all"][/et_pb_dcsbcm_divi_breadcrumbs_module]
Minnesota Vikings vs. Green Bay Packers Pick & Prediction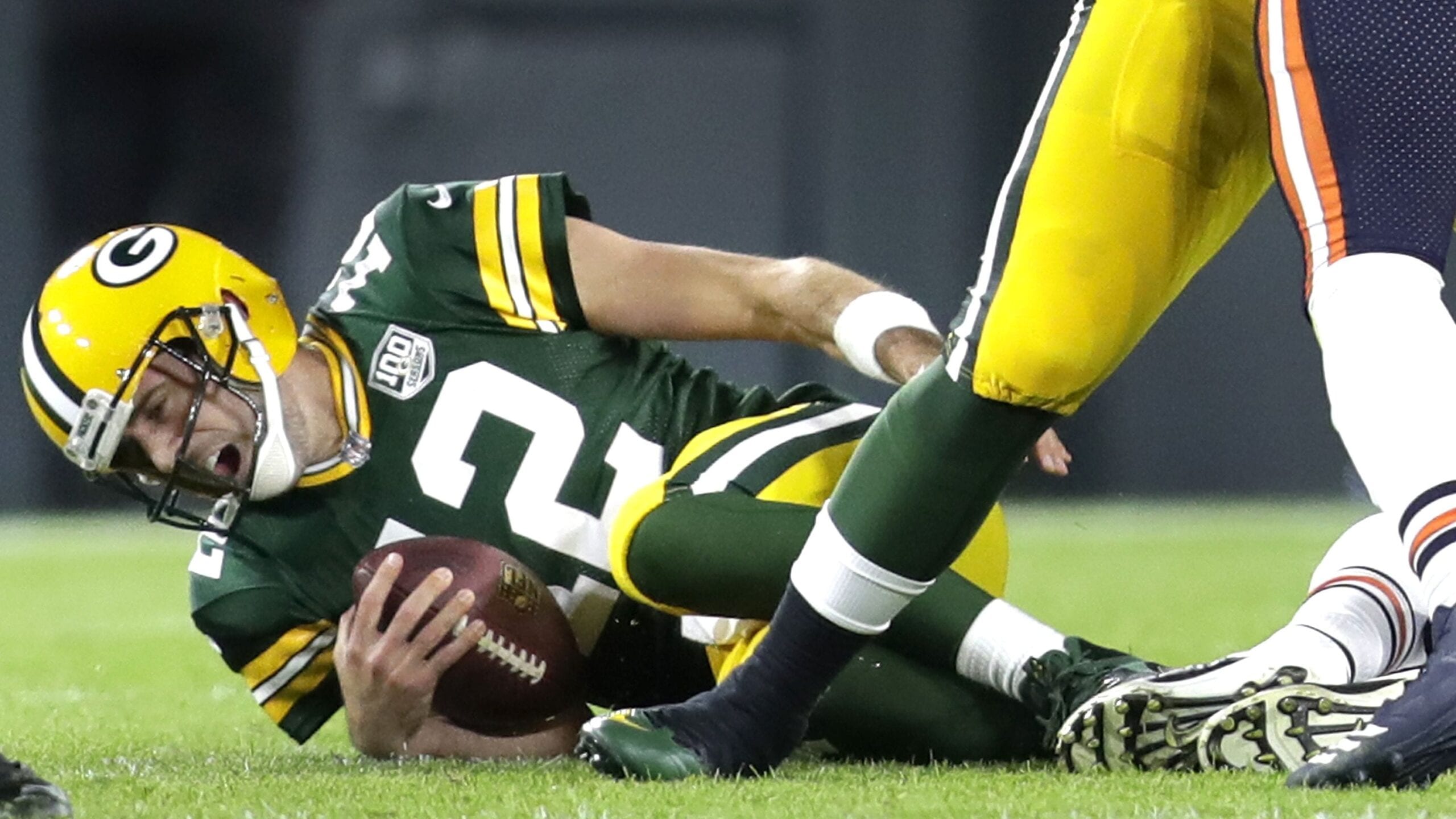 Minnesota Vikings (1-0 SU, 1-0 ATS) vs. Green Bay Packers (1-0 SU, 0-1 ATS)
NFL Football Week 2
When: September 16 at 1pm ET
Where: Lambeau Field
TV: FOX
By Ted Walker, College Football Handicapper, Predictem.com
Spread: MIN +1/GB -1 (-105 @ 5dimes)
Total: 46.5
Editor's note: Handicapper Kevin West also did an analysis on this game and offers a different play. 
After a long day of watching the NFL's opening weekend, complete with some amazing performances, I sat down to watch Sunday Night's Green Bay and Chicago game thinking what a shame it was going to be to have the day end in what I predicted to be a snoozer of a Packers win. The rest is history, as they say, and while I'm still not 100% sure what to make of either Chicago or Green Bay at the moment, I am certainly looking forward to checking out the Vikings take on The Pack this weekend. The Green Bay and Minnesota rivalry has surpassed all other Packers rivalries in terms of contentiousness in recent years – maybe it was that whole Favre thing – and the winner this week gets a leg up in the NFC North. So many stories and so little time so let's dive in.
The GOAT's Knee
So much of this game is coming down to the left knee of Aaron Rodgers. Plenty of online betting sites have kept this game off the board as they await the status of Green Bay's QB but the latest word from Rodgers himself is that he is going to play. Now, players opinions should be taken with a grain of salt but Green Bay has one of the most conservative medical teams in the NFL and they let #12 come back out Sunday under the thought that he could do no more damage. Pain can be managed but it was very clear that Rodgers was limited in his mobility in that second half against the Bears and the offense had to be amended to mostly shotgun looks. Now, that worked out to the tune of three fourth quarter TD passes but Minnesota has one of the best secondaries in the business and will get a week to prep for a familiar opponent at less than 100%. This one was going to be tough for a healthy Rodgers to win. The task may be too tall now. Oh yeah, let's not forget that the Vikings Anthony Barr was the one that all but ended Green Bay's season last year when he planted Rodgers on his collarbone. I'm sure A-Rod wanted to exact some scoreboard revenge but he may want to focus on surviving without further injury first.
They Are Who We Thought They Were
Minnesota came out last week and put on a show that was very reminiscent of what they did in 2017. Kirk Cousins threw for 244 yards and two touchdowns in his Vikings debut and Dalvin Cook splashed back from injury with 95 total yards but the defense was the best unit on the field. Minnesota picked off Jimmy Garoppolo three times and notched three sacks to thwart an improved 49er team. Trae Waynes, Xavier Rhodes and Andrew Sendejo proved they haven't lost a step in the coverage game while Harrison Smith keeps making a case for defensive MVP consideration. Green Bay has a legitimate top-5 offense, even with a less than 100% Rodgers, but Minnesota has the best defensive backfield in the league and arguably the best defense overall. Trae Waynes is listed as questionable for Sunday with a knee injury.
Familiar Foes
This is the longest, continuous rivalry in the NFL with Green Bay and Minnesota playing every year since 1961. They have always been in the same division since the Vikings came in via expansion and its fun because they downright hate each other. Minnesota won both games last season with Rodgers playing only a portion of the first meeting and missing the entire second contest. Green Bay had won five of the eight previous to 2017. Minnesota enters the week with a 5-2 record against the spread in their last seven as visitors, including a 4-1 ATS mark in their last five at Lambeau. Green Bay is just 1-5 against the spread in their last six at home with the same 1-5 ATS record against division foes.
Your content goes here. Edit or remove this text inline or in the module Content settings. You can also style every aspect of this content in the module Design settings and even apply custom CSS to this text in the module Advanced settings.
Given the well known identities of the Green Bay offense and Minnesota defense, you can make a case that this one will come down to who wins when the Vikings have the ball. Cousins looks to be up to speed as he utilized Adam Thielen for 106 receiving yards and found Stefon Diggs for a touchdown. Cook looked all the way back to his pre-injury form and will pose a threat in the passing game. The Green Bay defense did not look all that improved after one game under Mike Pettine. The Packers did play a solid second half against the Bears but were gouged early and often by Chicago's run game and allowed Mitchell Trubisky to make some very easy throws. Clay Matthews and the rest of the Packers linebackers were caught looking the wrong way on too many occasions. It's silly to think that Minnesota will not try to attack them in the same manner. I think that is advantage Vikings all day long, even in Lambeau.
The gameflow on Sunday night set the scene for Green Bay to go pass-heavy as a necessity but lost in that was a relative lack of success for the Packers ground game. Aaron Jones is suspended for one more game, leaving Jamaal Williams as the primary ball carrier this weekend. He ran hard in gaining 47 yards against the Bears but there were few lanes and the rush offense will be limited again if Rodgers cannot be mobile enough to take snaps under center. A one-dimensional offense is always easier to defend than one that has some versatility. The Packers are missing a playmaker in the backfield and they may have to concede that the run will just be window-dressing this week with shotgun sets as the norm. They still have Davante Adams and Randall Cobb to test defenses and Geronimo Allison looked ready to step up last week. All three caught touchdown passes against the Bears. Jimmy Graham was quiet with just two catches on four targets but demands attention every down. There is no reason to doubt Rodgers and his ability to rise to the occasion after last week but it will likely rest on his shoulders again as there is little else going for Green Bay outside the passing game.
Like I said before, this was going to be a tough game for Green Bay under ideal circumstances and things are far from ideal. Lost in the glow of the Rodgers comeback is the fact that Chicago gave that game away with missed defensive opportunities and very questionable clock management. Minnesota is not likely to make those same kind of mistakes and there is plenty of blood in the water as the Vikings take aim at an immobile Rodgers. Minnesota has the running back and tight end to frustrate the Packers linebacker level in coverage and they have the outside receivers as well. Green Bay's defense is not going to be able to shut down this offense and that puts too much pressure on an injured Rodgers. Minnesota wins 27-23.
Ted Walker's Pick to Cover the Point Spread: Minnesota
<div class="widget105"><!-- [et_pb_line_break_holder] --><h4 class="parlays">Best Sportsbooks for Parlays</h4><!-- [et_pb_line_break_holder] --><!-- [et_pb_line_break_holder] --><table id="parlay"><!-- [et_pb_line_break_holder] --> <tr><!-- [et_pb_line_break_holder] --> <th><span class="team"></span></th><!-- [et_pb_line_break_holder] --> <th>2 Team Parlay</th><!-- [et_pb_line_break_holder] --> <th>3 Team Parlay</th><!-- [et_pb_line_break_holder] --> <th>4 Team Parlay</th><!-- [et_pb_line_break_holder] --> </tr><!-- [et_pb_line_break_holder] --> <tr><!-- [et_pb_line_break_holder] --> <td><a href="https://www.predictem.com/out/SportbetP"><img src="https://www.predictem.com/wp-content/uploads/2018/06/sportbet-sm.png"></a></td><!-- [et_pb_line_break_holder] --> <td>2.74 to 1</td><!-- [et_pb_line_break_holder] --> <td>6.24 to 1</td><!-- [et_pb_line_break_holder] --> <td>13 to 1</td><!-- [et_pb_line_break_holder] --> </tr><!-- [et_pb_line_break_holder] --> <tr><!-- [et_pb_line_break_holder] --> <td><a href="https://www.predictem.com/out/BovadaP"><img src="https://www.predictem.com/wp-content/uploads/2018/06/bovada_sm.png"></a></td><!-- [et_pb_line_break_holder] --> <td>2.64 to 1</td><!-- [et_pb_line_break_holder] --> <td>6 to 1</td><!-- [et_pb_line_break_holder] --> <td>12.3 to 1</td><!-- [et_pb_line_break_holder] --> </tr><!-- [et_pb_line_break_holder] --> <tr><!-- [et_pb_line_break_holder] --> <td><a href="https://www.predictem.com/out/MybookieP"><img src="https://www.predictem.com/wp-content/uploads/2018/06/mybookie-sm.png"></a></td><!-- [et_pb_line_break_holder] --> <td>2.64 to 1</td><!-- [et_pb_line_break_holder] --> <td>6 to 1</td><!-- [et_pb_line_break_holder] --> <td>12 to 1</td><!-- [et_pb_line_break_holder] --> </tr><!-- [et_pb_line_break_holder] --></table><!-- [et_pb_line_break_holder] --><div class="widget-footer"><a href="https://www.predictem.com/best-sportsbooks/parlays-odds/">See all Sportsbook Parlays</a></div><!-- [et_pb_line_break_holder] --></div><!-- [et_pb_line_break_holder] --><!-- [et_pb_line_break_holder] --><!-- [et_pb_line_break_holder] --><style><!-- [et_pb_line_break_holder] --> #parlay {border-collapse: collapse;<!-- [et_pb_line_break_holder] --> width: 100%; border: 0px;<!-- [et_pb_line_break_holder] --> font-size: 14px!important;}<!-- [et_pb_line_break_holder] --> #parlay td, #parlay th {<!-- [et_pb_line_break_holder] --> border: 0px;<!-- [et_pb_line_break_holder] --> padding: 8px;<!-- [et_pb_line_break_holder] --> text-align: left;}<!-- [et_pb_line_break_holder] --> #parlay th {<!-- [et_pb_line_break_holder] --> padding-top: 5px;<!-- [et_pb_line_break_holder] --> padding-bottom: 5px;<!-- [et_pb_line_break_holder] --> font-weight: bold;<!-- [et_pb_line_break_holder] --> line-height: 14px;<!-- [et_pb_line_break_holder] --> text-align: center;<!-- [et_pb_line_break_holder] --> color: #000;}<!-- [et_pb_line_break_holder] --> #parlay tr {border-bottom: 1px solid #edeef0;}<!-- [et_pb_line_break_holder] --> .team {font-size: 16px;}<!-- [et_pb_line_break_holder] --></style>
<div style="width:340px; margin: 0 auto;"><!-- [et_pb_line_break_holder] --> <a class="twitter-timeline" data-width="340" data-height="500" data-link-color="#008156" href="https://twitter.com/PredictemPicks?ref_src=twsrc%5Etfw">Tweets by PredictemPicks</a> <script async src="https://platform.twitter.com/widgets.js" charset="utf-8"></script><!-- [et_pb_line_break_holder] --></div>