Minnesota Vikings vs. Green Bay Packers Total Play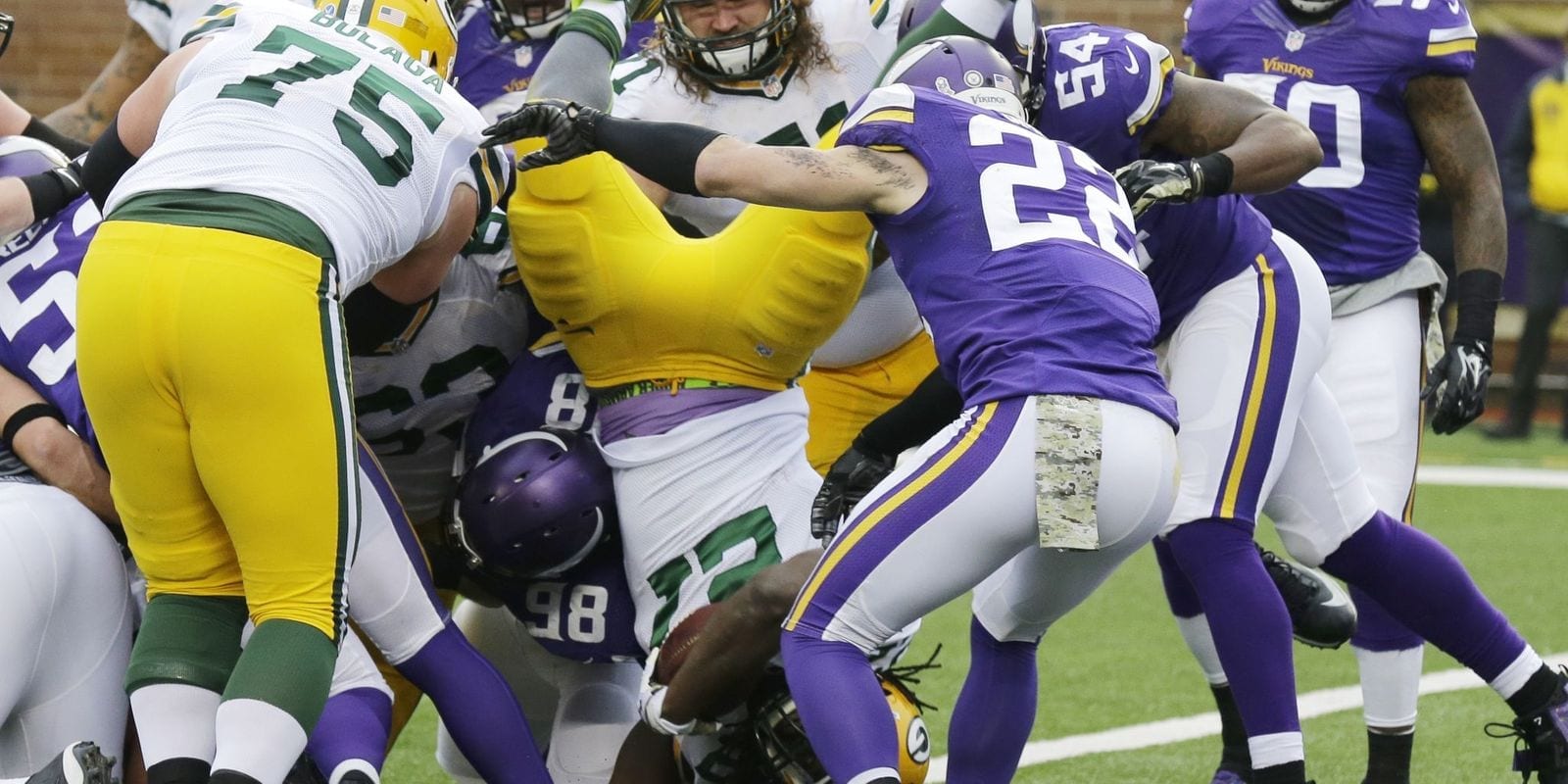 Minnesota Vikings (1-0 SU, 1-0 ATS) vs. Green Bay Packers (1-0 SU, 0-1 ATS) 
When: Sunday, September 16, 1PM EST
Where: Lambeau Field, Green Bay, Wisconsin
TV: Fox
By: Kevin West, Professional Football Handicapper, Predictem.com
Spread: Min +1/GB -1 (Opened GB -2)
Total: 46.5 (Opened at 47)
Power Ratings: Even
Editor's note: Handicapper Ted Walker also did an analysis on this game and offers a different play. 
Takeaways from Week 1
Aaron Rodgers is good! Unless you're living under a rock, you saw him get knocked out of the game, only to come back and lead his troops down the field on multiple occasions, vs. a REALLY GOOD defense and walk away with a win. it was an incredible effort, especially considering that he played the second half with a sprained knee after having a lineman fall on it in the 2nd quarter.
Getting back to takeaways, the most glaring variable that I walked away with was how bad the Packers defense looks. They can't stop the run, they're horrible against pass catching backs and they leave receivers wide open down field. The Bears are much improved and played a good game, but they're not as dynamic on offense as this Minnesota Vikings and this spells trouble vs. a team the Pack has struggled with over the past couple seasons (1-3 straight up).
Another thing that was blatantly obvious to me was that the Packers offensive line can't open holes for the running backs. This makes them one dimensional and easier to defend (at least in theory). The problem for opponents is that Aaron Rodgers is Aaron Rodgers and theory goes out the window when he steps on the field.
Getting back to the O-line, the team was built to pass block. And they should be built to defend Rodgers, because that's the teams strength. Conversely, this strategy is flawed and won't win them any Super Bowl's, much less anything better than a .500 or slightly winning record.
Minnesota won 24-16 last week vs. the Niners and have everybody thinking they're really good. Would you believe me if I told you they should of lost? A guy really has to watch all the games to get a true understanding of what is really going on. Alfred Morris fumbled on the goal line. Jimmy Garoppollo uncharacteristically threw (3) picks. The Niners offensive line suffered multiple injuries including RG Mike Person who went down early in the game with a foot injury and then his backup Joshua Garnett also got hurt and carted off. This put Garoppollo under the gun all day long, creating pressure that caused him to throw interceptions. (This won't be a big issue for him in Week 2 vs. Detroit, as the Lions get NO push on defense).
My point in telling you all of that is that the final score was not indicative of what should of happened in that game. You might think it doesn't matter, but it does, because it creates public perception and the bookmakers use the public's perception to create point spreads. Lines aren't created because the bookie thinks the posted line will be the final score margin when the game is over. Most final scores aren't anywhere close to the spread. If YOU as a bettor can decipher how things "really are" vs. how they want you to perceive a game, you my friend, have a huge advantage and will be collecting from the Bookmaker rather than paying him.
With all that being said, the Vikings won and covered, but it wasn't quite the dominant effort the final score made it appear to be. They too had their fair share of issues, as the offensive line is banged up and wasn't very good to begin with. That shouldn't be a major dinger this week at Lambeu though, as the Pack looked very lackluster in getting into the Bears backfield.
Dalvin Cook looked outstanding making cuts and running the ball! He was equally stellar in the passing game Adam Thielen proved not to be a one hit wonder. This was a serious question mark going into the season as he got a lot of love from Case Keenum, a QB that likes to utilize slot receivers. Kirk Cousins found him often and he led the team with 12 targets. The Vikings were very balanced on offense and moved the ball well vs. a much improved 49ers defense. I expect this trend to continue as Cousins gets more acclimated to his new weapons.
The last takeaway I'll leave you with is that Latavius Murray, not Dalvin Cook played most of the 4th quarter when they tried to protect the lead. Cook didn't appear to be hurt, but it was surprising to say the least. Maybe Zimmer's strategy is to finish out the game on a full tank of gas to avoid fumbles/fatigue.
How the Public is Betting the Vikings/Packers Game
I'm a little surprised that 69% of bettors are backing the Vikings early on. I can understand it as they've just witnessed the Vikings beat SF, see Rodgers gimpy and then also see that Minnesota held the Pack to 10 combined points in two games last season. It's still a little surprising though as historically speaking, Aaron Rodgers can do no wrong in their eyes.
Unsurprisingly, the public are hitting the UNDER 46.5 to the tune of 60%, and this is where we'll be looking to make our money on this game.
The Historicals
The Vikings won both contests last season. They beat GB 23-10 at home and 16-0 at Lambeau.
When the Vikings are on Offense
This offense is really balanced. Green Bay is going to struggle big-time here as they don't have an answer for Dalvin Cook. The second you start cheating up to stop him, Kirk Cousins, has the smarts and wherewithal to hit Thielen out of the slot, Diggs deep or Rudolph short, although I believe Rudolph will be held in to block most of the game due to Minnesota's weak offensive line. The Vikes are going to move the ball Sunday! If GB couldn't slow the Bears down, they'll surely have problems with this offense. The Pack allowed 139 yards on 27 carries vs. the Bears on Sunday Night Football (5.14 yards per rush). I hate this cliche and promise never to use it again on Predictem, but Dalvin Cook is gonna eat!
When the Packers are on Offense
With Rodgers being banged up, Mike McCarthy will surely try to protect him from the tenacious Minnesota D. I expect all of his snaps to be taken in the shotgun. Bonus for us knowing this information because this means more passing and more passing means the ball moving down the field at a quicker rate which leads to more scoring.
I think Randall Cobb has another big game. My how the times have changed in the past couple week as this was a guy they were talking about dumping. As you know, he had a HUGE Week 1 game and he's likely to see high volume again vs. Minnesota, as Davante Adams is not only banged up, he sees coverage from shut down CB Xavier Rhodes. Cobb will often be defended by overrated CB Trae Waynes, who got knocked out of last week's game with an injury but is expected to play. If he doesn't, we get a bonus here with a bench guy who isn't as good as a sub par Waynes. When Cobb is in the slot, he'll see rookie Mike Hughes.
As noted above, the offensive line is built to block and gets no push/opens no holes so I see very little running in this game. Look for GB to move the chains a lot, despite the Vikings defense being good and Aaron Rodgers knee being bad. This guy is not human.
Betting Trends (For Entertainment Only)
The Vikings have gotten off to hot starts under Mike Zimmer in recent history as the team is 8-1 ATS in their last 9 September games.
Minny is 5-2 ATS in their last 7 road games.
The Vikings have been a cash cow at 43-19 ATS in their last 62 games overall.
GB is 1-5 ATS in their last 6 home games.
GB hasn't fared well vs. good tams are 1-7 ATS vs. a team with a winning record.
3 out of the last 4 meetings have gone under, but under much different circumstances so don't let that scare you.
Under is s 20-6 in Vikings last 26 vs. NFC North.
Under 10-3 in Vikings last 13 road games vs. a team with a winning home record.
Over is is 8-2 in Packers last 10 vs. NFC North.
Under is is 6-1 in the last 7 meetings.
The Vikings are 4-1 ATS in their last 5 meetings.
The underdog is 5-2 ATS in the Vikings/Packers last 7 meetings.


Injury Concerns

One would think there'd be some concern for Aaron Rodgers knee after that giant lineman landed on it. He is listed as probable and after watching game tape, he was moving around remarkably well, considering the impact.
Packers WR Davante Adams supposedly has a shoulder issue but I've seen interviews where he's saying he's fine.
Vikings CB Trae Waynes left his week 1 game with a knee issue but is said to be ready for Sunday's tilt.
Weather Report
Party cloudy skies with a high of 77 degrees. No need to bring your parka to this one!
Kevin West's Pick to Cover the Spread
I expect Rodgers to operate out of the shotgun and dump balls off as fast as he can.
This should keep the chains moving and create a a higher scoring game.
It won't matter if Minnesota runs or passes, Green Bay's defense is so horrible that they're going to move the ball down field either way. "But what about the Vikings D?" They're not as good away from home, plus I watched the game vs. SF twice and there were Niner receivers leaking out all over the place, many times wide open! Garopollo had quite a few "almost" completions that should have been caught. Rodgers won't be under as much pressure because GB blocks well for him. If they do "bring it" he's savvy enough to dump it off quick which could lead to chunk yardage.
I'm loving me some OVER here and will be betting it heavily in a game that has shootout potential. I hate to make bold predictions because if I'm wrong it makes me look like a circus clown, but I'm going to predict that this game will be one of the top 3 scoring of the weekend and OVER 46.5 bettors will cash before the end of the 3rd quarter. I'll surely take a last minute cover though as a win is a win! Good luck!