Eagles vs. Bucs Wild Card Odds & Pick Against the Spread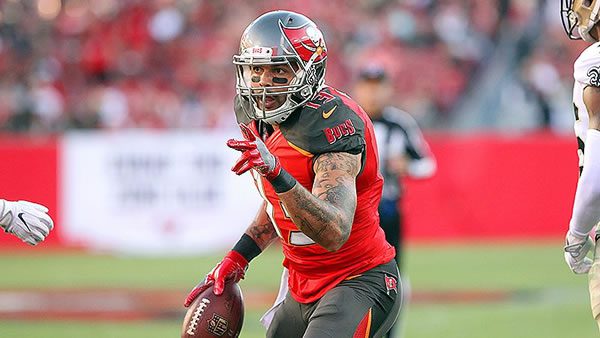 Philadelphia Eagles (9-8 SU, 8-8-1 ATS) vs. Tampa Bay Bucs (13-4 SU, 9-8 ATS)
Date/Time: Sunday, January 16, 1:00 PM EST
Where: Raymond James Stadium
TV: FOX
Point Spread: Phi +9 / TB -9 (Bovada – Check out their live betting! It's the BEST!)
Over/Under Total: 49
On Sunday afternoon, Tampa Bay kicks off their title defense, hosting the 7th seed Philadelphia Eagles. BetOnline is making the Champs 9 point favorites and setting the game total at 49. We all expect the Bucs to win the game, but can they cover the nearly double-digit spread. I'm banking on Tampa to jump out early on the Eagles and not take their foot off of Philly's throat until the win and the cover is locked in, so let's buy a Buccaneer -9 ticket. Here is the handicap.
Philly's Defense Can't Stop Brady
Tom Brady will take the field on Sunday with the league's second highest-scoring offense and best yards per play average to do battle with this Eagle defense. Tampa Bay has endured some setbacks with their skill players over the past few weeks, losing Chris Godwin and Antonio Brown and playing without Leonhard Fournette for the past three weeks. Mike Evans and Rob Gronkowski will have to fill the gap left by these two superstars. Brady could also make a star out of one the his lesser-known receivers, such as Breshad Perriman or Tyler Johnson. Fournette should be back on the field this week, which should get the running game going again while giving Brady a reliable target out of the backfield. But no matter who lines up with him, look for Brady to have a big day. Everyone knows the key to rattling Brady is to get pressure on him, and on the year, the Eagles have the second-fewest sacks of any team. Tampa allows the fewest sacks of any team, so TB12 should have all day to throw. Brady led the league in passing yards with 5316 yards, and he will keep rolling this week. Evans and Gronk are not speedsters, but they are impossible to guard in tight spaces, one of the primary reasons Tampa was 2nd in the league in 3rd down conversions and 2nd in red-zone touchdowns. Even without Godwin and Bryant, the Bucs have too many weapons for the Eagles to contain.
The Philly defense has some good numbers, but numbers don't tell the whole story. When the Eagle offense can get ahead and maintain possession of the ball, the defense can hold their own. In a five-week stretch before the week 18 practice squad game, the Eagles had played the Giants and WFT twice and the Jets and held them to 15 points per game. But when facing playoff-caliber offenses, they gave up 41 to the Cowboys (week 3), 42 to the Chiefs, 33 to the Raiders, and even 28 to these Bucs in week 6. Philly has limited their weak opponents and is 8th in opponents yards per play, but on top of being 31st in sacks, they are 27th at takeaways. Philly won't be able to pressure Brady and can't take the ball away – it's setting up for a long day for the Philly D.
Jalen Hurts Isn't Ready
The speed of the game in the playoffs is said to be a level higher than the regular season, which was often too fast for Jalen Hurts. Hurts completed only 61% of his passes and are basically a one-read and run quarterback. Hurts was only 12 for 26 when these teams met earlier in the year, in addition to taking two sacks and throwing a pick. Again, he has looked better and put up better numbers against the Giants, Jets, and Football Team, but he has to play his best game for Philly just to keep this close. Philly will try to run the ball with Miles Sanders, Boston Scott, and Jordan Howard. They have a solid offensive line and really turned their season around when they became a run-first team and ended the season with the league's most rushing yards and rushing touchdowns. It's easy to stay dedicated to the run when you are playing an offense that you know can't score more than 14 points, but that will not be the case this week. Philly will have to score at least in the 20s to have a chance, which means Hurts will have to pass, which is a problem for the Eagles.
Todd Bowles and the Bucs defense will be ready to stop the Eagle running attack and get after Hurts. Tampa came into the year with what was considered the best run D in the league, but it hasn't played out that way. Injuries have sidelined Lavonte David, Shaq Barrett, and Jason Pierre-Paul, but all are expected to play this week. The battle in the trenches between Vita Vea, Ndamukong Suh, and the Eagle interior line will be epic, but these Buccaneer tackles are not going to get pushed around, so Philly will have to run outside. When Hurts is in obvious passing situations, Bowles will throw exotic blitz packages at Hurts that keep the heat on him. Tampa's secondary isn't great, but they can match up with the mediocre receivers the Eagles utilize. Look for Hurts and the Eagle offense to dominate this one, especially after the run game gets shut down.
More Picks: Get Down on Jay's PHI/TB O/U Total Pick >>>
Philly Is Just Overmatched
The league wanted seven playoff teams to get two extra playoff games, and this is the result. Philly is a 9-8 team that has played six playoff teams this year. In those games, they are 0-6 straight up and 1-5 ATS. They really are not worthy of making the playoffs. Nick Sirianni will be coaching his first playoff game against the defending champs and a QB with 6 Super Bowl rings. Hurts has can make some highlight-reel plays, but he can't sustain drives against an elite defense as he will see on Sunday. Generally, laying 9 points in an NFL game is not a winning move, but in the playoffs, most teams won't take their foot off the gas when they get a double a digit lead, especially a team led by Tom Brady. Brady will keep piling it on the Eagles as he did last week to the helpless Panthers. Before the game, the Eagles may be happy to be there, but after the game, they will have a different opinion.
Lay the Points with Tampa
Let's roll with Tom Brady and the Bucs to get it in gear and bury the Eagles on Sunday. Play Tampa -9. Note: Don't re-up and get NOTHING from your sportsbook! Check out our best sportsbooks list where you can get a 100% bonus to build our bankroll before you even place your first wager!
10* GAME OF MONTH **INSANE 75% NFL PLAYOFFS!
AAA Sports has gone 5-1 (83%) with their NFL Playoff picks over the L2 rounds and overall they enter the Super Bowl having gone an INSANE 75% (9-3!) with ALL of their NFL Playoff releases! AAA Sports is playing with HOUSE MONEY in BOTH the NFL and College Football this season and they're UNLOADING MASSIVELY in this year's Super Bowl with BOTH SIDE and TOTAL! BE THERE!