Green Bay Packers: Over or Under Season Wins Total Picks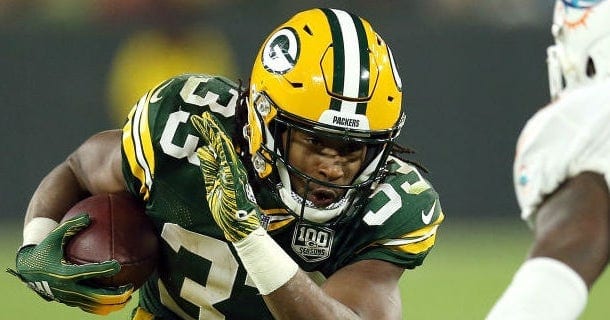 In this bet, we try to decide if the Green Bay Packers will go over or under the regular season wins total posted by the sportsbook. MyBookie.ag has posted a total. Let's take a look!
Green Bay Packers – Total Regular Season Wins
Over 9.5 Wins (+100)
Under 9.5 Wins (-130)
In other words, ten or more wins would be "over," while 9 or fewer wins would be "under." Over 9.5 wins is listed at even-money, while under 9.5 wins is a slight favorite at -130 betting odds. Let's break down which might be the better side to be on, as we get ready for the 2019 NFL regular season. Speaking of getting ready for the regualar season if you're not already getting the best possible odds now is the time to switch to a sportsbook offering -105 pricing for football bets.
Setting the Table
A total of 9.5 wins conveys a fairly-optimistic viewpoint on the Packers' upcoming season. However, Green Bay's recent track record hasn't been terribly rosy. Last season, they didn't even wait for the season to finish before canning former Super Bowl-winning head coach Mike McCarthy. One might be hard-pressed to find a team that fires its coach in midseason, only to be projected to win 9.5 games the following season. They won just 6 games last season, but there is ample cause to speculate an upsurge.
Changes
They have brought in new head coach Matt LaFleur, who has already forged himself as an up-and-coming offensive mind at just 39 years old. He spent the last two seasons as the offensive coordinator with the Rams and Titans. This is his first head-coaching position, and he has a lot of pieces with which to work. Nathaniel Hackett and Mike Pettine will serve as the offensive and defensive coordinators, respectively.
Some player personnel changes could resonate well. On offense, however, there weren't many moves made. They were active in the draft, getting a potentially-good tight end in Jake Sternberger in the third round, along with promising guard Elgton Jenkins in the second round. They are hoping a healthy Aaron Rodgers, the pieces they already have, and the innovations of LaFleur will get this group pointed in the right direction.
It's on the other side of the ball that is the source of more optimism. Some big-name pieces on defense had grown stale, with a lot of new talent now coming into the fold. That includes two first-round draft picks in DE Rashan Gary and S Darnell Savage, Jr. The additions of proven producers like LB Za'Darius Smith, S Adrian Amos, LB, and Preston Smith could really help the Packers' "D" get over the hump.
Strength of Schedule
When gauging whether a team will go over or under a certain number of wins, their regular season schedule is naturally a significant consideration (strength of schedule). They have 6 games within the AFC North, with the Bears, Vikings, and Lions making for a pretty tough trio of teams. They get the Broncos, Eagles, Raiders, Panthers, and Redskins at home. That's not too tough. But they get some tough road assignments, taking to the road to play the Cowboys, Chiefs, Chargers, 49ers, and Giants. They close the season with 4 road games in their last 6, with two divisional road spots to close the regular season. If you wanted to call the schedule "doable," that could be reasonable. But there is nothing about it that makes one think the Packers will have a smooth road to the postseason.
The Hype Factor
The perception of the Packers is that they are a good team—a generally-successful NFL franchise. And while their history is packed with a lot of glory, the public has been a bit slow to catch up mentally to what the Packers are now. And yes, those fortunes could change. Better health, a new head coach, and some personnel changes could turn things around. But in their last 27 regular season games, they have lost twice as many games as they won (9-18). Now they're supposed to win twice as many as they lose? It just seems like an overly-positive outlook for a team that hasn't been a factor for a few years.
The Case for Going Over
On offense, they have a quarterback in Aaron Rodgers who when healthy, is still one of the best in the business. He has some good targets in growing Davante Adams, Jimmy Graham, Marquez Valdez-Scantling, and Geronimo Allison, with some youngsters on the move. RB Aaron Jones has been impressive when healthy. They have a good offensive line and a new offensive mind in LaFleur who could bring it all together. On defense, they have been very active in free agency and in recent drafts. One has to figure they will improve dramatically with any luck at all. Typically, a team with a top quarterback, a good O-line, and a rigid defense is going to be a legit threat to win ten games. Let's also not forget to mention that the Pack has been snake-bitten by injuries the last few seasons and are due for some better breaks on that front, albeit with a lot of the same injury-prone players.
The Case for Going Under
A look at the offense on paper reveals a lack of compelling difference-makers. Outside of WR Davante Adams, their aerial attack lacks stars, with a downward-trending Jimmy Graham and an erratic producer in Allison their major threats. One X-factor could be second-year receiver Valdez-Scantling, who had 581 yards in his rookie season in 2018. But it's not a cast that inspires a ton of confidence. Making them less-viable is what appears to be a very-dicey ground game, with delicate Aaron Jones leading the way.
One has to figure all the moves, and growing youth on "D" will resonate well, but sometimes when you throw together a bunch of pieces, the sum total is less than what you'd tend to project. They were weak against the run last season, and while Rashan Gary should help in the trenches, they still look dicey up-front. And it's a little backward that they got a new head coach known for offense, yet all their major moves and acquisitions were made on the other side of the ball. It just might not be so easy to clear out the stink left in the locker-room from the last two seasons. Even if they somehow went 4-2 in the NFC North, it's hard to see them losing less than 5 games out of their division with this schedule, which would need to happen for them to get to ten wins.
Final Verdict: Under 9.5 wins at -130 odds.
STOP LOSING TODAY! START WINNING WITH DOC'S TEAM OF PROFESSIONALS! GET A FREE NO STRINGS ATTACHED $60 FOR THIS WEEKEND'S GAMES!