Indianapolis Colts 2021 Season Win Odds & Pick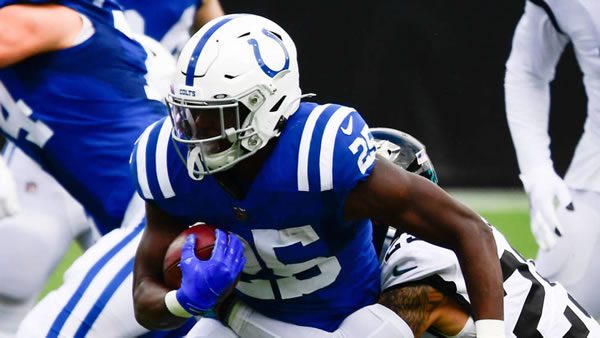 Colts Under 9 Wins In 2021
Indianapolis opened the new NFL year in mid-March with a blockbuster move to take embattled QB Carson Wentz and his off the Eagles hands for a couple of 2nd day picks. Indy is counting on Wentz to guide them deep into the playoffs and possibly on a super bowl run. A month ago, the win total was at 10½, and bettors were pounding the over, but a string of steady bad news has put a cloud over Indy's hopes. Betanysports.EU currently has the Colts over/under win total at 9, and I'm playing Under. Here are the three reasons.
Injuries Are Already Piling Up
Wentz is reunited with coach Frank Reich, the Offensive Coordinator with the Eagles, in 2017 when Wentz was playing at an MVP level prior to tearing up his knee. Reich moved on from the Eagles in '18 to lead the Colts, while Wentz has never regained his 2017 form and last year was arguably the worst signal-caller in the NFL. There was great hope in March that Reich and his top-notch offensive line could rehabilitate Wentz's career, but with just a few weeks before week 1, it's not looking good. At the end of July, Wentz went down with a broken bone in his foot, had surgery, and now has a timetable that gets him back on the field between weeks 1 and 7. Indy had Jacoby Brissett on the roster last year, who is a high-end back-up but let him leave in free agency, which has left 2020 4th round draft pick, Jacob Eason as the next man up. Eason is a strong-armed QB with little mobility and would be overmatched playing NFL competition should Wentz miss games.
If that wasn't enough of a gut punch for Indy's prospects, days later, All-Pro left guard Quenton Nelson had the exact same injury, the same surgery, and now has the same timetable to be back on the field. Generally, teams can get by without one of their offensive linemen for a few weeks, but Nelson may be the best linemen in the NFL, and his loss will severely impact the Indy offense. That's because the Colts are counting on Eric Fisher recovering from a January torn Achilles to play left tackle. Some combination of Will Tevin, Sam Coleman, and Chris Reed would be the starting left side of the line if the season opened today. This line goes from top 3 in the league to a line that will get overrun. Defenses will exploit these weaknesses, and no matter who is behind center, they will have no chance to run an offense. Even if Nelson and Fisher are on the field in week 1, they will be less than 100% and would be at risk for re-injury.
The two most important players on the Colts are not likely to be in the lineup on Week 1 and not likely to be full-go until October. If either one suffers a setback, it will be difficult for the team to win games. The Colts are doing a lot of finger-crossing, hoping to be ready, but that's hard to bet on.
MORE LIKE THIS: COLLEGE FOOTBALL SEASON WINS PICKS
The Schedule is Brutal
Indy's first five games are: Seahawks, Rams, Titans, Dolphins, and Ravens. Five teams that won 10 games last year and will hit the ground running in 2021. I can't imagine Jacob Eason starting a game against one of the teams and winning. I also can't imagine a hobbled Carson Wentz starting a game against one of these teams and winning or winning if his blindside is being protected by bench-caliber players. Even with a very solid Colt defense, the offense will have to score 24 points to beat these teams, not very likely unless everyone is 100%. If they were to lose these five games, which is a very real possibility, they would have to go 10-2 to cover an Over ticket. The schedule does have some easier contests, including two games with the Texans and games with the Jets and Raiders. There are also matchups with Tampa Bay, Buffalo, and the 49ers after the tough start. If the schedule had some of the cupcake matchups in September, Indy might be able to slip through the opening five games with a couple of wins while they get in the groove, but as it is, they will probably be in a hole too big to climb out of.
Wentz May Be As Bad As He Looked Last Year
Wentz did something that was hard to do last year – he led the league in both interceptions and sacks. Similarly hard to do, he was 34th in both yards per attempt and completion percentage. Since coming back from multiple torn ligaments at the end of the '17 season, his completion percentage and yards per attempt have both fallen by 10% each year. The Eagle line didn't help last year, but taking 50 sacks in 12 starts shows Wentz was not reading the field and being decisive. There is always a narrative that reuniting a QB with a previous coach he had success with will turn around a career, but it's not a given that if Wentz was 100% healthy coming into the year that he would revert back to 2017 form. Now he is missing working with his new teammates for all of August, gets no chance to knock some rust off in the pre-season, and has to come back and play against Super Bowl-level talent. Some players never fully recover from an injury as horrifying as Wentz suffered – Wentz may be one of those players. Reich gets credit for being a great coach, but he has only won with Andrew Luck and Phillip Rivers behind center. I agree he may be able to gear game plans to Wentz's strengths that may improve Wentz's efficiency, but he can't snap his fingers and turn back the clock for four years. Wentz still has to read the defenses and make the passes, two things he couldn't do last year. If Wentz is closer to his 2020 self than his 2017 self, Indy won't have a chance to get to 10 wins.
Play the Colts Under 9 Wins
Things are not starting on the right foot for Indy's 2021 campaign. The Colts have to be primed and ready to go in Week 1, but injuries are threatening that already. Count on the Colts falling in a deep hole early that they won't be able to climb out of, and Under 9 wins tickets to cash. Note: Due to your money being held by the sportsbook for over five months, NFL futures bets should always be placed at a book that you KNOW is going to be in business at season's end. With that being said, it doesn't get any better than Intertops Sportsbook, who has been in business since the 1990's! Not only that, but you can make your futures bets FREE by taking advantage of a 200% bonus they offer to Predictem readers. The Details: Deposit $25 and get an additional $50 FREE! Simply register for an account through this link, deposit $25 or more and then immediately go to their promotions page and enter bonus code ROOKIE200 and the extra $50 will show up in your account immediately!