Indianapolis Colts Over/Under Season Wins Pick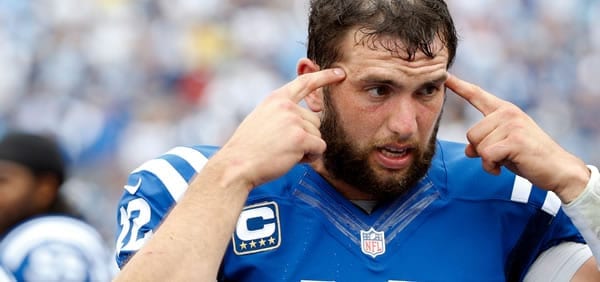 Indianapolis Colts Over/Under Season Wins Pick
In this article, we try to gauge how many games the 2019 Indianapolis Colts will win. We will also look at some alternative lines, as we start getting our NFL futures wagering squared away for the new season, which is fast approaching. Let's take a brief look at how the Colts left off last season and then weigh their case for this year.
Last Season: The Colts looked done for after a 1-5 start last season, before winning nine of their last ten to get into the playoffs. They won a wild-card game against the champions of their division in the Texans, but the Chiefs at Arrowhead proved to be a little out of the Colts' range last season. They look to kick it up a notch and become part of the AFC elite this year. But a lot of teams coming off promising seasons fall flat when they try to follow up. Where in this equation will the Colts fall?
Things to Like about the Indianapolis Colts This Season
Aerial Game
With Andrew Luck back and healthy, the Colts' aerial game reclaimed its former high stature in 2018. The Comeback Player of the Year, Luck threw for 4593 yards and 39 TDs. He got another big year from TY Hilton and was able to help turn around Eric Ebron's career, as the big tight end caught 14 touchdowns. There are a lot of nice accompanying pieces, including a backfield that can do damage. Adding Devin Funchess gives Luck a tall reliable target, and they could be better this season.
Variety of Rushing Game
While not always impactful, the Colts' run-game is coming together nicely. Nyheim Hines caught 63 balls, a productive number for a part-time running back. He should be even better in his second year. Marlon Mack does a lot of the heavy lifting, as he had 908 yards and nine touchdowns. Jordan Wilkins added 336 yards. Now throw bruising back Spencer Ware into the mix, and you can see that things are starting to take form. It's definitely enough to give opposing defenses something to consider other than the dynamic passing-game.
Offensive Line
A big part of the Colts' past woes was a deficient offensive line. It made Luck far more of an injury threat. But after allowing 18 sacks in 2018, we saw the line offer Luck some cover, in addition to helping spring a newfound spurt on the ground. Draft pick Quenton Nelson really paid off, and the four studs around him help make up one of the very top fronts in the conference.
Front Seven on Defense
For much of their winning streak, the rigidity up-front was a big part of the success. But when it mattered, they kind of melted against Kansas City, which used a run-game to pretty much keep the Colts out of the game. They don't have a lot of bulk up front, and the entire line isn't made up of any real difference-makers. But they are solid and have star-power at the linebacker position with Darius Leonard looking for a big second-year. And that goes for the whole defense—a lot of youngsters where some projected surges could manifest in a big way.
Personnel Retention and Added Pieces
Other than a useful receiver in Dontrelle Inman being gone, it's hard to point out any real significant losses for the Colts from last season. They have money to burn and kept the pieces that they wanted to keep. They were a bit quiet in free agency, but adding Funchess and Ware to the offense will help, as will Justin Houston aid a pass-rush that could use an injection of life. In the draft, they got a good corner and receiver in the second round, with Rock Ya-Sin and Parris Campbell now in the fold.
Things that Could be Problematic for the Indianapolis Colts This Season
Injuries
Luck got through last season relatively unscathed, but he's not Drew Brees or Philip Rivers, either. If some bad fate were to befall him, they would presumably turn the ball over to Chad Kelly or maybe Jacoby Brissett. So a lot is riding on Luck playing every game or pretty darn close to it. They are also top-heavy in other positions, namely receiver and linebacker where a key injury would be disastrous.
Secondary and Pass Rush
Last season, the Colts pass-defense was mid-pack at 16th and might need to find more rigidity, especially with their schedule. They had 15 picks but could use a bit more playmaking as a whole. They had no defensive touchdowns, and the pass-rush was negligible at times. Leonard, Jabaal Sheard, and Denico Autry had some sacks, but as a team, they were not great. Justin Houston could help that.
Division Strength
The AFC South could be the best division in the NFL by the time it's all said and done. And that's six games the Colts have to play that could all be tough. If the Titans are good and Jacksonville bounces back, that leaves defending division winner Houston, and that's a tough trio of teams. There could be no weak spots among the bunch, and that could add some wear and tear along the way.
Reliability
There are a few areas where the Colts might not be utterly reliable. First of all, Adam Vinatieri, who missed a couple of kicks in the playoffs, might finally start to show some signs of age and that could be worth a couple wins. And as we saw last season, the "D" didn't shine when the lights were at their brightest. Those same potent AFC offenses will be back in 2019, and this defense needs to deliver. And while they went on a big run after a 1-5 start to make the postseason, it showed there is a streaky nature to this squad. They look for a more consistent 2019 season.
No Earth-Shattering Moves
The Colts are in a nice position and the way they closed last season shows that perhaps they aren't that far off. But in a conference with the Chiefs, Patriots, and potential major threats like the Chargers or even another AFC South team that rises up, one would have liked to see them get a real difference-maker to help facilitate a bigger push. They had the cap space to make it happen. And while the moves they made were nice, something more-impactful could have helped.
Schedule
Again, it's a difficult division. Sure, the Jags or Titans could fall flat, but there's a chance that they will have to play three good teams twice. They have a bit of a problematic start to the season, with consecutive road games at the Chargers and Tennessee to kick things off. In out-of-division games, they get the Falcons, Raiders, Broncos, Dolphins, and Panthers at home. That's not too tough. But they get some real toughies on the road with the Chargers, Chiefs, Steelers, Buccaneers, and Saints.
It depends on how optimistic of a stance you want to have on the 2019 Colts. Let's say they go 4-2 in-division, what record do you think they will have on the road against the Bolts, KC, Steelers, and Saints? There could be three losses in there, and that puts us pretty close to the number. On the one hand, it's easy to like their chances this year. But when running the numbers, the picture becomes a little less-rosy.
Standard Win Total:
Indianapolis Colts Win Total

Over 10 Wins (+105)
Under 10 Wins (-125)
Pick:
Over. At the end of the day, I think the Colts are the best team in their division. They don't have a ton of weaknesses, and while the schedule is tough in spots, they were a team that showed last season that they could string together wins in bunches. I see 11 wins being more-likely than 9 wins this season. I'm taking the +105 number on "over."
---
Alternative Win Totals
IND regular season wins over 11 1/2 +239
IND regular season wins under 11 1/2 -279
Pick:
12 wins is a lofty number and the price isn't tantalizing enough. Pass.
---
IND regular-season wins over 11 +203
IND regular-season wins under 11 -243
Pick:
Again, needing 12 wins from the Colts this season could be asking for a lot. This bet could be a push, but if almost everything goes their way, this could win. Still asking a lot for just +203. Pass.
---
IND regular season wins over 10 1/2 +154
IND regular season wins under 10 1/2 -17
4
Pick:
Pass. I like being able to push with the standard 10-win season wins total.
---
IND regular-season wins over 9 1/2 -140
IND regular-season wins under 9 1/2 +120
Pick:
Could be justified on both sides. Being able to win this bet with ten wins is appealing. This wager would be my second-favorite win total bet on the board. I still like over ten wins at the better price more, but not by much.
---
IND regular season wins over 9 -211
IND regular season wins under 9 +176
Pick:
Pass.
---
IND regular season wins over 8 1/2 -263
IND regular season wins under 8 1/2 +223
Pick:
If you don't like the Colts' chances this season for whatever reason or think the schedule is too much of a demon, getting +223 for under 8.5 wins isn't an altogether indefensible position.
50% Free Play up to $1,000