Indianapolis Colts Win Total O/U Lines – Top Value Picks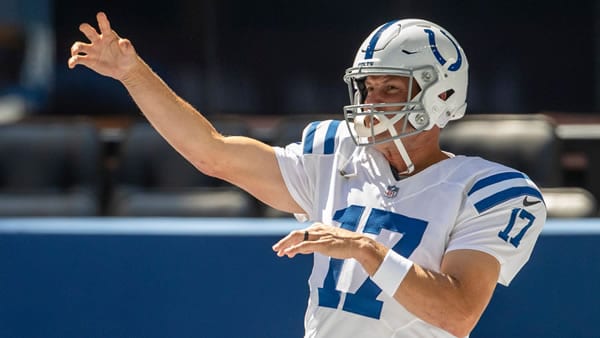 Indianapolis Colts Season Wins Total Over-Under
After a rough 7-9 season, the Colts have some well-placed optimism heading into 2020. There is a lot to like about this team under third-year head coach Frank Reich who looks to make a big move this season. With quarterback play, a long-running issue, getting Philip Rivers could inject the right life into this team to get them over the hump. There is a lot to like on both sides of the ball, and in being so competitive even with poor QB play last season, one wonders what this might look like if Rivers is able to deliver.
It won't be easy. Above them is a gaggle of conference contenders who won't easily be dissuaded, along with a lot of other sub-.500 teams who have hopes for an upsurge. It's going to take a special effort from the Colts to buck all of that. But with blossoming youth and some key additions, they sure have the look of a team that could do some real damage. Let's take a look at the odds of their season-wins total and try to figure out what the best move is to make on the Colts.
A Look at the Odds
IND regular season wins over 10 +149
IND regular season wins under 10 -169
IND regular season wins over 9.5 +105
IND regular season wins under 9.5 -125
IND regular season wins over 9 -138
IND regular season wins under 9 +118
IND regular season wins over 8.5 -187
IND regular season wins under 8.5 +162
IND regular season wins over 8 -278
IND regular season wins under 8 +238
IND regular season wins over 7.5 -335
IND regular season wins under 7.5 +275
Odds Explanation: We see a range of win-totals here, ranging from 7.5 wins all the way up to 10 wins. The standard win line, where the odds are closest on either side of the bet, is the 9.5-win total, with over 9.5 wins at -105 and under going at -125. We can see that, at least in the minds of the oddsmakers, the Colts should be better this year.
Football Betting Guide
New to football betting? NFL point spreads can be confusing at first, but our how to bet on football article help you bet like a seasoned pro! You'll also learn how to wager on teasers, parlays, over/unders, prop bets, futures and how point buying works.
Pick Analysis
I'm going to go a little out on the limb and pick the Colts to win over ten games at +149. It's a big move, as only 11 or more wins will get the job done, meaning they will need a big four-win surge from last season. Ten wins would only be a push. I like Frank Reich and think he's a powerful offensive mind who has worked before with Rivers in San Diego. I think watching Rivers in recent years, it's important to look at what is protecting him, and with the Chargers, it was usually one of the worst and depleted offensive lines in the sport. That changes now, as Rivers will be fortified by one of the better fronts in the entire conference.
Rivers will also have a multi-pronged ground attack upon which to rely. Marlon Mack and Nyheim Hines were a nice 1-2 punch, but getting Jonathan Taylor gives Rivers another big-time Wisconsin back for him to wield against the opposition. Rookie Michael Pittman gives Rivers another aerial threat to go along with TY Hilton, rising WR Zach Pascal, and tight end Jack Doyle. It's with this aerial package where I think we'll see the biggest difference with Rivers.
The Colts keep getting more to work with on defense. Getting DeForest Buckner helps a front that made big strides last season in adding Justin Houston. The middle is really tough, led by Darius Leonard. They get two new corners in TJ Carrie and Xavier Rhodes. We saw a defense last season hold their own even as their offense sputtered. With the offense spending more time on the field and giving the "D" more room with which to work, we could see this unit show its teeth this season.
The AFC South is a bit up in the air. Indy was still 3-3 against this bunch last season with not a lot going their way. Jacksonville is expected to be pretty bad, while it's anyone's guess what will become of Houston and Tennessee this season. I can see a 4-2 mark against this bunch in 2020. Then comes the work out of the division, which starts with three home games against the Vikings, Jets, and Bengals, sandwiching road games against Chicago and Cleveland. Not too bad. It gets a little tougher, with a road game in Detroit, before hosting the Ravens. They host Green Bay in week 11. Weeks 14-16 will tell the story, with the Colts going into Vegas, hosting Houston, before going into Pittsburgh, and then closing at home against the Jaguars.
If they manage to go 4-2 in the division, beat the Bengals and Jets at home, and beat Detroit and Chicago on the road, you're up to eight wins already. And even some of their tougher games, like against Minnesota and Green Bay at home, could end up being wins. I just think there are many ways for this bunch to get to ten wins, as there are only a few games where you can clearly see them losing, like maybe at home against Baltimore or late in the season at Pittsburgh. And even those aren't total slam-dunks for the opposition either. And there's only a few of those.
Final Verdict
I'm going with over ten wins at the underdog price of +149. Granted, I'm banking heavily on an aging quarterback who appears to have lost a step. But, with a negotiable schedule and the skills that Rivers does bring to the table, I look for the offense to come around to the speed on the other side of the ball. Making the defense better with the offense finally doing some of the heavy-lifting. In essence, this is a good team ready to step out, only needing someone suitable behind center to help bring this about. I think, to varying degrees, Rivers can still be that guy and help lead the Colts into the postseason. Bet your Week 1 and Week 2 football picks for FREE by taking advantage of a 100% REAL CASH bonus on your first deposit of $100 to $300 at one of the web's best football betting websites: MyBookie!
100% REAL CASH up to $300

USE BONUS CODE:
PREDICT100