Jacksonville Jaguars vs. Houston Texans Point Spread Pick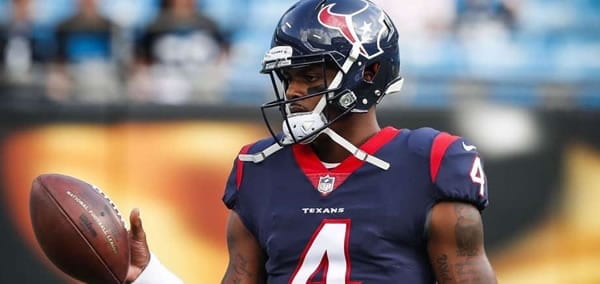 Jacksonville Jaguars (0-1 SU, 0-1 ATS) vs. Houston Texans (0-0 SU, 0-0 ATS)
NFL Week 2
Date/Time: Sunday, September 15, 2019 at 1PM EST
Where: NRG Stadium, Houston, Texas
TV: CBS
Point Spread: JAC +8.5/HOU -8.5 (BetOnline)
Over/Under Total: 43
The Jacksonville Jaguars make the trip to NRG Stadium on Sunday for a week two matchup with the Houston Texans. Week one was a disaster for the Jaguars. Losing at home by two TDs to the Chiefs is one thing, but they saw Nick Foles go down with a broken clavicle, sidelining him for a number of weeks. That's a tough break when a team signs a free-agent QB and sees him not even get through the first game. And facing the division kingpin on the road is a tough spot in which to regroup. Houston nearly had a huge win on the road against the Saints on MNF, with Deshaun Watson orchestrating a late scoring drive, only to see a long FG at the end spoil their season debut. Who can rebound in time to be in a better position to get the cover on Sunday?
What The Jags Can Expect Moving Forward?
The prospects of now working their offense through a rookie 6th round pick as opposed to a big-money free agent is daunting indeed for the Jags. Gardner Minshew put up some huge numbers for Washington State but obviously wasn't very well-regarded going so late in the draft. In relief, he was pretty good, going 22-for-25 with two scores and 275 yards. He did throw a pick, but he connected well with receiver DJ Chark who had a huge day in a losing effort. He also connected on TD throws with Dede Westbrook and Chris Conley, while Leonard Fournette was never really able to get rolling out of the backfield.
For Minshew to thrive, a lot is going to have to line up right. The line is going to have to do a whole lot better in protecting the quarterback and opening holes for Fournette. And a young receiver crew is going to need to step up this season. On the road against the Texans' defense might be a tough spot, but they showed at least a little life against the Chiefs. Not that it matters a ton now perhaps, but in two games against the Texans last season, the Jags managed an anemic total of ten points. Adding Gardner Minshew to that equation wouldn't seem to do wonders for Jacksonville. But stranger things have happened, and first signs weren't too bad.
More Picks: Chargers vs. Lions Week 2 Spread Pick >>>
A Return to Glory for the Jags' Defense in '19?
Granted, the first signs weren't terribly positive. Allowing 40 points at home isn't what you want to see. Patrick Mahomes had 378 yards, with Sammy Watkins looking like the best receiver in the league. Even the running-game shined against this Jaguars' defense. They had no sacks, no turnovers, no big plays. They were just there. And that's what we saw in 2018, as opposed to the playmaking, clutch defense we saw before when they nearly made it to the Super Bowl. For this team to stand a chance this season, they're going to need to rediscover their form. There is a lot of talent on this side of the ball. But let's not be too hard on the Jaguars. Week one is always a tricky time to make any hard judgments. Combine that with playing a Chiefs' offense where a lot of defenses are made to look bad, and one should withhold any overly-harsh appraisals.
How Strong is Houston?
Granted, it wasn't a good look when their defense played soft and allowed Brees just enough space to set up his kicker for a 58-yard boot to win the game. Going back a number of seasons, head coach Bill O'Brien has to dial up better late-game strategy when the team is late in a game with a shot to win. That was horrible. Still, they did a lot of things on both sides of the ball that can carry over to the rest of the season, including this week against a team they have dominated recently.
The Houston offense looked pretty strong—both through the air and on the ground. Watson threw for three TDs and showed a lot of guts with the last scoring drive. He also flashed his useful legs, scoring on the ground, as well. He connected nicely with DeAndre Hopkins, who scored two TDs on 111 yards. Will Fuller made a tremendous 54-yard grab, and Kenny Stills also caught the late score, which should have been the decisive score. Carlos Hyde and Duke Johnson combined for 140 yards on just 19 carries. But even with the upgrade at left tackle with the acquisition of Laremy Tunsil, they didn't curtail the Saints pass-rush, though they looked good in opening holes for the backs.
Houston Defense Not as Bad as They Looked
Sure, against New Orleans with Drew Brees, Alvin Kamara, and Company, the Houston "D" gave up 510 yards, gave up multiple scores in quick order, and showed almost no clutch late in even letting the Saints get in a spot to win. But that's the Saints at home. Now at home themselves and with a visiting Jacksonville team with a rookie sixth-rounder now at QB, things should come off a little better. And there were stretches of that game where they had the Saints struggling. LB Whitney Mercilus had a sack and a pick, but they didn't get after Brees as well as some would have hoped. It's all about context, and this is a spot where one can expect to see the Texans' defense have what they do well resonate more.
Lay the Points
Granted, the Texans aren't the ideal big favorite. And giving up a lead and faltering late against the Saints wasn't confidence-inspiring, to say the least. After easily beating the Jaguars twice last season, however, I expect an urgent Texans squad to turn it loose on a Jacksonville defense that didn't appear to have its legs under them in week one. And against Jacksonville, look for JJ Watt and more of guys like Mercilus, as the "D" should be able to put forth a more-complete effort. I picture Watson having a big day, with the run-game being productive, as well. I think Jacksonville could be tough but will lose touch late in the game, as the Texans get the big win in their home-opener.
Loot's Pick to Cover the Point Spread: I'm betting on the Houston Texans minus 8.5 points.
100% Free Play up to $1,000