Kansas City Chiefs Season Wins Total and Super Bowl Pick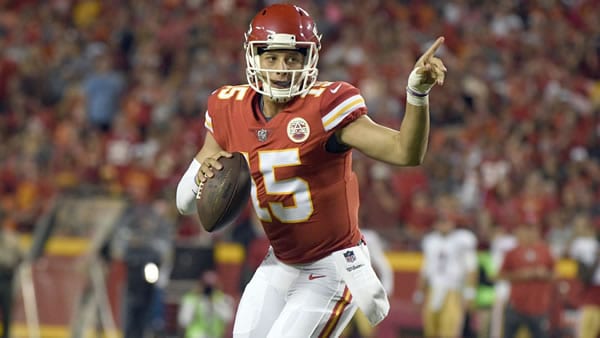 Betanysports.eu
has the Kansas City Chiefs' season wins total at 12.5 wins, with a little juice on the under at -125, with over going at -105. The two-time defending AFC champions are +465 to win the Super Bowl. It's easy to see the optimism with two straight bowl appearances, including a win, along with a 38-10 regular-season record over the last three seasons. A lot of their power has come from youth, and it's scary to think they could be better. It's a team that is built to last, and if anything, they gained a little heading into the 2021 season. Let's break down these Kansas City futures bets!
Asking a Lot
First, from a Super Bowl standpoint, only two teams have managed to get to three Super Bowls in a row, with the 70's Miami Dolphins and the Patriots from 2017-19. You think of all those great Steelers, Cowboys, and 49ers teams that never made it to three straight Super Bowls, and it's clear that it isn't an easy thing to do. The playing field changes, teams start gunning for you, and the competition gets stiffer. There is also some complacency that sets in, as success becomes so old-hat that you can't match the urgency of some hungrier contenders.
When you need to win 13 games for the season wins total bet to go over, you're afforded precious few slip-ups along the way. Even with the extra regular-season game, there are a lot of things that could go wrong that would throw the more-optimistic KC futures bets into a tailspin. Patrick Mahomes getting hurt would be really bad, as would any injuries to their key offensive personnel. It could just end up being a bad run of breaks from the injury bug all season long, where it's a constant battle, putting 13 wins and a Bowl win a little out of range.
Value Not Great
This current incarnation of the Chiefs does not set up to get good value on these kinds of wagers. They certainly have what it takes to nearly run the table in the regular season and romp to a Super Bowl win, which would make these bets look easy-breezy by season's end. They're that good, so that possibility exists. It's just that the book needn't entice bettors to get behind a team like the Chiefs—the league's most successful franchise over the last two seasons, boasting the biggest superstar QB in football. Not that these numbers can't be justified, but let's just say that the value in taking an optimistic view on the Chiefs has been sucked out of the equation due to their own success.
Chiefs With a Chip on Their Shoulder?
If the Chiefs had just gone ahead and beat the Buccaneers in last season's Super Bowl, one would be within their rights to forecast a slip-up this season. But in losing that game, the Chiefs aren't likely to be plagued with the kind of complacency that comes with winning two straight. They have one mission, and that's to win it all. Coming up short last season could serve to fuel the Chiefs through the regular season and through the playoffs.
They Could be Better
The offensive and defensive core is still intact. The offense boasts of the best talent in the league, with the line perhaps letting them down a bit late in the last postseason. That was addressed in a big way with a revamped line. Gone are Fisher and Schwartz, with Orlando Brown, Jr., Joe Thuney, Austin Blythe, and Kyle Long now in the fold, along with Laurent Duvernay-Tardif returning from sitting out 2020. Not that they were bad last season, but having a more high-end O-line with all this depth should allow the KC offensive performances to be even that much more resounding.
With solidified stars like Mahomes, Hill, and Kelce, the Chiefs' offense enjoys ample firepower. And losing Sammy Watkins isn't great, but there are some youngsters due to come into their own. And getting versatile but injury-prone back Jerick McKinnon could end up paying off. But what will this offense look like if prospects like Clyde Edwards-Helaire, Mecole Hardman, or some other youngster can elevate their game and become a reliable weapon?
A Tougher Road Than it Seems
One could well imagine that on the heels of their success, the schedule isn't going to be easy, and it isn't. The AFC West should be better, with both the Chargers and Broncos looking improved. And one has to figure that the Raiders might get their act together at some point. This season should present more in-division challenges. The rest of the schedule is no picnic, starting with games against Baltimore and Cleveland. Other tough spots include a game against Buffalo, a road spot against the Titans, and home games against Green Bay and Pittsburgh. One benefit could be that they get to play the entire NFC East, but it's not all that cushy of a schedule otherwise.
The story of the Chiefs' defense is a two-headed coin. They're not bad. That's not on the table. But with that offense, it's a part of the team that has a different approach, and rather than strive for excellence, they settle for a slightly better than mediocre unit that's just good enough to let the offense do their thing. But one can see by looking at their schedule that they will be facing some of the more dynamic offenses in the league this season—teams like the Browns, Ravens, Chargers, Bills, Titans, and Packers. And who knows what teams like the Raiders, Broncos, and Steelers will bring to the table on offense this season?
Take Under 12.5 Wins
As far as the Super Bowl bet of +465, you're getting a top team with not such great value. But if they make it, having the Chiefs at +465 going into the Bowl sure won't seem like a bad value. One could justify that wager. And in a 17-game format, over 12.5 wins can also be wholly justified on many levels. I just see enough tough opposition, with perhaps a little of the regular season malaise you tend to see with teams accustomed to widespread success keeping the Chiefs from going over on regular-season wins. Question: Where do you plan on betting on games this season As Live Betting becomes "a thing", more and more sportsbooks are offering it, however, the formats really suck at some of these places. One of the keys to live wagering is getting your bet down FAST, because the odds change quickly. With that being said, it's important to be betting your games at a book that has a fast/efficient platform so you can bang out your bets and not get screwed with a bad line. The best sportsbook for doing so is Bovada. Credit cards work there for deposits and they offer a 50% real cash bonus as well! Check'em out!