LA Chargers vs. Houston Texans Odds & Pick ATS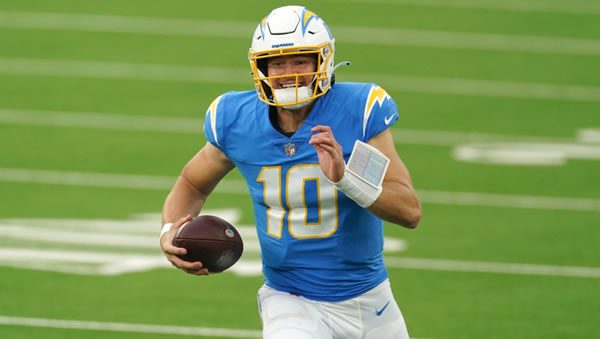 Los Angeles Chargers (8-6 SU, 7-7 ATS) vs. Houston Texans (3-11 SU, 6-8 ATS)
Week 16 NFL
Date/Time: Sunday, December 26, 2021 at 1PM EST
Where: NRG Stadium, Houston, Texas
TV: CBS
Point Spread: LAC -8/HOU +8 (Betanysports – Why are you not playing here? You only lay -105 instead of -110? Do you have any idea how much money that would have saved you over the last year to be wagering at reduced odds? TONS!)
Over/Under Total: 46
The Los Angeles Chargers come to NRG Stadium on Sunday to take on the Houston Texans in week 16 AFC action. This game is big for the Chargers, looking to recover from a Thursday Night Football loss last week to the Chiefs in overtime, 34-28. Up by a TD late, they couldn't hang on and now need to pick up a win this week. Luckily for them, they seem to have a manageable opponent this week in the Texans, but Houston showed they still have gas in the tank after a 30-16 road-victory over the Jaguars on Sunday. Who can come out of this one with the cover in Houston?
Judging Bolts Off Last Week
Last week provided a bad look, as the Chargers seemed to beat themselves in many respects. There were numerous visits into the red-zone that led to nothing with the Chargers going for it and failing on fourth down. Their defense really folded late, as the Chiefs seemed almost automatic in their game-tying drive late. But this was a tough matchup against a Kansas City team that has whipped itself back into shape. This week, those fourth down attempts are more-likely to produce and the offensive fireworks they provided would probably bury the Texans.
High Urgency for the Bolts
This is already accounted for in the spread, with the road-Chargers playing with high stakes favored over a home Texans team with little more than pride at stake. But maybe it hasn't been accounted for enough. First-year head coach Brandon Staley and his squad are not in a position to slack-off. Houston isn't in the context in which they typically thrive—against either bad teams or better ones who just overlook them. This is probably the last type of team they want to face. They'd rather be facing a low-end team or a good one who can afford to be lackadaisical. Against a team pushing for a playoff spot, the overall energy and urgency deficit might be too great to overcome.
Matchup Advantages for the Chargers This Week
Despite a defense that has sometimes played well this season, the Houston run-defense is ranked last in the league. It's not hard to envision RB Austin Ekeler running roughshod over this bunch. Just placed on the covid list early in the week, we will see if he can clear protocols before Sunday. And the Chargers' run-defense, the most-sited weakness of the team, is not something the Texans can really exploit with the worst ground-game in the NFL. Unable to run on the Chargers and unable to stop the run. It sets up for a scenario where the Chargers can control the tempo offensively.
And it's not like the Texans are a standout defense against the pass. Justin Herbert, certainly feeling the pressure to make a push in the last final weeks of the regular season, would be a candidate for a big game in this spot, with Keenan Allen. Mike Williams, and the growing cast of supporting aerial weapons. And if looking for Houston QB Davis Mills to deliver one of his high-octane showings we've seen a few times this season. It might not be a picnic against this Chargers' pass-rush and playmaking secondary. Against this Houston offensive line, there is an angle for the Chargers' "D" to control this game. They will be without Joey Bosa, another covid casualty this week.
More Picks: Get Jay Horne's Ravens vs. Bengals Best Bet >>>
Appeal with Houston this Week?
When a three-win is going against a team making a postseason push, sometimes you have to go a little off-the-grid to make a case. The home-component is hard to justify. Sure, Houston is a bit of a weird place to play for the Chargers, but leading into the Texans' road-win over the Jags last week, the Texans had dumped three straight road games in consecutive weeks. So after a fruitless three-game homestand against the Jets, Colts, and Seahawks, why would they have an edge against the Chargers this week on the basis of being at home?
The lack of a Houston run-game is troubling in this spot, leaving the Texans to do battle with the Chargers along unideal lines. The Chargers have ample stoutness and playmaking ability in the secondary, so perhaps that doesn't shake out so great for a Houston aerial package. Still, we've seen some fire from Davis Mills in recent weeks through the air. Brandin Cooks had a big game on Sunday. Other guys are stepping up, as well. But just because it's the best thing the Texans do doesn't mean it's very good in the big picture. And the Chargers have tamed far more-vital aerial offenses this season. Still, it's food for thought.
Still, beyond the Xs and Os, we do not see a Houston team that has given up. Head coach David Culley might be long for this role, but his guys seem to try hard for him. You have a lot of marginal-status players out there playing for their careers. They're giving it their all and trying to make a good impression. There are teams in similar stations in life throughout the league who aren't providing this level of effort. A win over Jacksonville might not move the needle a ton. But a recent win over Tennessee shows they might not be the lost cause in this context that some think.
Take the Points
The Chargers could just take the Texans to the cleaners in this one. That's a possibility that is squarely on the table. But the Chargers are often times a team that plays according to the level of opposition. Certain matchup components shake out well for the Chargers this week, enough to the point where Houston's cause looks shaky at best. But with the points and the suspicion that this won't be the Chargers' free-for-all some suspect amidst some iffy statuses of key players like Ekeler, I anticipate a moderately-close game with the Texans getting the cover at home. I'll take the Texans.
Loot's Prediction to Cover the Point Spread: I'm betting on the Houston Texans plus 8 points. Bet your Week 16 NFL picks AND your bowl game picks for FREE by taking advantage of a massive 100% real cash bonus on your first deposit of $100 to $1000 at Betnow Sportsbook! It's simply the BEST sportsbook bonus offered by a legit online bookie!