Las Vegas Raiders vs. Carolina Panthers Predictions Week 1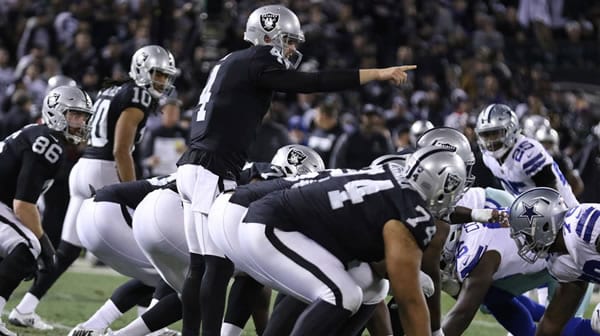 Las Vegas Raiders (0-0 SU, 0-0 ATS) vs. Carolina Panthers (0-0 SU, 0-0 ATS)
Week 1 NFL
Date/Time: Sunday, September 13, 2020 at 1PM EDT
Where: Bank of America Stadium, Charlotte, North Carolina
TV: CBS
Point Spread: LV -3/CAR +3 (Bovada)
Over/Under Total: 47
The Las Vegas Raiders come to Charlotte for a week one matchup with the Carolina Panthers, as each team kicks off their 2020 regular season. With a new city and a lot of changes, hope is rampant for the Raiders in John Gruden's third season at the helm. But it's a tricky road-spot leading up to next week's home debut—an out-of-conference road trip to a place in which they are unaccustomed in Charlotte. But after a 5-11 season and with new head coach Matt Rhule, Carolina's prospects this season seem kind of dim. Who can cover the number in week one at Bank of America Stadium?
New Looks for Both Teams
Changes need to be accounted for in the face of a new season. Carolina, with Rhule at the helm and Teddy Bridgewater behind center, will have a different look this season, as they attempt to launch a new phase of the team. Bridgewater may not have been the most celebrated signing, but he's still a guy with a lot of inner-resource who sports a fine 22-12 starting record at QB. The addition of first-round pick Derrick Brown should give them a lot of help on that interior defensive line.
The Raiders have been active and remained so this season, as they try to give Gruden and Derek Carr the stuff they need to win. First-rounders WR Henry Ruggs, III. and CB Damon Arnette (questionable) should contribute. They appear to have found a gem in third round WR Bryan Edwards. And in signing Marcus Mariota, Cory Littleton, Jason Witten, Nelson Agholor, Jeff Heath, and others, they really beefed up their roster. With a more-loaded team and in a new city, this would be the time to make a move.
How Carolina Matches Up
Being that the Raiders' defense could be on the rise, as they are getting loaded across a few different areas, the Carolina offense could be in a fix. You have a capable field general in Bridgewater, one of the best in Christian McCaffrey, and then the list starts to fall off considerably. Aerial weaponry like Robby Anderson, DJ Moore, and Curtis Samuel can do damage, but they don't even have a ball-catcher that would be a number-two receiver on most teams. With Olsen out, the tight end position is now manned by no-names.
So, it's basically McCaffrey and a bunch of guys for the Panthers. As if that weren't enough, they went and traded Trai Turner, leaving their front dilapidated at both guard spots, which makes life harder for their one viable weapon. Oakland has accumulated many hogs up-front. With any continued growth from youngsters, they should be able to disrupt this offense and bank on what should be an improved secondary to curb the pedestrian Carolina receiver package. McCaffrey will get production, but where else is it going to come from?
A potentially even bigger concern in this game is what has become of the Panthers' defense. An area of emphasis in the Rivera regime, the doo-doo hit the fan for this side of the ball—guys getting old, youngsters not coming around, and then Luke Kuechly retiring. Some promising youth up-front offers hope, as does having Tre Boston at safety. After that, it becomes hard to identify strong areas. With sharp-throwing Derek Carr now working with an abundance of riches in both the run game and through the air, what can this "D" come up with in Week one to curtail this?
More NFL Picks: Jets vs. Bills Spread Play
Will the Raiders Be Able to Deliver?
While a lot looks good on paper and they did have a surge last season, though they finished poorly, nothing is for certain in this league. Does Gruden still have it? After all this time, people still wonder if Carr is the guy—a somewhat unusual situation for a guy entering his seventh year as a starter. And while they hit paydirt in the draft with Joshua Jacobs at running back and they have an emergent tight end in Darren Waller, along with a good role guy in Hunter Renfrow, how sure are we that Ruggs, III. will deliver immediately? Or that Arnette will be the goods at the corner position? Will Clelin Ferrell, a number-four pick, step up this season? With some draft-reaches the last few seasons, you wonder if all this will meld together as well as a Raiders optimist will have you believe. That secondary, after all, has a long way to go after a rough-looking 2019, and a lot of faith is being put in the hands of rookies. Can Bridgewater and his bare receiver crew take advantage? I expect the real tests for this secondary to come down the road. And while the front looks enhanced and should develop with a lot of youngsters on board, that's no assurance that they will suddenly become good.
Defensive liabilities aside, it's offense which will be the biggest concern for Carolina on Sunday. One thing that came around well last season was a Raiders' offensive line that really delivered. It's solid all the way down the line, as the money spent looks to have been worth it. It really boosts their emerging run game, while allowing Carr time to hit some of his downfield targets, which should stretch the Carolina "D" to the limits of its capabilities.
Lay the Small Number on the Road Favorite
Even if you aren't buying into the Raiders' hype or suspect that people are hasty in shoveling dirt on the Panthers, I'm not sure it can be reasoned that the Panthers enjoy any compelling matchup advantages in this spot, outside of McCaffrey maybe having a big game. It's a difficult road-spot for the Raiders, who have no real connection with either the Panthers or this field, also being out of their time zone for an early game. Nevertheless, I see the Silver and Black getting enough separation late to put this away and cover the spread in their debut as the Las Vegas Raiders.
Loot's Prediction to Cover the Point Spread: I'm betting on the Las Vegas Raiders minus three points.