Las Vegas Raiders vs. Seattle Seahawks Top Play 11/27/22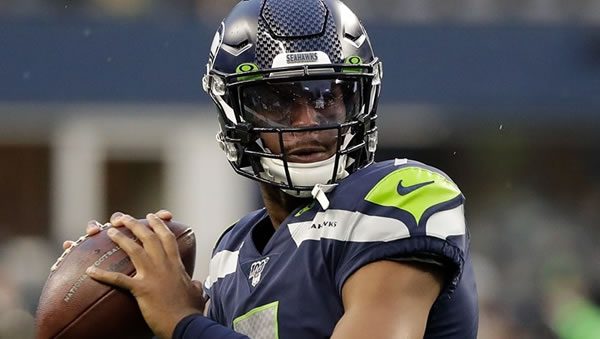 Las Vegas Raiders (3-7 SU, 4-6 ATS) vs. Seattle Seahawks (6-4 SU, 6-4 ATS)
Week 12 NFL
Date/Time: Sunday, November 27, 2022 at 4:05PM EST
Where: Lumen Field, Seattle, Washington
TV: CBS
Point Spread: LV +4/SEA -4 (Bovada – Best live betting platform on the planet! 50% bonus up to $250! TONS of prop offerings! FAST Crypto payouts! What more could you ask for?)
Over/Under Total: 47.5
The Las Vegas Raiders make the trip up north to face the Seattle Seahawks on Sunday in week 12 action from Lumen Field. While this season has been pretty much a disaster for the Raiders, they were able to get a 22-16 overtime win over at the Broncos on the road last week for their third win of the season last week. They are on the road again this week, stopping by to face former division rival Seattle. At 6-4 and coming off the bye, the Seahawks are in a first-place battle with the 49ers and look to get back on the winning track after their trip to Europe fell flat two weeks ago in a 21-16 loss to the Tampa Bay Buccaneers. Can they bounce back at home, or are the Raiders primed to give them a run for their money on Sunday?
Any Life Left in the Raiders?
Beating Denver should only provide so much comfort, and needing overtime to beat a team that has seen so little go right on offense isn't a great look. The Raiders will see the spurt from Davante Adams or Josh Jacobs from time to time. But for the most part, the rest of the cast has either been injured or invisible. Other than the top guys who haven't even been that consistent, the supporting cast has just been dog meat. Their defense is bad against the run and even worse through the air. And on top of being porous, they've been the least clutch "D" in the whole league, repeatedly squandering big leads and folding late in games, last week notwithstanding. On the road for the second straight week after a demoralizing part of the season facing a rested Seattle team that urgently wants to win, it doesn't seem like the best spot for potential Raiders backers.
The angle for the part of some will be that the Raiders have the tools to put together a good game. Combine that with what some people consider a smoke-and-mirrors window of success for Seattle these first ten games, you can at least fathom the reasoning. I wouldn't be so sure. With four consecutive wins leading up to their Euro journey, you're almost inclined to give Seattle a pass for a less-than-thrilling show they put on two weeks ago. But if the first half of the season was all adrenaline and reality is starting to settle in as the Seahawks wane from marginal contender status, the Raiders might not be in the worst spot.
10* GRAND-DADDY OF THEM ALL TOTAL - +$40K!
How Real is Seattle's Success?
The results the Seahawks are getting don't really match up with a lot of things. We see them led by a QB in Geno Smith, that was but discarded and off the scene for years. It really looked to be a rebuild more than a football product that could win now, but that's what they've been doing. Part of the equation has been the competition, with wins over the Broncos, Lions and two over the Cardinals maybe having them look better than they are. But they did trounce the Chargers on the road while adding a two-TD win over the Giants at home. Still, with the quality of some of their wins along with losses to so-so NFC South teams like the Falcons, Saints, and Bucs, it's understandable that some aren't convinced of Seattle's overall worth just yet.
More Picks: Get Ted Walker's SNF Packers vs. Eagles Best Bet >>>
I think conducting a typical evaluation of Seattle where one harps on roster quality and whatnot misses the spirit of the whole point. A different assessment seems called for when dealing with a team that is average across most offensive areas, bad against the run, and one of the worst teams against the pass, yet is still succeeding. Facing a team with Joshua Jacobs and Davante Adams would look to be a major problem. But then you start to ponder the Seahawks' coaching, their spirit, their looseness, and how they look to be having fun, and you start to regauge the whole equation. Sometimes, there are just these feel-good teams that have a certain mojo that has a way of taking damning details about a team and making them less of a big deal.
If the Seahawks were, in fact, all phony baloney, that fact would come out, and it's likely not going to be a Raiders team that brings that to light. With a nice growing cast of weapons, along with receiving talent like DK Metcalf and Tyler Lockett, Smith could readily go to work on a Raiders' pass defense that is pretty bad and isn't getting much better. Running back Kenneth Walker, III. had been getting a lot of work, so fresher legs could help him against a Raiders' front that can make plays but isn't altogether stout. Granted, we've seen a lot of offenses come out the bye flat this season, but this is still a nice spot for this Seahawks unit to regain their footing.
Lay the Number
For a while, the Raiders were among the more flourishing offenses. It was enough of a stretch of success that one might think they can regain that form against a Seattle defense that isn't very good. It just seems that lately, waiting for that to come back around has been a big letdown. And not that the Raiders won't stumble on some success this season in spots, perhaps, but a rested Seattle team needing a win at home seems a tough proposition for a three-win Raiders team facing back-to-back road spots. I'll take the Seahawks at home this week.
Loot's Prediction to Cover the Point Spread: I'm betting on the Seattle Seahawks minus 4 points. Advice: It's time to start betting wise and saving money! It's hard enough to win at sports betting without overpaying for odds! You're most likely laying -110 odds or more when you bet. Stop overpaying by making the switch to -105 reduced juice betting at BetAnySports! You'll be so glad you did!
100% REAL CASH up to $300

USE BONUS CODE:
PREDICT100