Los Angeles Rams vs. Washington Football Team Pick 10/11/20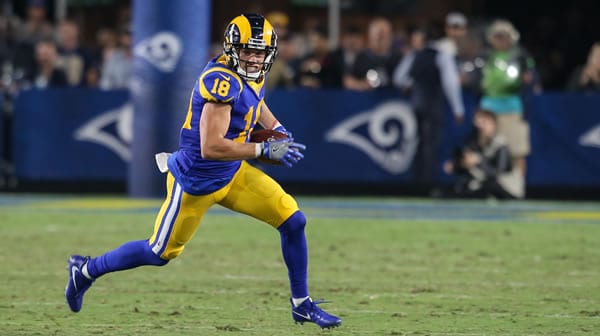 Los Angeles Rams (3-1 SU, 2-2 ATS) vs. Washington (1-3 SU, 2-2 ATS)
Week 5 NFL
Date/Time: Sunday, October 11, 2020 at 1PM EDT
Where: FedEx Field, Landover, Maryland
TV: Fox
Point Spread: LAR -8/WAS +8 (Get the best bonus - THEY DOUBLE YOUR DEPOSIT! >>>)
Over/Under Total: 45
The Los Angeles Rams come to FedEx Field to take on Washington in week five NFC action on Sunday. The Rams were able to bounce back from a bad loss the week before with a 17-9 win over the New York Giants on Sunday. The win moved them to 3-1. They now go on a faraway road trip, taking on Washington, who is coming off a 31-17 loss at home last week to the Baltimore Ravens. It's a tricky game, as we're still trying to get a read on these two teams, as both have played with some wide range. Who can get the cover on Sunday afternoon?
Washington Not as Bad as Advertised
Some of us who have bet against Washington this season have looked up at some scores and seen them actually not doing so horribly. It looked bleaker to start the season. They beat Philly in week one, which at the time anyway, was a pretty substantial upset. Weeks two and three didn't go that well, even though they had a lead over Cleveland in the fourth quarter before falling apart. Last week, Baltimore struggled to put them away, and Washington covered the spread.
Granted, Dwayne Haskins is struggling to cement himself as a real prospect, and it's not all his fault. He doesn't have a great line to protect him, something that could hurt him in this game with the Rams' bringing Aaron Donald and his gang to town. Rookie Antonio Gibson has taken over the lead back duties, with Terry McLaurin doing well as their number-one receiver and among the league leaders in receiving yardage. There is some talent on offense and youth that could manifest without much warning, but Haskins really doesn't have a ton of great stuff around him to win.
Even amidst the troubles on offense, there are some points of light on the Washington defense. Having opened their season against some strong offenses, they've held firm at times. Opposing quarterbacks are not having an easy time taking to the air against Washington, with Ronald Darby, Troy Apke, Landon Collins, Kendal Fuller, and others really playing well in the back. Jon Bostic and Kevin Pierre-Louis have been good in the middle, though the front has been a bit dicey, something that is exacerbated with promising rookie pass-rusher Chase Young banged-up.
What to Make of the Rams?
The first two weeks of the season saw the Rams play in a way that seemed to indicate a return to form. The last two weeks have seen them return to earth some. First was the shootout with Buffalo, where the Rams came from way off the pace to take the lead, only to see it all slip away late. And on Sunday, they managed to get the win against the slip-sliding Giants, but a pedestrian offensive showing resulted in just 17 points and a non-cover for their backers.
While it came against a bottom-feeder offense in the Giants, it was good for the Rams to regain some control defensively after seeing their "D" fall apart the previous week. All in all, it's been pretty solid, and other than the 35 they gave up to Buffalo, they've allowed a combined 43 points in their three other games. That should bring ample concern to potential Washington bettors this week. Jalen Ramsey is finally giving that secondary a boost, and they make a lot of plays on top of being stout.
The Rams' offense is more the X-factor. While they thrived in spots this season, being kept in check by the Cowboys and Giants' defense shows that Jared Goff and Company are far from bankable at this point. Malcolm Brown and Darrell Henderson, Jr. have been doing pretty well, and there is some high-powered weaponry aerially for Goff, with Robert Woods, Cooper Kupp, and productive TE Tyler Higbee. And Goff has a nice line protecting him and helping spring the run. But even within a game sometimes, the form varies widely. One minute, you see balance, with Goff working almost surgically, then the next minute, it's a big old grind. And so far this season, the variance hasn't made much sense—stymied against Dallas and New York, while they're flying up and down the field against a good Buffalo defense.
Breaking it Down
Capacity crowd or not, it's never a total picnic when an LA team comes into Maryland. It's still 90 degrees in LA, and there could be some weather this Sunday in a faraway game out of their time-zone. And Washington is just a little better overall than what some might think of them. They've been in the mix in all but one of their games so far and might make Goff struggle aerially. Still, they have an offense that most part struggles, going against a tough Rams' defense, one that has a far-superior front-seven. And as far as offensive firepower, the nod squarely goes to the Rams.
Lay the Number on the Road Favorite
Laying a number on the road in a spot like this might not be the ideal situation for the Rams, but it's only right to exercise some caution. It's just not the slam-dunk it would appear to be on paper. There's something about Washington that doesn't show up on paper—a certain level of effort and scrappiness that can keep them in games and make them a decent betting proposition this season. I just see the Rams getting unfurled on offense this week, with their O-line controlling the line-of-scrimmage. I don't think Haskins and the Washington offense matches up particularly well against the Rams. I'll take the Rams this week.
Loot's Prediction to Cover the Point Spread: I'm betting on the Los Angeles Rams minus 8 points. Note: 5Dimes leaving the U.S. market really sucks as reduced juice pricing was a huge money saver! Did you know that you can still bet on football/hoops at -105 though? Their old sister book separated from them a couple months ago. They still offer -105 odds and the same betting platform that you're familiar with! Spend the 5 minutes to get signed up at BetAnySports and go back to enjoying the benefits of -105 odds!