MNF Pick: Kansas City Chiefs vs. Los Angeles Chargers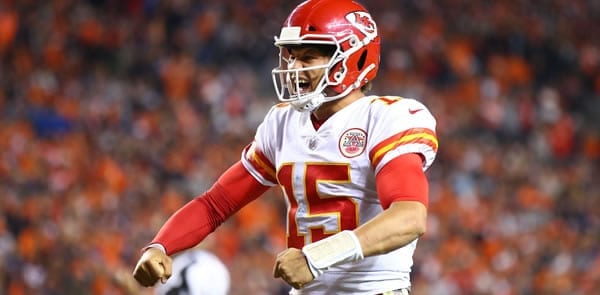 Kansas City Chiefs (6-4 SU, 5-5 ATS) vs. Los Angeles Chargers (4-6 SU, 3-5-2 ATS)
Date/Time: Monday, November 18, 8:15 PM EST
Where: Estadio Azteca, Mexico City
TV: ESPN
Point Spread: KC -4 / LAC +4 (WagerWeb)
Over/Under Total: 52.5
Monday Night Football heads south of the border to Mexico City, where the Chiefs will line up opposite of the Chargers to close out the football week. Sportsbooks have made the Chargers 3½ point underdogs, and the play is to lay the points with KC. Here is the handicap.
KC Will Rebound from Last Week's Loss
Both of these teams started the year with aspirations of representing the AFC in Super Bowl 54, but both have had setbacks, including losses as favorites last week. KC got MVP quarterback Patrick Mahomes back last week and proceeded to go to Nashville and fall to the Titans. Mahomes played like an MVP throwing for 446 yards and three touchdowns, so there is no reason to be concerned that his injury will impact his performance moving forward. The Chief offense accumulated 530 yards of offense, with Tyreek Hill and Travis Kelce putting up stellar performances and stats. The running game got going with Damien Williams slotting in as the lead back and answering the call with 75 yards against a stingy Titan run defense. Mahomes and company should be able to keep it rolling this week as he gains more confidence in his knee and looks across a Charger defense that has some holes.
The Charger defense has multiple injuries but has mostly played well. The Bolts are allowing 20 points per game and 5.5 yards per play. The Raiders put up 26 last week in a game that was a must-win for LA after a strong game against the Packers in week 9. The secondary ranks 25th, giving up 7.8 yards per attempt and will be overmatched this week. The Chargers have played a very weak group of quarterbacks, but still, for the most part, not recovered from the pre-season loss of Safety Derwin James. LA's pass defense held up okay against Mitch Trubisky, Mason Rudolph and Joe Flacco, but will be overmatched by Mahomes and his receivers. The lone hope for the Chargers this week is for Joey Bosa and Melvin Ingrahm to keep Mahomes under pressure. The pair has had a disappointing year but has come on strong over the last few games as they start to put some nagging injuries behind them. LA has sacked opposing QB's 24 times on the year but had six in the last two games and is their only hope this week to slow down KC's high-powered offense.
The Chargers Will Roll Over after Last Week's Loss
LA came into last week on the heels of an impressive week nine win against the Packers to instill some hope into the team that a playoff run could be on the horizon. A win against the division-rival Raiders would start the march to the postseason and maybe deep into the playoffs. Instead, Oakland scored a touchdown in the final minute of the game and basically knocked the air out of the Charger's playoff sails. Melvin Gordon had his second consecutive strong performance and went over the 100 yard mark for the first time since his hold out ended. QB Philip Rivers has quietly led been among the league leaders in passing yards all year, throwing for just under 300 yards per game. Much of the Charger offensive woes can be attributed to their offensive line that has their own injury issues to deal with. Left tackle Russell Okung was out of the lineup until Week 9 and may be out again this week after leaving last week's game with a groin strain. This line is night and day difference with and without Okung. While he was out, the offense did not function as well, and the same will happen this week if Okung can not suit up or if he plays at less than 100%. The Chargers need all hands on deck to move the ball against KC, and it still may not be enough. This team was expecting to compete for the Super Bowl, and now they have virtually no chance, so it would be easy to see this going south fast for the Bolts.
Depending on which Chiefs defense shows up, LA may have a chance. KC's stop unit showed up with strong performances while Mahomes was hurt, but laid an egg last week in Nashville. They allowed the Titans to rush for 225 yards and couldn't stop Tennessee when it was money time in the 4th quarter. The Chiefs are middle of the pack allowing 5.6 yards per play, but they have sacked opposing quarterbacks 30 times. KC will be without leading sack man Emmanuel Ogbah who will miss the remainder of the 2019 campaign. Still, they will harass Rivers all day with or without Okung but will have a field day if the all-star tackle is out. The Chiefs D has been hot and cold this year, but I think it is hot this week, especially if they smell a little blood in the water.
Andy Reid Will Outcoach Anthony Lynn
Since 2017 when Lynn became the Charger coach, the Chiefs are 10-4 ATS against division opponents while the Chargers are 7-6-1. Reid has some issues with clock management that has hurt his team this year, but he always has an A+ game plan cooked up for AFC West opponents, and we can expect the same on Monday night. Lynn and the Chargers, on the other hand, are more famous for coming out lethargic, falling behind, and shooting themselves in the foot. The Raiders are pushing KC atop the division, so Reid knows there is no room for error this week. With most of the pieces back in play for KC, I look for Reid and the Chiefs to jump out early and put the hammer down all night in LA. This game will be played in Mexico City at 7700 feet of elevation, so conditions will be tough, especially as the game gets to the 4th quarter. Lynn's Chargers don't show a lot of toughness, so it will be easy for LA to roll over and play dead in this one.
Play KC -4
I'm going to trust KC on MNF to take care of business and cover the number in Mexico City. I get the better quarterback, a defense with a lot to prove, and the better coach by a long shot.
Make sure to visit and bookmark our NFL Football Picks page. Get game previews of the full week's card as they're released with handicapping insight, angles and suggested wagers.