MNF Picks: Cardinals vs. Cowboys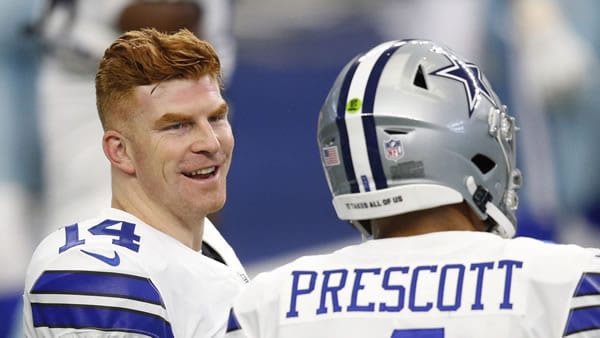 Arizona Cardinals (3-2 SU, 3-2 ATS) vs. Dallas Cowboys (2-3 SU, 0-5 ATS)
Week 6 NFL
Date/Time: Monday Night Football, October 19, 2020 at 8:15PM EDT
Where: AT&T Stadium, Arlington, Texas
TV: ESPN
Point Spread: ARI -2.5/DAL +2.5 (BAS - STOP betting on games at -110 odds! Start saving BIG bucks today by making the switch to -105 TODAY!)
Over/Under Total: 54.5
The Arizona Cardinals come to AT&T Stadium for a Week 6 NFC battle with the Dallas Cowboys on Monday Night Football. This isn't an easy spot for Arizona, who are on the road for the third week in a row, coming off a nice 30-10 win over the slapstick Jets. At 3-2, a win would be a great way to lead into a three-game homestand starting next week. And they could be catching Dallas at the right time, a beleaguered bunch that has seen a lot go wrong. Last week, they lost Dak Prescott to an ugly season-ending injury and now will try to make a go of it with Andy Dalton. And to Dalton's credit, he did lead Dallas on a game-winning drive on Sunday to win their second game of the season in a 37-34 win over the Giants. Who can get it done on MNF?
Dallas: As Bad as it Seems?
With the Cowboys, there are a lot of problems. And having Prescott go down and having to turn to a forgotten Andy Dalton isn't really great news. You look at their defense, and we've seen some inexplicable collapses this season. They're giving up an average of 36 points per game, which is more like a bad Big 12 team. They really struggle up-front to stop the run. And other than resurgent Aldon Smith, they haven't really been able to rush the passer. The secondary has vastly underachieved, and the defense has only secured two turnovers through five games. They haven't covered a single spread.
And now you take away their starting quarterback, and how are they supposed to be able to rise from this? But for a 2-3 team, their future is pretty bright compared to most teams in a similar spot. Though it is Arizona with a winning record, it is Dallas who leads their division, as all teams in the NFC East are floundering. And maybe spending a little extra for a guy like Andy Dalton will really pay off, and it already did last Sunday, with the veteran leading the team to a win.
Dalton is not an ideal choice, but he steps into a pretty good situation. He has a strong line with which to work, something he lacked for years when playing with the Bengals. That can really go a long way. And having a great tailback in Ezekiel Elliott also helps. There's a lot of variety on this offense, and we just haven't seen it fully resonate in light of a rough defense. With CeeDee Lamb doing well and Amari Cooper and Michael Gallup, he has a trio of fine receivers. On the surface, there isn't much reason why this offense shouldn't continue to have success.
BET YOUR WEEK 6 NFL PICKS FREE! SIMPLY DEPOSIT $200 AND YOU'LL RECEIVE A FREE $100 BET AT BOVADA SPORTSBOOK! HOME OF AWESOME LIVE BETTING!
How Arizona Matches Up Well
So far this season, we've seen the Arizona defense playing better than last season. And that especially applies to their pass-defense, as guys like Dre Kirkpatrick, Patrick Peterson, Budda Baker, and others have really stepped up. They do catch a tougher matchup, as Dallas is more-gifted aerially than any of Arizona's other opponents this season. They are giving up only an average of 20.4 points a game. But facing a good back in Elliott and a tough line, we could see more struggles this week. But I think they could keep Dalton in check aerially.
It might be more on offense where Arizona might really have an edge, as they wield it against a Dallas defense that can struggle massively for stretches of the game. Kyler Murray has thrown six picks already but otherwise continues his growth, passing efficiently for the most part and working with a receiver package that is a lot better this season. He continues to flash good chemistry with Larry Fitzgerald, Christian Kirk, and his backs like Kenyan Drake and Chase Edmonds. But getting a true number-one receiver like DeAndre Hopkins has already paid off and transformed this offense in many ways. Hopkins leads the league in receiving yards and has been a great fit.
Arizona actually has run the ball very well so far this season. Drake and Edmonds are dangerous and can also make an impact aerially, with Murray himself adding a lot to the run game with almost 300 yards, and five TD runs already this season. This kind of balance could really throw the Dallas defense for a loop. With all the Cardinals' options on the ground and through the air, it's hard to imagine this Dallas defense having a great day against this bunch.
Best Hope for Dallas
It would seem to behoove Dallas to turn this into a big messy shootout. They have to find a way to have their offensive firepower resonate. And if they can turn it loose on offense and get Arizona on its heels, they could take the Cardinals a little out of their game. While the Arizona offense has commendably stepped it up this season, averaging 25 points a game against the Jets, Panthers, Lions, Washington, and 49ers doesn't make them a high-power offense. And Dallas is averaging 32.6 points a game, so there is at least an angle to exploit for potential Dallas backers this week.
Take the Road Favorite
For a team that is young and growing like Arizona, taking them as road-favorites might not be the ideal spot, especially when that opponent has the X-factor of an explosive offense. And this being their third straight road game also gives pause. But I do think Dalton is a step-down and that O-line is starting to get banged-up to the point where you wonder if it's the same unit as before. In a spot like this, I tend to favor better balance, and while Arizona is not stellar in every area, they don't have any gaping holes, and I see that overall competence resonating on MNF, as they get the cover and win at AT&T Stadium.
Loot's Prediction to Cover the Point Spread: I'm betting on the Arizona Cardinals minus 2.5 points. Did you know that you can deposit $25 and get a FREE $50 bet at one of the two oldest sportsbooks on the web? (Online since the 90's!) Find this killer offer at Intertops Sportsbook! You must use bonus code ROOKIE200 to get credited!
Football Betting Guide
New to football betting? NFL point spreads can be confusing at first, but our how to bet on football article help you bet like a seasoned pro! You'll also learn how to wager on teasers, parlays, over/unders, prop bets, futures and how point buying works.