New England Patriots vs. LA Chargers Pick ATS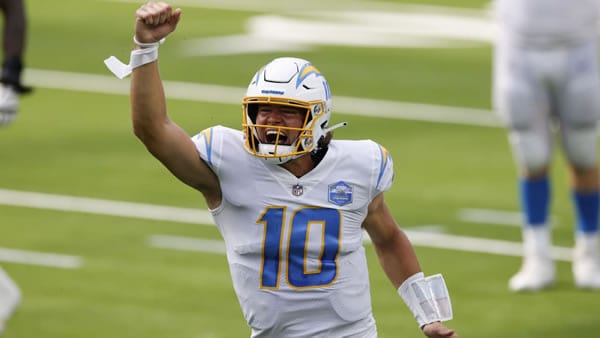 New England Patriots (3-4 SU, 3-4 ATS) vs. Los Angeles Chargers (4-2 SU, 4-2 ATS)
Week 8 NFL
Date/Time:
Sunday, October 31, 2021 at 4:05PM EDT
Where:
SoFi Stadium, Inglewood, California
TV:
CBS
Point Spread: NE +5.5/LAC -5.5 (MyBookie)
Over/Under Total: 48.5
The New England Patriots come into SoFi Stadium on Sunday for a big week 8 AFC showdown with the Los Angeles Chargers. The Chargers are coming off the bye-week, where they licked their wounds from a 34-6 beating to Baltimore the previous week. They look to resume their winning ways at home this week, as they are still firmly in the division race. It might not be easy against a Patriots team that appeared to find some answers on Sunday, albeit against the Jets, issuing a 54-13 beating to get to 3-4. Who can cover the spread in Inglewood on Sunday?
What to Make of the Chargers
Not that losing to the Ravens is cause for alarm, but the Chargers' previous game raised some eyebrows to say the least. Cruising along with a 3-game win streak and seeing a lot of things fall into place during that streak, a four-touchdown loss wasn't seen as being in the cards. It helps bring home a point that the Chargers have a lot of good pieces in place, but are hardly "there" just yet. On a given week, they will perform well and even over-perform in certain spots. Against Dallas at home, their offense stalled and in Baltimore, nothing went right.
That's twice in six games where they weren't close to being the team we saw in the other four games, meaning that the Bolts are hardly a reliable football product. There are a lot of ways they match up well with the Patriots this week. Justin Herbert and his many targets could thrive in this spot. And the Bolts' secondary should be able to curtail the Patriots' aerial attack. But there's also a good chance that all their individual parts don't congeal right on a given day.
From Overrated to Underrated?
For a long time, getting value on the Patriots was an elusive endeavor. As they now settle into the post-Brady period, however, perhaps the pendulum has swung too far the other way. Even a 54-point output will be written off as a byproduct of the Jets' futility and not anything the Pats are doing right. But it's not just last week. The prior week, the Cowboys needed a ton to go right to beat the Patriots in overtime. A few weeks before that, the Bucs needed a last-second FG to get the job done. So it's really only been one time all season where the Pats were beaten conclusively, a week three 28-13 loss to the Saints.
It's not the same vintage Patriots' defense of old, but they are sort of solid in an all-around sense. Giving up an average of 20 points a game with some of the teams on their schedule would appear to show this "D" headed in the right direction. They can take away the ball, make big plays, and really hunker down against the run in spots. Quarterback Mac Jones shows growing comfort in the new system. We're seeing RB Damien Harris coming to life, along with some good tight end play. Receivers Kendrick Bourne, Nelson Agholor, and Jakobi Meyers won't always excite and really pale in comparison to the Chargers' high-octane attack, but they can usually put something decent together. But getting Damien Harris involved and JJ Taylor scoring two TDs last week has the Pats primed to exploit what has really been a rough-looking Chargers' run-defense. Perhaps the off-week helped the Chargers address some of these things, but it's become a glaring liability as of late.
More Picks: Dallas at Minnesota Predicted Point Spread Winner
Spot for the Chargers to Shine?
It's almost the kneejerk reaction, coming off a setback against a Ravens team that has flummoxed a lot of good teams over the last several seasons. The Pats have this underlying competence, but hardly the combination of traits needed to thrive at the top level, something the Chargers have shown they can do this season. And for a high-ceiling/low-floor team like the Chargers, maybe the Pats don't have the combination of traits needed to bring that about.
One could expect there to be some urgency on the Chargers' part to come off the bye and not falter at home in what seems like a manageable situation. The offensive firepower differential is pronounced. New England might have more reliable tight end production. Other than that, they are outmanned across the board, especially at wide receiver. Mike Williams, Keenan Allen, and Austin Ekeler represent game-breaking talent. Meanwhile, New England's number-one receiver is a guy in Jakobi Meyers who is now in his third season without having caught a TD.
Patriots' quarterback Mac Jones will be facing a defense that is among the more-disruptive he has faced in his young career. Mistakes in the form of errant throws can be pounced upon and the pass-rush can emanate from different sources. Granted, the Pats should be able to run the ball to some good effect, Truth is, the Chargers' front has been a letdown through 6 games, with porous run-protection and a pass-rush that doesn't always manifest when needed. The middle is compromised without Kenneth Murray. Still, between Joey Bosa and a playmaking secondary packed with talent, Jones is facing a difficult road-spot.
Lay the Points
Again, with good coaching and no real superstars to speak of anymore, the Pats are a little under the radar. Perhaps that's less so with the huge offensive showing on Sunday, but they remain a team that is difficult to truly embarrass. I just see an on-point showing from the well-rested Chargers team this week, as they are extra edgy after having two weeks to ruminate on the debacle to the Ravens. The variety of the Chargers' offensive approach will overwhelm the Patriots in spots, as they gain enough second-half separation to get to the finish line with the win and the cover on Sunday.
Loot's Prediction to Cover the Point Spread: I'm betting on the Los Angeles Chargers minus 5.5 points.
SUNDAY NFC SOUTH GAME OF YEAR *80% 10* RECORD

Talk about consistent! Ben Burns just wrapped up ANOTHER WINNING MONTH. He's produced profits in six of the past seven months. He was 83-52 (+$17,652) last December and an 8-2/80% RECORD with his "top rated" NFL plays led the charge. If you liked the Giants last week, or the Vikings the week before, you're going to LOVE this BEHEMOTH. Do NOT wait!