New England Patriots vs. Washington Redskins Prediction ATS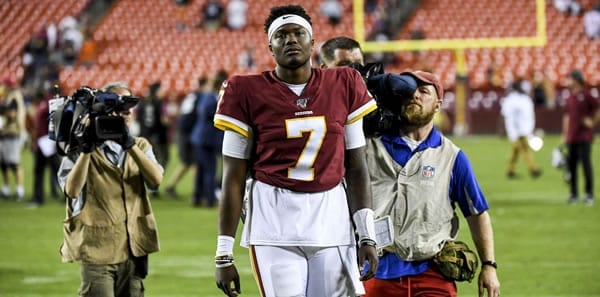 New England Patriots (4-0 SU, 2-2 ATS) vs. Washington Redskins (0-4 SU, 1-3 ATS)
NFL Week 5
Date/Time: Sunday, October 6, 2019 at 1PM EST
Where: FedEx Field, Landover, Maryland
TV: CBS
Point Spread: NE -15.5/WAS +15.5 (GTBets)
Over/Under Total: 44
The New England Patriots come to FedEx Field for a Sunday matchup with the Washington Redskins in week five NFL action. The Patriots are sitting pretty at 4-0, following a struggle in Buffalo where they ground out a 16-10 win, failing to cover the spread for the second straight game. Now facing their second straight road game, they take on an 0-4 Redskins bunch that fell flat yet again on Sunday, dropping a disconcerting game to the Giants, 24-3. A lot of bad things have manifested on both sides of the ball and taking on an unbeaten Super Bowl Champion wouldn't seem like a good time to stop the bleeding. Let's see who can cover the spread on Sunday.
What's Wrong with the Redskins?
Their issues are multifold, meaning they won't all get addressed in short order. They have really regressed. Leading the division last season until Alex Smith went down; it's been a downward spiral since. Quarterback play in this league means a lot and Case Keenum hasn't delivered. They brought in first-rounder Dwayne Haskins, and he was 9-17 with three picks, one of which was returned for a touchdown. It's unclear who will start as of press-time. That line is missing key pieces, most notably Trent Williams—and they are suffering. That hasn't helped the quarterbacks, nor has it helped give rise to what supposed to be a decent Redskins' run-game, which has fallen flat with Adrian Peterson not getting out of the blocks. Against the Patriots, they're going to need to put up points to stay within reach for at least a cover. With quarterbacks reeling, no run-game, and a receiver-package that has a real no-name feel to it, it's not going to be easy.
The Redskins are hoping their "D" can bridge the gap. Holding the Giants' offense to 17 points last week isn't cause for praise perhaps, but with the offense sputtering so badly, it wasn't a bad effort. Their pass-rush has really suffered and that's going to be an ongoing problem, especially when about to go against Tom Brady. Da'Ron Payne and Matt Ioannidis haven't stuffed the run well on the inside. Quinton Dunbar had two picks on Sunday, and they'll need more of that, but the "D" has been non-impactful through four games. Josh Norman's name-power outshines his actual merit at this point, with Landon Collins not making much of an impact. But they can be scrappy. After giving up 31 points in their two home games this season, though, what will a New England offense looking to shake off last week's uneven performance put up?
More troubling almost than the Xs and Os of it all is the apathy and lack of fire seen on this Washington sideline. In a divisional game against a bad Giants team missing Barkley and with a rookie QB having a bad day, the best they could summon was a 21-point loss. None of their losses have been competitive. And head coach Jay Gruden certainly is starting to take on that look of a coach that knows his fate, as he might be out of there sooner than later at this rate. It's just hard to get behind this bunch right now.
The Urgency Component
If looking for a spot to time a good result for the Redskins, this might not be the worst time. The Redskins are resigned to their fate and with that comes a lot of bad things. That said, also a certain looseness that could bode well in such a spot. The pressure isn't on, as no one is picking them to win. They already know they're not going to the playoffs, so why not have some fun and try to throw a wrench in the system? And in their second straight road-game, maybe the Pats are a little flat playing a winless out-of-conference team. Then again, since when did forecasting an unfocused Pats team ever pay off? Part of what makes them what they are is they almost always show up. Still, it's food for thought when looking at a picture where there's little to like about Washington in this game, even from an ATS standpoint.
More Picks: Bears vs. Raiders Pick ATS >>>
Will the Patriots Dominate This Game?
This is one of the best defenses we've seen from New England in a while, and that's especially scary for the Redskins and their QB. Putting Dwayne Haskins in there against this "D" is a daunting proposition based on how he looked last week. A banged-up Case Keenum's prospects don't shine any brighter. Not having Dont'a Hightower hurts, but he might be back. Jamie Collins is still a monster and with Danny Shelton and Lawrence Guy up-front, opposing offenses haven't gotten much going on the ground, something the Redskins could use this week. The secondary with Patrick Chung, Stephon Gilmore, Devin, and Jason McCourty has been remarkably stingy through four games. This all doesn't bode well for the Redskins. And with Brady working with RB Sony Michel, along with targets Julian Edelman, Josh Gordon, and others, this Redskins' defense might find itself on its heels more often than not.
Lay the Big Number on the Road Favorite
Sure, it's a square pick, but I think it's the right one this week. At the end of the day, I'd rather have my money riding on a winning football machine than to be sitting there hoping a flat Redskins team with their head coach looking all mopey on the sideline somehow delivers in a pinch. The number is big to lay on a New England team taking on an opponent with whom they have no real connection or axe to grind. I just see the Patriots holding off maybe an early spark by the 'Skins and pulling away late for the win and cover at FedEx Field.
Loot's Pick to Cover the Point Spread: I'm betting on the New England Patriots minus 15.5 points. The Pats are probably going to destroy the punchless Skins straight up, but will they cover the spread? Laying three scores on the road is never a lock.  Take the guessing out of this game by inserting the Pats into a 20 point teaser where you can make them a +4.5 underdog or make the Redskins a +35.5 underdog! Find this crazy wager at Wagerweb, home of the 1% rebate on all betting action!