New York Jets vs. Los Angeles Rams Week 15 Pick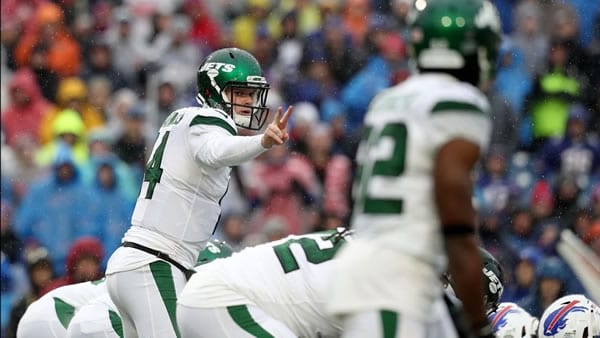 New York Jets (0-13 SU, 4-9 ATS) vs. Los Angeles Rams (9-4 SU, 8-5 ATS)
Week 15 NFL
Date/Time: Sunday, December 20, 2020 at 4:05PM EST
Where: SoFi Stadium, Inglewood, California
TV: Fox
Point Spread: NYJ +17/LAR -17 (Pinnacle - Awesome reduced vig, but does not allow USA players)
Over/Under Total: 44
The New York Jets take on the Los Angeles Rams in Inglewood on Sunday in week 15 action from SoFi Stadium. For the Jets, they're just playing out the awful season, currently at 0-13. Sunday's 40-3 loss to the Seahawks illustrated their lack of fighting spirit, as they had very little to offer on Sunday. The Rams, meanwhile, get a little bit of a long week, coming off a Thursday Night Football win over the Patriots, 24-3, to go to 9-4, ahead of Seattle in the NFC West by virtue of a tiebreaker. Who can get the job done this weekend?
Any Silver Lining for the Jets?
It has gotten really ugly. They canned their coordinator. There's no way head coach Adam Gase survives this. They are stuck with a number-two pick at quarterback who simply has not worked out on any level. And it's not all his fault. The skill-players the Jets put around Sam Darnold would struggle to get touches in just about any other offense. They have, in effect, become a B-team in the A-league. A Seattle team that had been struggling looked as good as they had all season against this Jets team last week. And twice in the last three games, they put up three points of scoring. Pitiful.
If looking for silver lining, it isn't easy. They did almost beat the Raiders the previous week but could not avoid a late Hail Mary from a team that hasn't gotten a lot right in recent weeks. A few weeks before that, they came into this very stadium and played the Chargers tough, losing by six and covering the spread. So at least they have shown they can perform up to a certain standard in this venue while at least covering the spread here and there lately.
The Jets also benefit from playing a Rams' team that sometimes plays down to the level of their opposition. Granted, it's not a good sign when this early in the analysis, we have to talk about what's going on with the other team. But the Rams don't show up the same every week. With four wins in five games, they have been able to establish more continuity and deliver on a more regular basis. But since a fast start to the season, there has been this on-again/off-again nature to the Rams. And if a disinterested Rams' team surfaces with a lack of urgency, it might be a bigger grind than some think.
More NFL Picks: Saturday's Carolina at Green Bay Predictions >>>
Why the Rams Might Roll
There is still a lot to play for, as the Rams try to lock in a more-premier playoff spot. Winning the division would really go a long way for a team that fell flat on their faces last season after making it to the Super Bowl. Sure, the opponent doesn't command a lot of respect, and in their second game in a row at home, you can perhaps envision the Rams taking a week off mentally. I wouldn't bank on that if I were a potential Jets' backer. In fact, there are things within the matchups that could make this another tough week for the Jets.
The Rams can generate a lot of heat with their defensive front. They are disruptive and can make a lot of plays. Against the Jets' offensive line, this is a spot where they could conceivably control the game. This is the top-ranked defense in the NFL, and they excel against the run and the pass with nearly equal effectiveness. And when an offense makes a mistake, the Rams are a defense that tends to take advantage of it. And the Jets' offense is, in fact, very mistake-prone. On top of that, we see certain coaching moves mid-game sabotaging the Jets, as the staff not only can't bring the best out of the team, but they often bring out the worst.
Against an inept Jets' defense, it's hard to envision the Rams not having a good day on this side of the ball. Goff can sometimes revert to poor form, but this would not seem to be a likely setting for one of those performances. Last week, RB Cam Akers exploded, and getting more juice out of the run-game could really open things up for Goff and his ample weaponry, guys like Robert Woods, Cooper Kupp, Josh Reynolds, Tyler Higbee, and Gerald Everett. There are a lot of weapons that an ill-equipped Jets' defense probably won't be able to handle.
Concerns for Rams Backers
This spread is a monster. Not that long ago, we did see the Jets hang in there with the Chargers. And some bad things have happened to the Jets since, with the Rams being a lot better than the Bolts, so maybe that doesn't mean that much. But 17 points is a lot in this league, even with a Jets team that appears to be almost flat on its back. Still, no team wants to go 0-16. With the Jags at just one win, maybe the Jets are truly tanking for the number-one pick. Still, to take the Rams at this number isn't easy, regardless of who the opponent is.
Lay the Number
At the root of this equation is the rightful question of what can one expect in terms of points from the Jets. And against this "D," it might not be a ton. Therefore, a Jets' backer could be reduced to hoping the Rams' offense doesn't fire and that perhaps some complacency sets in with such a shabby opponent. That just seems like a negative way to try to cover a spread when the entirety of your winning case is wrapped up in the projected slacking-off of the opponent. And even if the Rams aren't at a fever-pitch for 60 full minutes, I still see a rough day for the Jets' offense and a win and cover for the Rams at home.
Loot's Prediction to Cover the Point Spread: I'm betting on the Los Angeles Rams minus 17 points. Did you know you that BetAnySports offers 20 point football teasers? You can make the Rams +3 lol.
Football Betting Guide
New to football betting? NFL point spreads can be confusing at first, but our how to bet on football article help you bet like a seasoned pro! You'll also learn how to wager on teasers, parlays, over/unders, prop bets, futures and how point buying works.