NFL Big Games: Point Spreads and Picks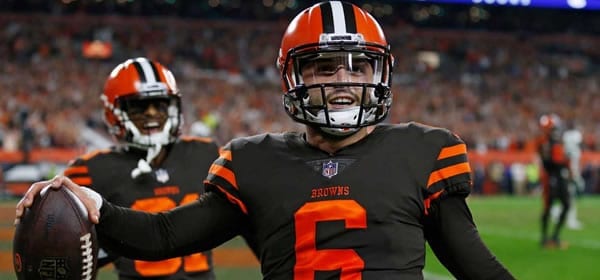 The idea of betting on games in the middle of the regular season might seem crazy right now with so much time before the season begins. But craziness is also an area where an enterprising bettor can find opportunities. Typically, when we bet on NFL, we look at games in the week leading up to the matchup. There's a structure there. And within that structure, we try to find advantages.
When placing bets this far in advance, the pitfalls are indeed numerous, but we are in a better position to capitalize on our insight. By now, maybe you have started to think about which teams will be better or worse than advertised. Or you have ideas on which player moves will work well and which ones will fall flat. And waiting until the week of some of these games will make it, so everyone knows what you knew months ago. These bets are an interesting way for you to capitalize off of any unique insight or analysis you have developed in the offseason.
Let's take a look at some of the more interesting games that already have point spreads this far in advance and guys, if you're not already betting with -105 lines they ytou need to check out our section on Reduced Juice Sportsbooks.
---
Cleveland Browns at New York Jets - Week 2 (Mon 9/16)
Cleveland Browns -2.5 -110
New York Jets +2.5 -110
Loot's Pick to Cover the Spread: I think this game offers a possible value edge, as a team that might not be as good as advertised in the Browns take on a team that might be better than expected in the Jets. At a minimum, I feel the Browns formula-for-success might take a number of weeks to really take hold. In the meanwhile, getting the fresh Jets as home-dogs might be the right move.
---
New York Jets at New England Patriots - Week 3 (Sun 9/22)
New York Jets +10.5 -110
New England Patriots -10.5 -110
Loot's Pick to Cover the Spread: The Pats are not a team prone to Super Bowl hangovers. Still, in week three against a Jets team that might be headed in the right direction, it seems like a bad spot to get a vintage New England divisional drubbing. I see the Jets giving them a run for the money. I'm taking the double-digit dog.
---
Baltimore Ravens at Kansas City Chiefs - Week 3 (Sun 9/22)
Baltimore Ravens +6.5 -110
Kansas City Chiefs -6.5 -110
Loot's Pick to Cover the Spread: With a superb running game, I see the Ravens offense hanging in there, even in Arrowhead, which is a tough place to play. The Ravens lost a little juice on "D," but I think they maintained in that area better than some expect. If the Chiefs' offense is a little diminished with some of their key weaponry gone, this game should be a grind, with the Baltimore defense keeping this one from getting out-of-hand. I'd take the 6.5.
---
Los Angeles Rams at Cleveland Browns - Week 3 (Sun 9/22)
Los Angeles Rams -1.5 -110
Cleveland Browns +1.5 -110
Loot's Pick to Cover the Spread: Again, I see a lack of automaticity with this Browns' team, especially at this level. It's not an easy spot for the Rams, out-of-conference and in a tricky road locale. But have the Browns really covered enough ground to put them on nearly-even standing with the defending NFC champs? Has their defense elevated enough to thwart one of the best offenses on football? I don't think we see that this early in the season. I'd lay the point-and-a-half on the Rams in this one.
---
---
New Orleans Saints at Seattle Seahawks - Week 3 (Sun 9/22)
New Orleans Saints -1.5 -110
Seattle Seahawks +1.5 -110
Loot's Pick to Cover the Spread: Granted, the Saints are among the cream of a top-heavy conference, while the Seahawks are still working it out as a team. Yet, the Saints open up tough at home against the Texans, followed by a marquee matchup on the road against the Rams. The next week, having to play in Seattle seems like a tough ask. On the back-end of consecutive and challenging road games, I see the Saints being a little de-poofed. I'll take the home-dogs in this matchup.
---
Carolina Panthers vs. Tampa Bay Buccaneers - Week 6 (Sun 10/13)
Played at Tottenham Hotspur Stadium - London, England
Carolina Panthers -1.5 -110
Tampa Bay Buccaneers +1.5 -110
Loot's Pick to Cover the Spread: Granted, it's hard to tell just where the Panthers will be, come week six. But this is at the tail-end of a brutal run of games for a Buccaneers team that might be suffering come October 13. The Bucs face road games against the class of the conference in the Rams and the Saints, before having to go to London the following week to play what could be a pretty good team. And in taking the Panthers, you're only laying 1.5 points against a team that will accumulate nearly 30000 miles of travel in these three weeks. Locking in a spread of Carolina -1.5 now seems to be the right move.
---
Detroit Lions at Green Bay Packers - Week 6 (Mon 10/14)
Detroit Lions +6.5 -110
Green Bay Packers -6.5 -110
Loot's Pick to Cover the Spread: I like the Packers in this spot, even if they're laying nearly a TD. The Lions will be at Arizona, against the Chargers, at Philly, and then against the Chiefs leading up to this and could be a little woozy by the time they hit Lambeau in week six. Sure, they're accustomed to this venue. One can understand some optimism on Detroit this upcoming season, but there is also cause for hope in Green Bay in 2019. And with an easier road to this spot against a Lions team that could be deflated, I see a conclusive win and cover for the Packers at home in week 6.
---
Washington Redskins at Minnesota Vikings - Week 8 (Thu 10/24)
Washington Redskins +8 -110
Minnesota Vikings -8 -110
Loot's Pick to Cover the Spread: Not that the Vikings won't or shouldn't win this game. And we can only speculate on what the Redskins will bring to the table this season, especially on offense. Still, this time last season, the Redskins were taking control of the division and could be respectable even with outstanding issues in their QB-situation. The Vikings face some tough going early on in the upcoming season. By this time in the year, they will have played three divisional games on the road already and will have just played in Detroit four days before this Thursday Night Football appearance. Might not be the best time to be laying the big number on the Vikes.
---
San Francisco 49ers at Arizona Cardinals - Week 9 (Thu 10/31)
San Francisco 49ers -3.5 -110
Arizona Cardinals +3.5 -110
Loot's Pick to Cover the Spread: A lot of factors are at play to make it rather speculative to guess where either of these teams will be in week nine. But let's say San Francisco avoids injuries and starts putting things together. And maybe the Arizona recipe for success is soured by this point. And even if not, the Cardinals face two tough road games leading up to the short break in this Thursday game. The tough Frisco defense should be able to give a young Cardinals' offense some problems. This spread could very well be double this come week nine. I see a clear win for the Niners in this spot against what might be a winded Cardinals' bunch.
---
Minnesota Vikings at Dallas Cowboys - Week 10 (Sun 11/10)
Minnesota Vikings +3 -110
Dallas Cowboys -3 -110
Loot's Pick to Cover the Spread: Regardless of what you think of Minnesota this upcoming season, this would appear to be a trouble-point for the Vikings. First of all, it's a tough game against a defending division champion looking for big things this season. After this home-spot, the Cowboys face two road games and will be looking to make good at home. Three of the Vikings' first 7 games are road games within their division. They face the Chiefs at Arrowhead the week before going on to play Dallas. It might not be the time to catch them at their best. I'd take Dallas with the white-bread line of -3.
---
New England Patriots at Philadelphia Eagles - Week 11 (Sun 11/17)
New England Patriots +1.5 -110
Philadelphia Eagles -1.5 -110
Loot's Pick to Cover the Spread: On one hand, the Patriots seem to thrive in what could be identified as rough patches in their schedule. They usually seem to put it together when one would tend to forecast issues. But the Patriots leading into this matchup face a road game against the Jets, a home game against an improved Browns team, and a tough road game at Baltimore. Then it's on to Philly. Meanwhile, the Eagles are coming off a home-game, followed by the bye-week, meaning they are rested and dug-in at home. I'll lay the small number on the Eagles.
---
Green Bay Packers at San Francisco 49ers - Week 12 (Sun 11/24)
Green Bay Packers -1 -110
San Francisco 49ers +1 -110
Loot's Pick to Cover the Spread: This deep in the season, it's hard to gauge how well the Niners will have held up. Still, after some troublesome early-season scheduling, there is some letup later in the season. This spot will be their third straight , and they will be nice and dug-in at home, trying to make their postseason case. And even if the Packers are seeing success at this point in the season, this is still a tough road matchup. This might be a good spot to catch San Fran in the role of home-dog.
---
STOP LOSING TODAY! START WINNING WITH DOC'S TEAM OF PROFESSIONALS! GET A FREE NO STRINGS ATTACHED $60 FOR THIS WEEKEND'S GAMES!