NFL Week 10 Predictions: Vikings vs. Chargers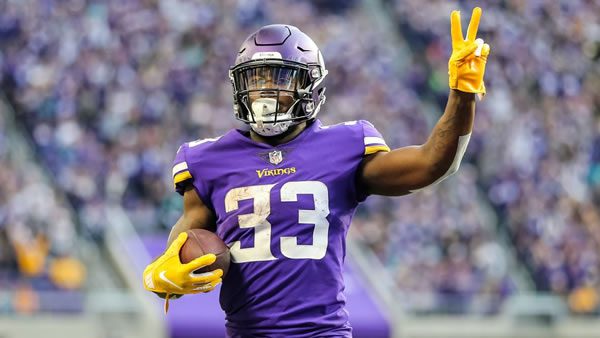 Minnesota Vikings (3-5 SU, 4-4 ATS) vs. Los Angeles Chargers (5-3 SU, 5-3 ATS)
Week 10 NFL
Date/Time: Sunday, November 14, 2021 at 4:05PM EST
Where: SoFi Stadium, Inglewood, California
TV: Fox
Point Spread: MIN +3/LAC -3 (BetNow)
Over/Under Total: 51
The Minnesota Vikings come to SoFi Stadium to take on the Los Angeles Chargers on Sunday. Minnesota took another close loss on Sunday, losing deep into overtime against the Ravens, 34-31, a crushing loss that dropped them to 3-5. Their margin for error is narrowing, and they really need this one. It won't be easy against a Chargers team that came out of a little slump on Sunday with a 27-24 win on the road against the Eagles. Who can deliver the cover in this Week ten spot?
Chargers Slipping?
We've seen injuries start to take their toll on the Chargers again, as they were without their top two corners on Sunday, which almost really cost them. We've seen the offense cool down, with fewer big showings from Justin Herbert, Austin Ekeler, and Mike Williams. You'd like to see them get Ekeler out in more space, with the receivers also kept on a leash, with everything seeming really short and condensed. Not that 27 and 24 points in scoring since coming off the bye two weeks ago is terrible, but they certainly look more subdued lately.
New head coach Brandon Staley had the Chargers' defense looking pretty good to start the season. And they have steadied some after giving up 42 to the Browns and 34 to the Ravens, but the big stops and key plays are coming with less and less frequency the last handful of weeks. Joey Bosa was active and had a sack on Sunday, and getting some of their stars making big plays on this defense would go a long way. For all of the Vikings' faults, they can really pour it on. Having their secondary solidified by then will be key for the Bolts.
Optimism for the Chargers This Week
We've seen the Vikings' recipe for success on defense really sour over the last season-plus. They've descended to the point where stopping the run is a major obstacle, something the Chargers could conceivably pounce on. They're better against the pass, but maybe average overall, not anything that can be counted on to repel a Chargers' aerial attack that is in many ways due to start thriving again. Herbert did have 356 yards on Sunday, but it's been a while since we've seen one of their offensive explosions. And it's not just the porousness of the Vikes' defense, but their lack of clutch. Last week, the Ravens rallied back from multiple large deficits before pushing it to overtime and eking out the big win.
The depreciated state of the Chargers' defense offers hope to Kirk Cousins and a stocked offense. Dalvin Cook is a guy who can go off on a given week. Justin Jefferson offers big-play appeal through the air, with Adam Thielen and others who can chip in and usually do on an offense that has some admirable balance. But it doesn't always go off according to plan. Whether a failing Minnesota defense forces them to come out of character or mistakes from Cousins and shoddy protection up front undermines the whole effort, it's far from automatic. In recent weeks, we saw the Vikings put up 16 against Dallas. A few weeks before that, they managed just 19 against Detroit and seven against the Browns the week before that. It's not an offensive formula that delivers week in and week out.
More Picks Get Horne's Falcons at Cowboys Predicted Point Spread Winner >>>
Not So Fast…
Granted, the Chargers' defensive approach of almost daring teams to run against them, as they are more concerned with just warding off the big play, is going to pump the numbers up some. But being the last-ranked run defense in the NFL is not simply a byproduct of that approach. They are just bad without needing to qualify it. The line hasn't been great from various perspectives, but protecting against the run has been over-the-top bad lately. We see that since coming back from being banged-up, Dalvin Cook has been excellent, and this is a spot where he should almost surely provide a lot of production.
The Vikings face some of the same issues this week as their opponent. They are facing a stocked offense using a defense that has been exploitable. But maybe all that production they give up won't reflect fully from a points standpoint against a Chargers' offense that can inexplicably cave in while in the midst of promising drives, not always getting the most out of their production. Last week was a case in point with 450 yards of total offense, 28 first downs, a 32-for-38 passing day from their QB, and a grand total of three TDs. With no team turnovers, you'd expect more. And to top it off, even though this is a long trip out of conference for the Vikings, this won't feel like much of a road game, at least not from the crowd's reaction. For a Vikings' team averaging over 30 points on the road this season, maybe they can hang in there.
Take the Points
It's understandable for those who think this is an iffy spot for the Vikes. It's hard to play the urgency card in light of their collapse last week in a game they also needed very badly. At 3-5, this is their last chance to salvage something because they're not going to run the table if they fall flat here. The Bolts also have an agenda of their own, so trying to determine who will see their plans better surface based on urgency could be a fool's errand. In the end, I see a tightly-matched game with enough ammo on each side to justify the forecast of a close game where taking the number seems like the slightly-better move.
Loot's Prediction to Cover the Point Spread: I'm betting on the Minnesota Vikings plus 3 points.
SUNDAY NFC SOUTH GAME OF YEAR *80% 10* RECORD

Talk about consistent! Ben Burns just wrapped up ANOTHER WINNING MONTH. He's produced profits in six of the past seven months. He was 83-52 (+$17,652) last December and an 8-2/80% RECORD with his "top rated" NFL plays led the charge. If you liked the Giants last week, or the Vikings the week before, you're going to LOVE this BEHEMOTH. Do NOT wait!