Oakland Raiders vs. Indianapolis Colts Pick 9/29/19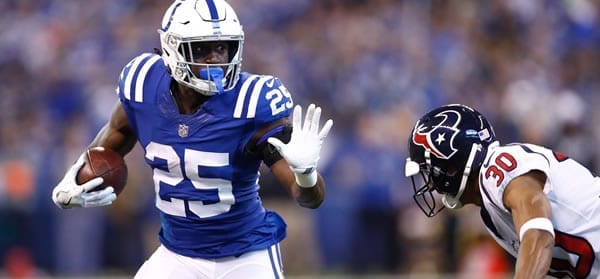 Oakland Raiders (1-2 SU, 1-2 ATS) vs. Indianapolis Colts (2-1 SU, 2-0-1 ATS)
NFL Week 4
Date/Time: Sunday, September 29, 2019 at 1PM EDT
Where: Lucas Oil Stadium, Indianapolis, Indiana
TV: CBS
Point Spread: OAK +7/IND -7 (Bovada)
Over/Under Total: 45
The Oakland Raiders take on the Indianapolis Colts on Sunday in an AFC matchup from Lucas Oil Stadium in week 4. Indy has been pretty tough so far, following a week one overtime road-loss with a win over the Titans on the road, before opening at home last week with a 27-24 win over the Falcons. Despite losing their projected starter at QB and having not had much success without Luck in the past, they had put a lot of good pieces around him and now look equipped to make a run. The last few weeks, in contrast, haven't gone so smoothly for the Raiders, who dropped their second straight on Sunday, losing badly to the Vikings, 34-14. Can they dust themselves off and at least make a run at this cover this week?
Raiders Beaten Down?
It's been tough going for the Raiders early in this regular season. Even if you write off the whole AB saga, it was still a negative to lose their key acquisition from the offseason. They looked good to open; beating Denver and showing that maybe they could make it work this season. But after losing lopsidedly to Kansas City and then on the road to the Vikes, they might be a little woozy. Now they face their second straight road game, again far from home. It's only right to wonder if they're a bit crestfallen from the compilation of events so far this season. Contrast that to the headspace in the Indy locker-room after they nearly came back to beat the Chargers and since scored two nice wins. They're feeling pretty good and are now dug in at home in a game in which they are favored.
Indy Showing Heart
It's worth a lot when betting that a team is "clutch", generally gets near the most of what they have, and has a winning spirit. In three weeks, the Colts came from way off the pace to force OT with the Chargers, before winning narrow games against the Titans and Falcons. On Sunday, they braved a late-surge by the still-powerful Atlanta offense, carrying a ten-point lead into midway through the last quarter, before Atlanta scored late and maybe made the game look closer than what it was. To be doing this despite what seemed like an insurmountable loss when Luck abruptly retired speaks volumes. And they continue to suffer injuries, which will put their resolve and heart to the test.
What Gives with the Oakland Offense?
Granted, the Oakland offense took a big hit with the exodus of AB, but there are still things to like on this side of the ball. Carr has thrown some picks in the last few games, but he's been accurate for the most part. The issue is stringing things together, and since beating Denver in week one, they haven't been able to do it on this side of the ball. The offense was looking great after week one and early against KC, taking a 10-0 lead. Since then, the offense can't really generate any consistency. And even with the losses, they still have things to like—the promising start of rookie back Joshua Jacobs, the play of Tyrell Williams, and the potential rise of TE Darren Waller, who has had three good games including 13 receptions and 134 yards on Sunday. It's just not easy with an offensive line that isn't great at protecting Carr, nor in opening up holes for their rookie back. They have their work cut out with a tough Indy "D" on the road this week.
No Difference Makers on Oakland Defense
The Oakland defense is decidedly below-average in most pertinent areas. Opposing quarterbacks haven't had much trouble moving the ball in big chunks against this secondary, which has made almost no big plays through three weeks. They allowed Kirk Cousins to work in a clean pocket on Sunday. It was the first time since Cousins has been in Minnesota that he didn't get sacked on the day. When pumped up and when the stars all align right, the "D" can be decent. But more often than not, they're just taking up space and not making much positive happen. The last few weeks, they've been largely-ineffectual. Now granted, the Indy offense led by Jacoby Brissett isn't much of an aerial force, but at home, they have enough overall firepower to give a wayward Oakland "D" a lot of trouble.
More Picks: Keith Allen's Chiefs at Lions Prediction >>>
Matchup Advantages for the Colts
We've seen some good things from the Colts' defense this season, as they carry over the form they showed last season. Look for Kenny Moore, Malik Hooker, Clayton Geathers, and Pierre Desir to give Carr and his thin crew of receivers trouble. They can make plays, which could figure into this with an interception-prone (of late) Carr. And the Raiders' O-line, now even more battered and deficient, will be tested in opening up holes with Denico Autry and Margus Hunt on the interior for Indy. Autry also gets after quarterbacks, with Justin Houston still formidable as a pass-rusher. In front of a home Indy crowd that is psyched on this latest surge, this could be a rough day for the Oakland offense, which has managed 14 points in their last 7+ quarters of play.
Whether the Indy offense in its current manifestation will be good enough to make a run this season remains to be seen. Maybe they won't. But against road Oakland defense that has been struggling, their offensive deficiencies are unlikely to manifest much. Oakland has been getting hammered through the air. With 7 TD throws and just one pick on nearly 72% completions, Brissett is not the same guy leading a flat-as-can-be offense that we saw a few seasons ago. Look for RB Marlon Mack to get his against this flimsy Raiders' front, while TY Hilton, Jack Doyle, Eric Ebron, and others register some big plays through the air.
Lay the Number on the Home Favorite
One would be premature in shoveling dirt on Oakland already, but the signs are ominous—a flaccid offense and a "D" that's just "there." Indy has some life in their legs and good things in their head. They're embracing the notion that they can be competitive this season and that all the pieces the team put around Luck can still pay off without him. I see the Raiders doing well early, before Indy, the conditions, and road-weariness rear their heads, as the Colts pull away for the win and cover.
Loot's Pick to Cover the Point Spread: I'm betting on the Indianapolis Colts minus 7 points. Bet the Raiders at +27 or the Colts at +13 by inserting either into a GIANT 20 point teaser! This wager can be found at one of the web's oldest betting sites: Wagerweb!