Kansas City Chiefs vs. Detroit Lions Pick ATS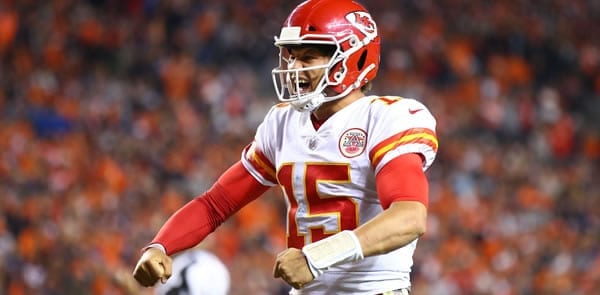 Kansas City Chiefs (3-0 SU, 3-0 ATS) vs. Detroit Lions (2-0-1 SU, 2-1 ATS)
Date/Time: Sunday, September 29, 1:00 PM EST
Where: Ford Field, Detroit
TV: Fox
Point Spread: KC -6 / Det +6 (Bookmaker)
Over/Under Total: 54
Andy Reid drives his freight train known as the Kansas City Chiefs into Detroit's Ford Field to take on Matt Patricia's Lions in this Week 4 matchup. Both teams are coming off impressive wins, and neither has lost a game in 2019. After consecutive wins against playoff-caliber teams the Lions are looking like Patricia may be building an NFC version of the Patriots, but my play this week is to lay the 6 points and take the Chiefs. Here is the handicap.
Detroit Can't Stop the Freight Train
Patricia's defense held the Chargers to 10 points in week 2, then the Eagles to 24 last week so there may be some reason to believe they can slow down Patrick Mahomes and the Chief offense. It won't happen. KC is averaging 392 passing yards per game (without their best receiver) and then sprinkling in 95 rushing yards. KC has opened all 3 of their games throwing the ball and will definitely open the game against Detroit passing. Defenses know what is coming, have 20 games of film to study what Reid and Mahomes like to do, but they can't stop them. Two of the best defenses in the AFC, Jacksonville, and Baltimore, have both had their chance already this year and each gave up 23 points to KC in the first half. KC's receivers are some of the fastest in the league, and each week a new receiver steps up in Tyreek Hill's absence to lead the team.
Detroit's defense may have limited the Chargers and Eagles to a total of 34 points, but they also allowed just under 800 passing yards to those two teams. Cornerback Darius Slay is the Lions best defensive player and is expected to miss the game this week after pulling a hamstring last week. Stud tackle Mike Daniels also was injured last week and is not expected to be on the field this week. Detroit's defense is strong against the run which can make teams rely too much on the pass, but this week they will probably be hoping the Chiefs will call some running plays. It's hare to imagine a scenario that the Chiefs don't again get to 23 or more points in the first half, and match that in the second half if they keep their foot on the gas. Detroit's defense won't slow KC down.
Detroit's Offense Can't Keep Up
Matthew Stafford is off to another solid start as Detroit's signal-caller. He's completing 63% of his passes and averaging almost 8 yards per attempt. Kenny Golladay and Marvin Jones make up a formidable receiving duo. Rookie tight end T.J. Hockenson was expected to upgrade the position and give Stafford a target over the middle of the field, but he hasn't contributed much in the first month of the season. Kerryon Johnson hasn't been able to meet the high expectations the Lions had for him coming into the season as the lead back, but he could break out at any time including this week. But Detroit is averaging only 22 points per game which is less than KC is averaging in the first half of their games.
KC's defense is allowing 21 points per game, which includes some garbage time points to both the Jags and Ravens. The Chiefs are generally playing from ahead which means they can focus on rushing the passer. They have seven sacks and three interceptions and should be able to improve on those numbers this week. Detroit has nice players, but they don't have any superstar that can take a game over or make enough plays to keep up with the Chief offense.
More Picks: Best Bet Alert: Jags vs. Broncos Prediction >>>
The Line Should be Higher
Detroit has beaten the Chargers and Eagles in consecutive weeks. This is overachieving for a team that was expected to be a solid last in the tough NFC North. The win against the Chargers included two missed LA field goals and the win against the Eagles was against a team ravaged by injuries whose back up receivers dropped two touchdown passes. If the Lions don't get those breaks, this line would definitely be over seven and make the chances of Detroit getting a back door cover more likely. Detroit will try to slow the game down and limit the number of time Mahomes has the ball, but after KC scores 3 or 4 touchdowns in the first half Detroit will have to open the game up. As long as the line is less than a touchdown, the Chiefs are the only side to consider.
Play KC -6
Generally playing road favorites in the NFL is not a winning strategy. However, this year, some of the unwritten betting rules haven't held up. Road favorites are 8-6 ATS this year, and the Chiefs are 2-0. Mahomes is rewriting a lot of old NFL unwritten rules, and it looks like that includes the betting rules. Let's not make this too complicated, lay the 6 with the Chiefs. Make KC a +14 underdog by inserting them into a GIANT 20 point teaser only found at Wagerweb!